Welcome to the part of the FRT website where you can keep bang up to date with the latest news and goings on! We hope you like it!
The aim is to report on the latest activities of our locomotives and rolling stock, and what our volunteers are getting up to. A lot of the activity is at our main base at the Ribble Steam Railway where we are working to complete a new shared workshop building, but we are also active wherever our engines and carriages are working!
The latest blogs and 2017 archive are available here, but this is the archive of older postings from 2015. There is also an archive of postings from 2014 and 2016.
---
Monday 14th December 2015
Christmas is a time for socialising, we are told, so perhaps it is not a surprise to report that there were two social events last week. The first was the Preston Branch meeting, which took place at the Ale Emporium, Fylde Road, Preston on Tuesday evening when there was a loyal gathering of members who were treated to some more steamy treats.
The second gathering was at Baffito's, on Navigation Way, Preston, on Friday evening when around 15 members enjoyed a very tasty Christmas dinner.

This year's post meal event featured a frog leaping competition, courtesy of one of the crackers which contained said leaping frog. Young Matthew started the competition, to get the frog to leap into one of the bowls, but it was Fred who triumphed first, showing that experience counts! Thanks go to Alison for making all the arrangements.

We have received the good news from Shackerstone that Cumbria passed its steam test with the boiler surveyor last Friday, which has enabled it to haul some of the Battlefield line Christmas specials, sharing the workload with GWR Collett 0-6-0 No. 3205.
The Battlefield Line runs two train sets and Cumbria has been allocated the shorter premium upmarket train.

Following the collapse of the central firebar support the previous week, there is a now a shortage of serviceable 'Austerity' firebars at Shackerstone, so a pallet will have to be made up for despatch, hopefully Wednesday.

The carriage and wagon team is soldiering on with the overhaul of the RMB with further new metal being welded in around the toilet area.

Keith is also making progress in cutting out new plate for Wootton Hall.

RSR's Anthony Jolly (pictured here) has volunteered to undertake restoration work on the Trust's Fowler 0-4-0DM Fluff with a view to getting it into working condition once more. Adrian is currently mentoring the project.

For those of you wishing to work at Preston over the Christmas holidays, it is hoped to come up with some proposed dates this week and these will be included in next week's blog.
---
Monday 7th December 2015
A very short blog this week as seasonal 'man flu' has struck again - a little odd as it seems to have originated with Alison!
First of all is the good news that Cumbria passed its cold inspection by the boiler surveyor at Shackerstone last Tuesday and a steam test has been arranged for this Friday to enable it to operate trains this coming weekend.
A reminder that the next Preston Branch meeting will be held tomorrow, Tuesday, 8th December at 8 pm at the Ale Emporium, Fylde Road, Preston. Subject matter will be north west and Welsh steam.
Friday evening sees the annual Christmas dinner at Baffito's on Navigation Way, Preston.
The latest edition of The Iron Horse is now back with the printer after proof reading and should be landing on the mat shortly.
---
Monday 30th November 2015
There's been no let up in progress at Preston over the past week, including the appearance of a newly cut sheet of metal (seen here) which will form the front of Wootton Hall's cab.

John has also been busy with the welding machine, sealing up holes in the RMB. When seen on Saturday, he was less than pleased to have found that one of the ribs below the toilet window was completely missing. But we all know that John will rise to the challenge, as usual!
Talking of rising to the challenge, it was the Ulverston Dickensian Festival (known locally as Dickfest!) on Saturday and Sunday. The weather over the last weekend in November is well known to be a varying combination of cold, wet or windy (and just rarely sunny and delightful) weather. Well, this last weekend was probably the worst that the Dickensian Committee, stall holders, artists and visitors have had to cope with over the last 15 years. Heavy rain, combined with storm force winds which turned arctic on Sunday afternoon, were in abundance, with stallholders having to hold on to their gazebos to stop them taking off.
| | |
| --- | --- |
| | |
Needless to say, our folk band, Live Steam, also had to cope with these conditions, although their first gig was in the warmth (stifling heat actually) of the Old Friends public House on Soutergate. The band only just squeezed in as the pub had had to close its doors at 6 pm due to it being full. However, a turnout of six (including the return of bass player Gary Weldon and friend Freddy with a cajon - wooden drum) managed to squeeze themselves into the pub and sang the night away to a very receptive audience, some of whom took to dancing.
It was good to see our old friends with the live steam model railway back in action at the festival, this time in the former Stead and Simpson shop, and some of the operators also managed to squeeze into the Old Friends and make serious inroads into the stocks of beer there. Sunday saw the band performing on the Theatre Street car park stage and, although sheltered from the rain, they had to put up with some fierce and very cold winds as they closed down the Festival as only they know how!
Cumbria's annual cold boiler inspection by the RSA (now British Engineering Services) surveyor has been arranged for Tuesday afternoon. Alan will be heading down to Leicestershire, taking with him a replacement firebar support to replace the one that collapsed a week last Sunday. The replacement has come from sister locomotive, Hunslet No. 3793, which is under overhaul at Preston, and has been kindly loaned to the FRT by Russell Walker.
Finally, looking ahead towards Christmas (well December is now just about upon us), the first of the Ribble Steam Railway Santa Specials are scheduled for next Saturday and Sunday. Alan and Tim will be performing Christmas songs and Alison will be running the sales stand.
---
Monday 23rd November 2015
There has been more good progress on our projects at Preston this week

The new components for Wootton Hall's engine's rear drag box have been coming together and test assembled before riveting takes place.

John Stewart is seen here cutting out some new steel discs for the drag box draw gear and the finished results are also shown.

Fred has also been busy cleaning up the tender axleboxes whilst Bob continues to work on the tender brake shaft.

John Dixon has spent much of his time cooped up in one of the toilets on the RMB. No, he doesn't have a digestive problem, but some of the interior steelwork was in need of attention from the welding doctor!

The west corridor end has, after receiving similar attention from John's metalwork skills, been filled and sanded, and has received it first coat of primer. It looks considerably better after all this effort but, as John humbly pointed out, he had previously thought that it was only doctors and drain layers who had their mistakes buried - but he now reckons that it applies to welders as well!

The peace of the shed was rudely awakened by the arrival of a new 'toy' - a needle gun, that had been acquired to remove old paint from Caliban's frames. Such are the acoustics in the shed that it was not only the operator of the needle gun who needed to wear ear defenders! John Houghton can be seen in action here, complete with traditional needle gunner's apparel (not!) of trilby and dickie bow tie!
Keith and George paid a visit to Embsay on Saturday to catch up with some jobs on 5643, and then George went to Shackerstone to undertake a formal survey of Cumbria to identify any winter maintenance that needed to be planned. Unfortunately, the first thing that he found was that the fire grate had collapsed overnight with the warming fire that had been prepared in order that an in-steam survey could be undertaken. We are now looking for a replacement fire bar support as a matter of urgency! A formal inspection with the RSA boiler inspector is due shortly and a visit is in the process of being arranged.
Looking forwards to next week, there will be more working parties and, of course, the annual Dickensian Festival at Ulverston this next weekend. Our folk group, Live Steam, will be performing at a Lancashire Night at the Old Friends public house on Saturday evening and have, as usual, been asked to bring the Festival to a close on the Theatre Street stage from 4 pm to 5 pm on Sunday afternoon. Let's hope that the weather is reasonable this year!
---
Monday 16th November 2015
There has been more progress with Wootton Hall this last week with the tender frames being jacked up to release the wheels and a new piece of steel plate being completed for the engine's rear drag box after machining by Bill Norcross. Mike Rigg has taken delivery of the new smokebox door number plate for the loco and is seen here undertaking a trial fit prior to drilling holes, tidying up the casting and applying the necessary paint.
Adrian has been busy again cleaning Caliban's frames after which he also needed cleaning - see the adjacent photo. Whilst this is one of the least glamorous jobs you can undertake on a locomotive, at least the new pit with lights makes the job a little easier.
Further progress was also made with the RMB, with John returning from a rare week's holiday to continue his metalwork, replacing an internal pillar which had corroded beyond repair. Tom and Trevor also appeared on Friday after a period of absence during which Trevor had spent many days under his new car in an attempt to revive the engine. Trevor tells us that he has now consigned the job to the local garage whilst he disappears for three weeks to recover in Jamaica!
George is paying a visit to Shackerstone on Sunday to survey Cumbria after its summer operations. We can then assess what work might need to be done over the winter months. A boiler inspection and steam test are required in the next month, so that's another thing to be arranged over the coming weeks.
On the admin side, we were pleased to receive approval from the Charity Commission this week that the Furness Railway Trust's assets can be transferred into the new Charitable Incorporated Organisation (CIO) that has been created. This is another significant step towards implementing the new structure for the Trust.
---
Monday 9th November 2015
After such a wet and windy weekend, perhaps Alan will be glad to see the end of steamings at Shildon for this year. FR 20 is due to retire to the warmth of the museum after today's steaming, although there will probably be a requirement to winterise the loco once we can find a fine day on the calendar!
Meanwhile, 5643 has continued to be in use at the Embsay & Bolton Abbey Railway, having recently undergone a boiler washout. Keith is planning a visit to have another look at the leaking piston gland that he repaired a few weeks ago, but which is still being awkward!

So, back to Preston, where Keith continues to make progress on the rear drag box of Wootton Hall's engine and Bob has again been working away on the tender brake shaft - see photo.

Roger has primed Caliban's rods and he and Fred have been cleaning up brake components. Fred has also been making sparks fly on the RMB where he has ground off weld where John has replaced steel on the panels around the west end of the coach. Tim has now got the bit between his teeth with applying filler and has been assisted by Mike Rigg who has been smoothing it down.
---
Monday 2nd November 2015
There was further work on the buffet car last week with John completing his repairs on the west corridor end and starting work on the sides. Mike Rigg has ground off excess weld at the corridor end and it will be ready for filling and sanding once a side patch near one of the corners has been inserted. Tim has been applying and sanding filler to the sides, so perhaps it won't be too long before we see some paint being applied - at last!
Alan and John H continued their examination of Caliban on Wednesday and Keith has made further progress with reconstructing the rear drag box on Wootton Hall's engine.
Saturday evening saw the joint RSR/FRT end of season get together take place in the FRT shed at Preston.

Thanks go to Alison Pinch and to Pauline Allcock for the buffet, and also to RSR's Liam Diamond who arranged sausage rolls and pies.

There was a pleasing turn out for the occasion and

Live Steam

(Alan, Tim and Peter, assisted on occasions by Alison) sang away the evening. A couple of photos of the band are shown, including one that Alison took and insists we should include of Tim wearing a suitably scary mask whilst singing 'Old Pendle'.

FR 20 made a safe return to Locomotion, Shildon on Thursday morning and is ready to undertake its last three steamings of 2015 this next Saturday, Sunday and Monday.

Alan and Alison will be heading to the north east as usual to assist and to operate the sales stand. We now include a photo of Alison (tit for tat, but certainly not scary!) in her Victorian gear when she was at Bo'ness the previous weekend.
---
Monday 27th October
The big event this week was FR 20's first visit to Scotland, taking part in the Bo'ness & Kinneil Railway's Autumn Steam Gala. The NRM's Anthony Coulls saw the loco off from Shildon last Wednesday and Alan and Alison were at Bo'ness to welcome it that evening. Alan refitted the guard irons and sand pipes before seeing it through its light engine test run to Birkhill where clearances were checked.



Derek arrived with Sam and Simon Sparkes on Friday, the latter two being due to crew LNER 'D49' 4-4-0 Morayshire that evening for two Fish and Chips Special return trips to Manuel. Tim, having arrived Friday teatime, joined them on the footplate for a ride up the line in the dark. But nature had other ideas and the heavy leaf fall caused by high winds coupled with some drizzly weather meant that Manuel was never reached. However, that didn't stop Alan and Alison having a party on board the train with their musical instruments and Tim eventually joined them to conduct everybody as they sang a rousing alcohol-inspired version of Jingle Bells, followed by Rudolph the Red Nosed Reindeer. Enough said!

Surprisingly, everyone was up in good time on Saturday morning to have FR 20 in steam for a departure from Bo'ness at 11.41 followed by another round trip three hours later. The loco looked a picture with the two preserved Caledonian Railway bogie carriages dating from 1920. FR 20 steamed beautifully on each trip, blowing off with the injector on as it proceeded up the two mile climb from Kinneil to Manuel, the first bit at 1 in 75 and the rest at 1 in 95. FR 20 took it in its stride. Tim, Alan and Alison caused a stir with their Victorian dress and were the subject of many photographs.

Matthew and Deirdre joined Tim on Saturday evening, although they opted for a B&B rather than a cold night in the camper van, and there was a gathering in the local pub, The Corbie, for a welcome meal and further lubrication. Andrew and Sam Middleton joined the growing FRT party on Sunday morning, and FR 20 went on to work another three return trips up the line, driven by Sam Sparkes, who had long campaigned for the loco to visit the line. FR 20 again performed without blemish to its reputation, blowing off at will up the bank on all three trips. Visitor numbers to the railway were noticeably higher than on Saturday, probably influenced by the better weather and the arrival of Ian Riley's two Black 5s, of which 44871 joined the Gala fleet for the day.

Alison, Matthew and two young lads from the B&KR youth team did a marvellous job in selling FRT memorabilia to passengers on board FR 20's trains. Badges were sold out and, such was the demand, £5 was offered for the FR 20 badge that Tim was wearing! There were many complimentary comments about FR 20 from the visitors and a number of good photos of the loco and its coaches are now on social media. Perhaps one or two of the railway magazines will have some action shots of what must be one of the most unusual and delightful combinations of rolling stock on the preservation scene this year. Let's hope so. With Sam's nephew and wife joining us, a table for twelve was booked at The Corbie on Sunday evening in order to test once again the cuisine and the beer. And so a very sociable end to a great weekend. Thanks go to everyone at the Bo'ness & Kinneil Railway for their hospitality and friendship. And there's already talk of another visit by a FRT loco...
Cumbria was also in steam at the Battlefield Line Steam Gala this last weekeend although we haven't yet seen any photos of it in action, together with Dinmore Manor and Collett 0-6-0 No. 3205.
Finally, we are sad to have to record that, after 108 years in business, Preston's local bus operator, John Fishwick and Sons, ran its last ever service on Saturday evening and has ceased trading. Stagecoach, at short notice, has taken on its main 111 service from Leyland to Preston.
---
Monday 19th October
It's that time of year when, with the days getting chillier, the nights drawing in and the clocks about to go back, you expect activities to be less frenetic. But it seems to be a case of exactly the opposite at the moment!
Alan, Fred and John were up in Shildon today to continue the job of cleaning the bits on FR 20 that others don't seem to reach and also to change the tender brake blocks. This is all in anticipation of the old engine heading north of the Border to the Bo'ness and Kinneil Railway after loading up on Wednesday morning. Alan and Alison are intending to establish base camp there on Wednesday evening with Tim expected to arrive on Friday. Alan has been trying on a new retro jacket, which we have to say looks a little bit tight on him! Must be something to do with Alison's Shildon breakfasts!

FR 20 is scheduled to perform two return trips between Bo'ness and Birkhill on Saturday and a further three return trips on Sunday. Details of the timetable are available on the B&KR web site. The home fleet of two saddle tanks and Morayshire are to be joined also by 44871 on the Sunday. There is a South Lakes link with the visit north in that Sam and Si Sparkes, from Ulverston and purveyors of the live steam layout we had in our Dickensian Festival shop when we ran that there, are the B&KR allocated footplate crew on Sunday.
Also in Gala action at the weekend will be Cumbria, at the Battlefield Line, which is also hosting GWR No. 7820 Dinmore Manor and Collett 0-6-0 No. 3205 for the occasion. Peckett 0-6-oST Sir Gomer will also be in use.

Meanwhile, work continues at Preston on our current projects, although the efforts expended are obviously taking their toll, judging from our latest "seat of the week" photo!

Alan and John are probably still recovering from their previous night out in Preston at the Branch meeting at the Ale Emporium!

However, John did still continue his relentless work on the RMB west corridor end and Alan tried a couple of replacement bearings for Caliban for size.
Finally, Alison has a stock of "Time for Coppernob" books for sale, written by Denny Mallows. Priced at £7.95, they are a good read for all ages - and the FRT gets a mention in the story.
---
Monday 12th October
Last Wednesday was a milestone in the overhaul of the FRT's RMB when the last of the paintwork was removed from the sides of the vehicle.

Meanwhile, John has completed most of the welding at the west corridor end of the coach, as can be seen from the adjacent photo, and has been working on the repair to the sides for the corridor connection.

Trevor has been busy making up a template for the new steelwork at the bottom of the buffet area windows and also for a new toilet window.
Meanwhile progress on the early stages of the restoration of Wootton Hall and Caliban continues. Ade has continued his dismantling activities, seen here working on one of the brake beams, and Alan has been dressing up one of the little end gudgeon pins.
The Thursday Committee meetings of both the old and new FRTs were successfully completed well before midnight on Thursday evening. The 29 agenda items were duly polished off along with most of Alison's sandwiches and cakes!
Alan and Alison have been busy again at Shildon this weekend, and Alan managed to get himself in the papers again! It doesn't seem like five minutes since he helped a young family celebrate being the one millionth visitors to Locomotion. Now he's done it again, with the two milllonth! There is a photo and article from the Northern Echo on our Facebook page.
Aside from VIP visitors, these were the last steamings before FR 20 heads north of the border to take part in the Bo'ness & Kinneil Railway's Steam Gala on 24th and 25th October. Morayshire and 'Austerity' 75254 are also expected to be in steam over the weekend. A couple of volunteers from Cummins assisted Alan in cleaning the loco on Friday afternoon, just what we needed in advance of the Gala at Bo'ness. All that needs to be done now is to change the tender brake blocks, which have just come to the end of their useful working lives. Alan is planning a return visit to Shildon sometime this next week to replace them.
Tomorrow, Tuesday, sees the first of the winter Preston Branch meetings, which is scheduled to take place at 8 pm on Tuesday, 13th October at the 'Ale Emporium' on Fylde Road, Preston. Film of north east and south west steam is the subject matter.
---
Monday 28th September

Yes, it's been another busy week at Preston.


Ade has continued to do his best to dismantle Caliban, when not looking at Facebook on his phone, and David and Tom have been busy in the home furnishings department constructing a new table (presumably for us to use?!).

John has continued his welding of patches on the west corridor end of the RMB, and perhaps only another working session is required now to finish removing the paint from the sides.

To complete the scene, there has been some serious work on replacing steelwork at the rear of the frames on Wootton Hall, as can been seen from the adjacent photo. It must always feel more satisfying when fitting new pieces rather than having to cut off rotten metal.

Alan and Alison have had a busy time at Locomotion, Shildon, where FR 20 was in steam on Saturday and Sunday. Shown here is the first of this week's photos of Alan , which captures him with an excellent entry for the 'Silly Hats' competition. Does it compress when the loco enters tunnels or travels under bridges? The World needs to know!


Looking forward to the week ahead, there will be two Committee meetings on Thursday evening to progress the conversion of the FRT to a Charitable Incorporated Organisation (CIO), which requires the vesting of assets from the old charity into the new CIO. Hence, there will be a need for there to be a Committee meeting for each of the organisations. There are agendas as long as your arm, but we hope not to have an all night sitting!

Alan and Alison will be heading off to Shildon on Friday for two more steamings of FR 20 over the weekend. Alan would be grateful for any volunteers to give a hand in cleaning FR 20 in preparation for its forthcoming trip to Scotland.

This weekend will also see the 53rd Furness Model Railway Club Exhibition at Barrow Sixth form College, from 10 am until 5 pm each day.
Looking forward into next week, the first of the winter Preston Branch meetings is scheduled to take place at 8 pm on Tuesday, 13th October at the 'Ale Emporium' on Fylde Road, Preston. Film of north east and south west steam is promised.

---
Monday 21st September
Princess and Courageous were in steam last Monday at Preston and took Deltic down to Strand Road, as close as you can get to its birthplace at the former Dick, Kerr Works. The tankers were also steam hauled for once. Princess then left for Haverthwaite on Wednesday after a short but welcome stay at its former place of work. Meanwhile new steel panels and angle arrived at the FRT shed last Wednesday, so there will be plenty of work to get on with on both the RMB and Wootton Hall over the coming weeks. Also purchased this week, courtesy of a special offers day at Lidl, were a new air orbital sander, sanding discs and 20 metres of air line. Well done to John for doing the deal on our behalf.
There was more progress on Caliban last Wednesday, with Adrian, Sam and Alan busy, and John H. keeping an eye on them!
FR 20 was in action at Locomotion, Shildon, on Saturday and Sunday, letting Bo'ness & Kinneil Railway's Bagnall 'Austerity' No 75254 do the hard work of hauling it and the two brake vans uphill, and then doing the braking on the way down. An easy day for the fireman! The ensemble is pictured here heading for the Hackworth end of the demonstration line. The theme for Locomotion's Autumn Steam Gala was wartime, and Sir Lamiel was in steam on the apron. Alison kindly staffed the sales stand as well as undertaking the important job of cooking breakfasts for FR 20's hungry drivers! It was good to see Peter van Zeller and Dickon Chaplin-Bryce there to lend a hand on Sunday.
It is a Heavy Horse event at the Battlefield Line in Leicestershire this next weekend, so we guess that, as a very heavy horse, Cumbria will be in steam there again.
---
Monday 14th September
John has been making further progress with welding up the west corridor end of the RMB and new sheet metal for the side repairs is being ordered this next week along with some for Wootton Hall.

The Hall's tender chassis is now in the shotblasting area outside the FRT shed and Keith has been making some stands to enable the springs and wheels to be removed.

Work has also continued on Caliban with Alan loosening off cylinder covers, John Houghton and Adrian removing paint, and Sam removing bricks and other debris from around the blast pipe base.

Cumbria has been in steam again at the Battlefield Line in Leicestershire this weekend and 5643 has been receiving a new brick arch at Embsay.

The latest edition of Steam Railway magazine mentions all three of our operational locos. There is a photo of 5643 at the Ecclesbourne Valley Railway, news about FR 20's planned trip north of the Border, and mention of Cumbria's successful operation at the Mid-Norfolk Railway and its transfer to the Battlefield Line.
There was plenty of action at Preston this weekend with four locos in steam for the RSR's Autumn Steam Gala. The guest loco was, of course, Princess, temporarily back to its Preston roots from Haverthwaite, seen here passing the FRT shed with a train from the exchange sidings, with sister Bagnall 0-6-0ST Courageous at the rear. Tom and Alison were in attendance again with the FRT sales stand.
It being the Gala season, Alan, Alison and Tim are off to Locomotion, Shildon, this next weekend where FR 20 will be operating the demonstration line shuttle with Bo'ness & Kinneil Railway 0-6-0ST Austerity at the other end of the train.
---
Monday 7th September
The life of long-time member Ian Fletcher was duly celebrated at St. Paul's Church, Lindale, last Thursday when his coffin was appropriately adorned by his greasetop hat and trademark gloves. The gathering at the Hare and Hounds at Levens afterwards was an opportunity to remember past times and tales of a lovely man who spoke no ill of anyone.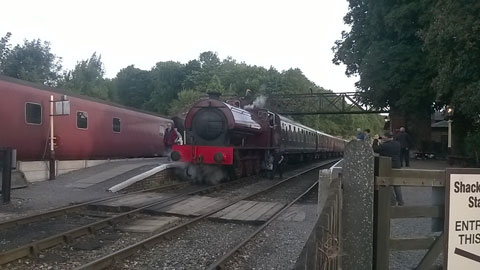 Well done to son George for still managing to fit in a trip to the Battlefield Line in Leicestershire at the weekend to see Cumbria enter service. The loco is due to spend the next two months there before returning to Preston at the end of October. We don't have a schedule of steamings at the moment, but there is a steam gala planned there for 23rd, 24th and 25th October.
There has been further progress with the RMB overhaul, as can be seen from the photo of John welding around one of the corridor ends. Adrian has been working on Caliban, doing what comes naturally to him, which is taking it to bits! He has also been cleaning down the frames and coating them with primer, and has cleaned up the side rods which now await a coat of red oxide.

There was a meeting of old friends at Preston over the last weekend, with the accent on OLD! Bagnall 0-6-0ST Princess arrived last Wednesday so that it could run at the RSR's Tenth Anniversary weekend. However, Princess (dating from 1942) was younger than the trio shown here (Michael Cook, John Houghton and Alan Middleton), with an average age of 78!

For the diary, next weekend sees the RSR's Autumn Steam Gala, which will again feature Princess, along with three other locomotives.
---
Monday, 31st August 2015
We are sorry to have to report the death last Tuesday of long time member Ian Fletcher. Ian and his late wife Hermione were both volunteers at Haverthwaite where Ian became a driver in 1978. After retiring from his trade as a dentist, Ian helped out driving during the week on many occasions. Ian had been suffering from health problems in recent times and had just moved into the Cartmel Grange Care Home in Grange when he died. The funeral will take place at St. Paul's Church, Lindale, this Thursday, 3rd August at 11.30 with refreshments afterwards (provisionally) at the Hare and Hounds at Levens.
| | |
| --- | --- |
| | |
Despite suffering this very sad bereavement, Ian's son George has spent this last weekend on FRT duty at the Mid-Norfolk Railway where Cumbria has been undertaking its last three steamings at the end of its hire period. As George says, his father would have approved! The left-hand photograph shows Cumbria at Dereham on Friday ready for the weekend's steamings. Incidentally, this photo was posted on our social media on Friday and has been seen by more than two thousand people on Facebook, and scored many retweets on Twitter, thanks to it being shared by Steam Railway magazine. On a flying visit to the MNR, Tim found the loco to be looking like the proverbial new pin and had obviously been well cared for during its stay in Norfolk. Cumbria worked a four trip day on over the weekend and George's photo shows the state of the bunker after 88 miles – surprisingly, there was still some coal left!
FR 20 and 5643 were also in steam this week, although the Saturday steaming at Locomotion was cancelled, which allowed Tim to visit Norfolk. Alan and Alison did the honours at Locomotion on Sunday and Monday, having returned from a five day holiday on the Isle of Wight, including an enjoyable day on the steam railway.
---
Monday 24th August
There was further progress on the project to overhaul the RMB this last week, and John finally persuaded himself to do a little welding with the new machine on Friday.

Trevor brought in a new length of air hose so that he could connect his new needle gun to the main compressed air system only to find that the compressor had failed the previous day - and he had left his own compressor at home!

Keith has been cutting rusted sections of steel from Wootton Hall's rear drag box on the engine, as can be seen here, and Adrian has been making some inroads on Caliban and has taken off the reverser, which is now in the shed.

David has been continuing his clear-out of the PMV and was able to present John Houghton with his 20 year old unused tea bags, as featured in last week's blog!

Cumbria is scheduled to operate Wednesday to Sunday this week at the Mid-Norfolk Railway before coming off hire there. George is heading down to Norfolk for the engine's final weekend - he must have heard that it is the Dereham Beer Festival!!

Tim is heading to Shildon on Friday, to be followed by Alan and Alison on Saturday, refreshed we hope from a short holiday on the Isle of Wight.
5643 has been turning wheels again on the Embsay and Bolton Abbey Railway - Mike Rigg went to visit there last week and was kindly shown it in the shed as it wasn't running that day.
A reminder here that the Ribble Steam Railway AGM is due to be held at the Ashton Bowling Club at 8 pm precisely(well that's what it says in the notice) tomorrow evening , Tuesday, 25th August. Rumour has it that there will be a ballot to determine who gets elected to the Board. Richard Greenwood was due to have given a slide show after the AGM but is now unable to do so owing to having to visit hospital after suffering a fall. We understand that Richard is on the mend and we wish him well in his recovery. Another guest speaker is now being sought.
---
Monday 17th August
More progress on the overhaul of RMB 1812 this week. Trevor has now acquired and brought in a needle gun which he has been carefully using around the window frames. Tim has been cleaning off more paint and has nearly completed one side. Meanwhile, John has been carefully cutting out and bending to shape new metal for the west facing corridor end. Rumour has it that he might be ready to use the new welding machine this week.
Keith has been installing some wiring in the shed for the heavy duty welder and plasma cutter that have been donated by the University. It is anticipated that they will be very useful when it comes to fabricating steelwork for Wootton Hall. Talking of Wootton Hall, further work on dismantling the drag box on the engine has been taking place. George is seen here at work with the magnetic drill on Saturday.
Outside, David Rimmer and Mike Rigg have been busy clearing out the PMV that arrived from Carnforth.


The photo of the inside of the PMV shows some dereliction, but carefully preserved inside a cabinet was a box of teabags dated 1995. So now we know what used to happen at Carnforth on a Sunday afternoon many years ago - as if we couldn't have guessed.

After all the work in the shed over the past month, there was a big vacuuming operation on Saturday to give our shed a clean up in anticipation of a visit from some members of the RCTS on Saturday afternoon - they seemed very impressed with the facilities.


And as we haven't had a 'seat of the week' photo for while, here is one of Matt Bedford, no doubt examining his mobile phone.

As an update to last week's blog, the 126th edition of The Iron Horse has now been proof read and is back with the printer. You might well find it on your doormat at the end of the week.

Finally, the Bo'ness & Kinneil Railway has now announced that FR 20 will be appearing at their Gala on 24th and 25th October - the news is out!
---
Monday 10th August
The blog team has now nearly recovered from their holidays, so the service is almost back to normal. Just a bit short this week and photo-free, due to time pressures.
Firstly, we have had a bit of very good news today. It's something that has been ongoing for a long time now, but today the Charity Commission has given confirmation for the Furness Railway Trust to be converted into a Charitable Incorporated Organisation, which significantly improves our legal standing. We have only just received the email, so it will take some time to do all the necessary paperwork to make the transition, but the news comes at a crucial time, as work to finalise the sub-lease for the new shed is about to get into gear. Great news, and thanks to Neil for doing all the necessary application work to date.
So that's the big stuff out of the way, however, we are sure that you will be glad to hear that 5643 ran successfully at the Embsay & Bolton Abbey Railway over the weekend and that there were no signs of problems with the blower after all the work that has been put in by Keith and Matt over the past three weekends. Well done to both of them. And recent news received from the Mid-Norfolk Railway indicates that Cumbria, now in its last month of hire to them, is still putting in the shifts and clocking up the mileage.
Finally, Alan has picked up the proofs for the next edition of The Iron Horse and it is hoped to get them back to the printer by Friday.
So, good news all round this week, even if there are no photos to publish - not even of the repaired sink hole in the car park at Preston! Well, well, well...
---
Monday 20th July 2015
First of all we should like to wish Tom Bradshaw a very "Happy Birthday" following his Big 90th birthday yesterday - he must be one of the oldest regular volunteers in the heritage railway movement!

We will be celebrating Tom's current birthday at around 4pm in the new shed at Preston with some sandwiches and, perhaps, a cake, courtesy of Alison. Please do come along if you can make it.

Last Tuesday saw the arrival at Preston of

Caliban

, FR 20's old boiler from its steelworks saddletank days, and the PMV (parcels van) from Carnforth.


The vehicles had previously not been easy to extract, but a recent shunt at Carnforth enabled a crane to access the items and they were brought down to Preston on lorries where again they were craned off.

The two boilers were placed on the Furness Railway bogie bolster which once again proved itself to be a very useful vehicle. The accompanying photos tell the tale.

The PMV will be a donor underframe for the Trust's second NLR Second Class carriage body, which is currently in storage on a private site in Blackpool. It seems there will not be too much effort required to strip off the derelict upper bodywork!
Another three cubic metres of concrete arrived at the RSR last Wednesday to allow the Ribble Rail shed to be completed, the small excess being used on the floor of the eastern part of the FRT shed. In a shock development after months and months of barrowing, spreading and levelling the gloopy stuff, there is the news that no more significant concreting is expected until the track layout in the eastern part of the shed is complete. And that will only happen once the triangular piece of land outside has been acquired. The process for the latter is currently underway.
More work has been carried out on the RMB, with Tom cleaning off the dimensions plate (see photo at the top of the page) whilst Trevor sanded down a door. Outside the shed, Keith has been using the skills learned whilst dismantling Wootton Hall to cut up the redundant Class 08 for Ribble Rail.
There were another couple of arrivals at the RSR last week. The first was the diminutive Andrew Barclay 0-4-0ST No. 2343 of 1953 British Gypsum No. 4 from Chasewater. It had previously moved to Chasewater from Carnforth. The original boiler from No. 2343 is now carried by AB No. 1223 Colin McAndrew of 1911, hence the gap under the saddle tank on the photo! Colin McAndrew's own boiler has also arrived at Preston and will require repair. Another loco overhaul not for the faint hearted! An unexpected arrival on Saturday was a deep hole in the RSR car park; Alan Vernon, Dave Manley and Steve Shearing were on site Sunday morning to look into it. Arf!
Alan and Alison have once again been to Shildon this weekend whilst Keith and Matt went to Embsay to investigate the mysterious passing through of water from 5643's blower ring. A very dirty day was spent in the smokebox, but the issue remains a mystery and work will continue next Saturday and Sunday. All are welcome to assist, but make sure that you have plenty of soap for your bath afterwards. Meanwhile, Cumbria appears to be continuing to do the business four days a week at the Mid-Norfolk Railway.
We are now in the school holidays and, therefore, there will be no blog for the next two weeks. You will therefore have to wait a little longer for a transcription of Tom's birthday speech!
---
Monday 13th July 2015


| | |
| --- | --- |
| | |
The concrete for creating the new base for stacking the RSR's stock of concrete sleepers finally arrived last Wednesday, along with the rain! This kept John, Keith (R), Chris and Graham busy for quite some time as, although it was a full load, there was only just enough concrete to do the job. However, their persistence won and they are no doubt looking forward to receiving another three cubic metres this next Wednesday to finish off the Ribble Rail Shed.

More progress was made in stripping paintwork from the RMB and John cut out some more holes in rusty areas. One day we'll get around to welding new pieces of steel to cover the gaps.

Tom and Trevor have continued to put together the new structure that was illustrated in last week's blog. The finished job can be seen here - it is a set of mobile steps which can be used for volunteers to access carriage doorways and loco cabs.

All we need now is for it to be fitted with a Stannah Stair Lift to get our ageing work force up and down the stairs!! Well done, though, to Trevor and his assembly assistant, young Tom!

Keith had decided that last Wednesday should be the day to remove the cab from Wootton Hall. The job went surprisingly well, courtesy of Alan Vernon with a fork lift truck, and the cab was duly deposited outside the shed so that the roof could be separated from the sides, which will be replaced in the due course of time.

Looking further forward, Alan and Alison are due to be back at Locomotion, Shildon, next weekend for FR 20's next two steamings.

PLEASE ALSO PUT IN YOUR DIARIES a surprise birthday party for Tom Bradshaw a week on Wednesday, 22nd July - well it will be a surprise for Tom when he reads this blog!!! As some of you will already be aware, Tom celebrates his 90th Birthday on Sunday and we couldn't possibly let the occasion pass without marking it with a celebration at Preston. Alison is kindly going to bring along some refreshments and we hope that as many of you as possible will be able to get along. Proceedings will start at around 4pm.
---
Monday 6th July 2015
It was a busy weekend for our on-hire steam locomotives with FR 20, 5643 and Cumbria all in action at their respective heritage sites. Alan tells us that the thunderstorms experienced by many of us on Sunday afternoon didn't materialise at Shildon until around six o'clock, much to his relief. George called in at the Mid-Norfolk Railway to find Cumbria in good health and steaming well after the arrival of a fresh batch of coal. The loco had been given a wash out on Friday prior to the commencement of four days a week steamings from this week - Wednesdays, Thursdays, Saturdays and Sundays. Do go and see the railway if you are down in those parts.
The arrival at Preston last week of the new industrial vacuum cleaner caused a frenzy in the housework department as can be seen from the adjacent photos. And what a difference it has made to the condition of the floor! With a choice of three settings available (1,000, 2,000 or 3,000 watts), it makes light work of cleaning up the inevitable dust that is created during our restoration work, both quicker and much more efficient than a brush. Let's hope that the novelty of using it doesn't wear off too soon!

Unfortunately, the load of ready mixed concrete for the sleeper stack base failed to arrive again last Wednesday, although this was of some relief to those who would have had to spread and level it in the very humid heat of that day.


The load is now forecast to arrive this next Wednesday, when the weather is currently forecast to be both cooler and damper!

Apart from the cleaning, work has continued on the RMB, with more paint removed and work undertaken around the west end corridor connection.

Tom and Trevor appeared later on Wednesday with a wooden structure in kit form. The photo shows them at work whilst assembling said kit and we hope to have a photo of the completed structure next week together with an explanation as to what it is...!
---
Monday 29th June 2015

This has been a week in which the purse strings have been loosened a little, following decisions made at a short Committee meeting held shortly before the AGM.


So after lunch last Wednesday, Tim, Alan and John H headed off to Machine Mart to purchase a new MIG welder in order to progress repairs to the buffet car.

The tour around Preston in Alan's car included a stop to admire the spire on St. Walburge's Church, reputedly the tallest on any parish church in England. Not mentioned in Alan's tour commentary is the fact that it was designed by Joseph Hansom, designer of the Hansom cab.

Anyhow, on returning to our shed, there then followed a team game of how to assemble the welder with only minimal reference to the instructions (this photo by Ade also prompted a somewhat rude caption competition on Facebook..!).

The game came to an unexpected halt when it was discovered that the welder didn't possess a plug and was only resumed on Friday when Alan appeared with a bottle of gas.

Once the wire was installed and Keith had supplied a plug, Alan, John D and Tim each ran a short test weld to commission the welder into service.

Next on the order list was a new industrial vacuum cleaner in order to remove the copious amounts of dust which are emitted from work on the RMB and

Wootton Hall

. The adjacent photo of Fred and Roger at work wire brushing

Wootton Hall

's crossheads is evidence of the need for such a cleaner. Due to arrive today, the machine has three 1,000 watt motors, so make sure that you hang on to your wig when it is in use!


Also ordered last Thursday were ten gauge glasses and associated rubber cones each for Cumbria and FR 20. Then, on Friday, we took delivery of a set of eight brake blocks for FR 20's tender, it last being re-blocked in 2010. I suspect that David, our Treasurer, will need to be sitting down when he gets all the invoices!

In amongst all the buying, there was more work done on the RMB, with John making use of the folding machine to make up some new 'U' pieces for the RMB's corridor connection, fabricated out of recycled steel from the dismantled horse box/steam heat van. Tim, Tom and David made more dust and mess (!) and Trevor worked on the doors. There was also more work on dismantling Wootton Hall's tender.

Both FR 20 and 5643 had a weekend off, but Cumbria was back in action at the Mid-Norfolk Railway and both it and FR 20 (at Locomotion, Shildon) are scheduled to be in traffic this next weekend.
---
Monday 22nd June 2015
There was plenty going on last week with lots of steamings and other activities to keep us occupied.
Furness Railway No. 20 was back in steam at Shildon on Tuesday and Wednesday for special events in connection with S&D 200, for which plans are already starting to take place even though it is still ten years away! Live Steam, as a trio of Alan, Tim and Peter, made its first appearance of 2015 at Longridge Folk Club on Tuesday, which Alan managed to make despite also being required at Shildon on the Tuesday and Wednesday - thanks go to Alison, who did a splendid job as his chauffeur!
There was some relief at Preston last Wednesday when everyone discovered that the concreting job had been cancelled as the weather was somewhat inclement - it is now due this Wednesday, when the forecast looks somewhat better.
Trevor's newly cleaned chairs were well used on Thursday evening when twenty members arrived at the new shed at Preston to attend the Annual General Meeting. As is the tradition, the activities of the previous year were recounted, accounts and reports were received, proposed and seconded, and the Committee, Trustee and Auditor duly re-appointed. There was then time for everyone to look around the shed before heading home. Thanks go to everyone for making the effort to attend.
As mentioned last week, all three operational locomotives were in steam over last weekend, with Cumbria appearing on photographs alongside 'Duchess' Class 4-6-2 46233 Duchess of Sutherland at the Mid-Norfolk who dubbed the Aussie "Duchess of Cumbria"! As far as we are aware, all went to plan there and at Embsay with 5643 as well.
So it's back to hard graft again for the working parties this next week when it is hoped to make more progress on the RMB and, no doubt, Wootton Hall.
---
Monday 15th June 2015
As predicted last week, attention has now turned to moving on the overhaul of the Trust's RMB. With all the operational locos off site, John and Tim joined David, Tom and Trevor on the working parties and some good progress had been made in removing paint and attending to one of the corridor ends by the end of Friday. In fact, hammers were out in force on Friday, as you will see from the adjacent photos, although Tom appeared to be taking a more relaxed attitude to the job. Meanwhile Fred and Roger can be seen chipping off paint from components of Wootton Hall's tender.




Work will continue this week on the RMB. For those involved with laying the concrete outside for the new base for the storage of sleepers, planned for Wednesday, there comes the news that the concrete supplier is already booked up that day and the job will have to be delayed.

Keith and Matt went to Embsay on Saturday to try and solve the mystery of reports of water coming out of 5643's blower ring the previous week. No fracture of the blower pipe could be detected on Saturday, so the loco was lit up on Sunday and brought up to full steam, with no problems found. It is now planned that the loco will be used next weekend.

George paid a visit to the Mid-Norfolk Railway on Saturday and found Cumbria to be in spotless condition. Apart from it steaming less freely than usual, all appeared to be well. Clinker was found to be the cause of the lack of steam and it is understood that a new batch of coal will arrive tomorrow, Tuesday. This will be in time for the Mid-Norfolk Railway's Steam Gala on Friday, Saturday and Sunday, when Cumbria will be joined by LMS 4-6-2 46233 Duchess of Sutherland and GWR 'Prairie' 5542.

Alan set off today to oversee a couple of additional steamings for FR 20 at Shildon on Tuesday and Wednesday this week. Unfortunately, these steamings have coincided with a long term booking for our folk group, Live Steam, at Longridge Folk Club tomorrow night. Alan is planning to 'pop back' for the gig before returning to Shildon on Wednesday morning, returning home on Thursday for the AGM, and then going back to Shildon on Friday for two more steamings over the weekend. Is there no stopping this man?!

As you will have gathered from the above, it is planned that all three of our operational locos will be in steam this weekend, for the first time in five years. Great stuff!!

And we hope that you also noticed above the subtle reminder that we have an AGM on Thursday evening, 8pm in the new shed at Preston. David has been rounding up garden furniture from around the site and Trevor has been cleaning it in readiness for the meeting.
---
Monday 8th June 2015
Ah well, holidays over for the moment and time to publish another blog!
From all accounts, Cumbria appears to have been doing the business on the Mid-Norfolk Railway since arriving there on Wednesday, 27th May. George travelled down to assist the railway in bedding the loco in and also carrying on the snagging process.
A warming fire was lit on the Thursday and a training session held on the Friday when Cumbria was tested along the line in readiness for two days of operation over the weekend. On the Saturday, as well as running the three daytime timetabled trips, Cumbria was also rostered to undertake an evening special and managed to return still with a small amount of coal in the bunker, having run over 85 miles. George departed on the Sunday and left them to it, but Alan managed a visit the following Wednesday on his way from Rutland to Shildon (!!!) - time he got a new road atlas! From what we hear Cumbria ran again over this last weekend as well. FRT members will be welcomed at the railway over the summer months, so make yourselves known if you go down there.
FR 20 was in steam again at Shildon this last weekend, and Alan was due to return from the north east this morning after a long stint away from home. As usual, well done to Alan and Alison for looking after FR 20 on behalf of the Trust.
Work has again been progressing on the RMB at Preston over the last couple of weeks and, now that all the Trust's operational locos are away on hire, it is hoped to make some good progress on the vehicle over the summer months. John is meanwhile preparing shuttering for more concrete, this being for the pad outside the new shed for storing sleepers and also to finish off the walkways in the Ribble Rail shed.
There has been more progress on taking apart the tender for Wootton Hall and Fred and Adrian have busied themselves on cleaning up the pistons and regulator box respectively.
---
Monday 18th May 2015
Last week we left you with the news that it was hoped to be able to conduct a formal steam test on Cumbria last Wednesday. And so it came to pass with no less than Bob Garnett himself, Head Boiler Surveyor for RSA, calling in to inspect Cumbria's boiler. As the boiler was being warmed up, Tim lined out the wheels as fast as he could; not an ideal situation as steam started to emerge from the rear sand pipes! Alan, John H and Adrian put the front shackle on and John D meanwhile fitted Cumbria's nameplates. In the event, Bob was happy with the boiler, so plans were then laid to run Cumbria over the weekend at Preston for the 'Deltic 60' event.

There was still plenty to do on Friday with lagging to be placed around the dome before fitting the newly painted dome cover, and concrete to be laid in the base of the smokebox. The whistle arrangement needed to be altered and measurements taken for the construction of a new brick arch next week. The sanding valve had been blowing through so Alan changed the pipework in the hope of an improvement. Alan also adjusted the big end bearings following earlier reports of a knock when moving the loco in steam around the yard. Gradually the jobs were crossed off the list and Fred and Roger worked on priming the running board. Once again, a fire was lit in the afternoon in readiness for steaming on the Saturday.

Planning for the 'Deltic 60' event had been hampered by the uncertainty over which steam locos would be available. Fortunately, a proving run late on Thursday by Hawthon Leslie 0-6-0ST Linda had been successful, after a couple of kerb stones on the swing bridge had been cut back. So, first thing on Saturday morning, a plan emerged whereby Linda and Cumbria would share duties throughout the day on a 45 minute interval service, top and tailed by a selection of no fewer than four diesels. Alan was first off with Linda on the 11.00 and returned with no problems being encountered. Tim then set off on with Cumbria on the 11.45, with Alan also on board, and found Cumbria to be as strong as ever and no knock! A check around at Strand Road didn't find any problems, so it was straight back to Preston Riverside and a second trip down the line. It had originally been planned to let each steam loco do two trips before swapping over, but Alan and Tim agreed that it was easier just to double head the trains after lunch, so allowing maximum mileage to be built up by each loco. Apart from the sanders continuing to blow through, but this time from the exhaust pipe, Cumbria's first outing in traffic was an undoubted success and just reward for all the work that had been put in by our working members over the past four and a half years. Well done to you all!

Alan was joined by Ade on Sunday and, again, all went well, with the sanders being blanked off this time! It is planned now to construct a brick arch in Cumbria on Tuesday before further work on snagging and painting takes place on Wednesday and Friday. Representatives of the Mid-Norfok Railway are due to pay a visit to Preston on next Sunday after which the loco is scheduled to set off to Norfolk on the Tuesday after Bank Holiday.
We are pleased to report that Alan's early morning appointment at Shildon with the boiler surveyor last Tuesday, to undertake a cold inspection on FR 20, was also successful. A steam test has been arranged for this coming Friday morining, and a working party to re-assemble the loco is planned for Thursday. Thereupon, FR 20 is scheduled to be in steam for three days over the Bank Holiday weekend, with Alan and Alison in support.
Back at Preston, Tom, Trevor, David and Mike have been busy again working on the RMB, where another acre or two of paint has been removed and work continued around the replacement door. David has lashed out on a Class 1 set of stepladders to enable him to access the upper regions of the body panels.
So, another busy week to report and another one in store for us as we aim to get FR 20 back on the road and Cumbria ready for the Mid-Norfolk Railway.
---
Monday 11th May 2015
There was a key milestone event at Preston yesterday when Cumbria was lit up for the first time since it failed with a major boiler defect in August 2010. This followed another week of activity to chase up and complete as many of the remaining jobs as possible. Fred, Roger and Tim were painting the cab, buffer beams and hand rails on Friday whilst John still had plenty to do in the bunker, where he has fitted a new angled plate at each side to prevent coal gathering in the corners, which has the undesirable effect of promoting corrosion as well as assisting the fireman. The final job for John on Saturday was a coat of black paint all round the back of the cab and also the bunker before coal was brought on board on Sunday morning with which to light the fire.
| | |
| --- | --- |
| | |
| Sensibly, the locomotive was warmed up gently throughout Sunday, (or was it just down to Adrian's firing technique?) with steam only being raised at the end of the day. Overall, the steaming was deemed to be a success in that the injectors worked and Cumbria moved satisfactorily after the work on its pistons and valves. There are a number of jobs now to follow up, but the next major step in Cumbria's return to service will be a formal steam test with the boiler surveyor, which is now provisionally booked for Wednesday afternoon. Cumbria might then possibly make an appearance at next weekend's 'Deltic 60' event at the RSR. A couple of Adrian's photos of Cumbria yesterday are shown along with one of Keith, Matt and George at work on Wootton Hall's tender. As Ade put it on our Facebook page, they were sharing a tender moment... | |
Looking further ahead, representatives of the Mid-Norfolk Railway are planning to visit Preston on Sunday, 24th May to inspect Cumbria, and a low loader has been booked for Tuesday, 26th May to take it to Dereham. It is then planned to light a warming fire on the 27th May and test the loco and stock over the next couple of days. George has kindly agreed to book that week off work to head off down to East Anglia in order to assist.
Cumbria is not the only loco needing a boiler inspection. Alan has headed over to Shildon today in readiness for a dry inspection of FR 20 at the rather unsporting hour of 7.30 tomorrow (Tuesday) morning. However, boiler surveyors are difficult to track down at the moment and Alan must be commended on his persistence in managing the make an appointment.
As well as John being hard at work on Saturday, Keith and Matt headed across to Embsay with the RSR's new pick up truck to collect one of 5643's superheater elements and transport it down to Loughborough so that detailed measurements can be taken in readiness for the manufacture of the new set of elements that has been ordered. Whilst at Loughborough, Keith and Matt were able to pick up the new front draw hook for 5643 and bring it back to Preston. Also on its way to Preston (courtesy of Andy Booth) is the rear draw hook, which has been taken out for inspection.
Finally, we must not forget the efforts in our new shed of David, Tom and Trevor, who have once again been beavering away on the RMB. A new piece of plate has been inserted into the side of the vehicle.
---
Wednesday 29th April 2015
Firstly, apologies for the delay to the blog this week - there has just been so much going on!
In a week when the availability of boiler surveyors was akin to that of hens' teeth, we were fortunate to be able to get 5643 through its steam test at Preston yesterday afternoon. Well done to Alan M and also Alan Bennett (our local surveyor) for arranging the test and to Matt and Keith who made things happen on the day. 5643 is now scheduled to leave Preston tomorrow and to appear in the Branch Line Gala at the Embsay & Bolton Abbey Railway over the forthcoming Bank Holiday weekend.
Further progress was made at Preston last week on the overhaul of Cumbria, with the clock ticking fast before its departure next month to the Mid-Norfolk Railway. The critical battle to get the steam pipes in the smokebox to meet up was won last Wednesday and the blast pipe was then installed. The paint job has been progressing well, with lots of people being puzzled by the amount of masking tape currently on the loco. All should be revealed next week! It is hoped that varnishing will take place next Tuesday followed by the loco being moved out of the workshop on Wednesday.
FR 20 is in steam at Locomotion, Shildon, on Sunday and Monday for their Spring Gala, which will also feature LNER D49 Class loco Morayshire. Alan is then stopping on at Shildon and a working party has been arranged there for next Wednesday in order to prepare FR 20 for its annual boiler survey.
Finally, we mustn't forget the progress that continues to be made by Tom, Trevor and David on the RMB. We certainly aren't short of things to do!!
---
Monday 20th April 2015

This weeks' blog starts with the good news that 5643 passed its dry inspection by the RSA boiler surveyor at Preston last Friday. Some stay nuts will need replacing before the steam test, which is expected to take place next Monday or Tuesday. Subject to a satisfactory test, it is provisionally planned that 5643 will leave Preston to go out on hire for 2015.

| | |
| --- | --- |
| | |
The Cumbria team has been moving forward with many of the smaller tasks being accomplished, such as re-fitting the amended front lamp bracket (duly taken back down by the painter!), cab window handles and sanding and lubrication pipework. The major outstanding job is the closing together of the two steam pipes in the smokebox, followed by the re-fitting of the blast pipe and chimney. It is hoped that this can be accomplished this week. John has also made strides with closing up the hole in the rear buffer beam for the drawhook and is creating some new rubber and steel collars to replace the broken drawhook spring. The job of repainting the locomotive is now well underway and the accompanying photo shows the loco in a mixture of maroon undercoat and Indian red gloss.
The Mid-Norfolk Railway has now signed up to hire Cumbria from the end of May, so it is hoped to get the loco back into steam during the early part of May so that it can be tested in good time before departure. Representatives of the MNR are expected to visit Preston to look at Cumbria before it departs.
David, Tom and Trevor have once again been busy working on the RMB in our new shed, and it is hoped to be possible to divert some more resources to this task once 5643 and Cumbria have departed out on hire.
There was some interesting film of South Wales steam at the Preston branch meeting last Tuesday, with many shots of Class 56XX locos. However, the general dereliction of the railways in the Valleys in the 1960s was clear to see, with a number of lines closing during that time.
FR 20 was in steam at Locomotion, Shildon, last Thursday and Friday when Alan and Tim successfully underwent driver refresher examination. FR 20's excursion to Llangollen at the end of May is now cancelled at the request of the Llangollen Railway, but two additional steamings have been booked at Shildon, on 16th and 17th June.
---
Monday 13th April 2015
We start this week's blog by looking back at the Easter weekend when FR 20 was busy over at Locomotion, Shildon, and was caught by the cameras with a certain 77 years old driver! There is a good article and video footage available here, courtesy of the Northern Echo. FR 20 is back in action again this week on Thursday and Friday when Locomotion's crews will be examined or put through their refreshers.
Work continued at Preston on the overhaul of Cumbria, with John working on reducing the size the draw hook slot in the rear buffer beam. This has been a job that has been outstanding for a long time and which John has finally taken up the challenge on the basis that no-one else has done it. He has also been cleaning up the rust and scabby paint underneath the bunker.

Adrian made some progress with fitting the main steam pipes before Alan continued the task on Friday. Both upper and lower pipes are now bolted to their respective bases, but some heat will be required to get them to meet, as the lower pipe has twisted itself slightly during the annealing process. Howard Fletcher had previously skimmed the surfaces of the upper steam pipe in readiness for fitting (see photo above).

Tim has now started the painting process in earnest with a view to completing it by the end of the month - that's if those engineering chappies don't get in the way!
There will be no excuse now for not being able to construct a new brick arch in Cumbria as a pallet load of refractory cement arrived on Wednesday; trouble was, it was too big and heavy for the pallet truck, which meant a lot of manhandling to get it stacked on the mezzanine floor - see photo.
Work has continued to prepare 5643 for its cold boiler inspection, which is now scheduled to take place on Friday. A washout was being carried out over this last weekend.
In our new shed, Tom and Trevor came in on Friday to work away in loneliness on our RMB. David had spent Wednesday scraping away some more paint from the body sides.
Last call for the Preston Branch meeting tomorrow (Tuesday) evening at 8 pm at the Ale Emporium, Fylde Road, Preston. The subject matter is BR Steam in Wales and the North West.
---
Tuesday 7th April 2015

Work has continued on Cumbria this last week and we seem to be heading towards getting everything back where it should be in our 'Austerity' 0-6-0ST , although in some cases it is taking a little time to make the components and pipework actually fit.

Adrian is still scratching his head as to why it is a bit of a struggle with one particular pipe. Alan returned with the repaired steam pipe and there will no doubt be some further sweat expended before it is fitted back in the smokebox. Likewise, the hole cut into the smokebox doesn't seem to line up with the existing vacuum pipe and some surgery is expected.

The good news, however, is that the ashpan is finally finished and we should also be able to refit the reach rod to the reverser now that some gloss paint has been applied.

5643 returned safely from its successful debut appearance at the West Somerset Railway's Spring Gala and was offloaded on Thursday morning. It ran 197 miles over the previous weekend, which is somewhat less than the mileage covered by the low loader getting it there and back!

In an email to Tim, Andy Forster, the WSR's CM&EE, described 5643 as a fine machine!

Work then started immediately on preparing 5643 for its forthcoming inspection by the boiler surveyor. Fred is seen here in his familiar position in the smokebox, whilst Matt attacked the firebox.
Some good progress has been made in scraping paint off the RMB, with a full team seen here at work the previous Wednesday. David has since made further progress and it will not belong before we need to erect some scaffold to enable the upper parts to be worked upon.
Meanwhile, progress continues to be made on Wootton Hall, with the left hand cylinder cover now removed and, as you will see from the adjacent photo, Keith has also been working on the right hand cover. The cylinder liners look to be reasonably unworn, so should last for quite some time once the loco is in service.
We mustn't forget Alison and Alan, who have been spending Easter at Locomotion, Shildon, overseeing FR 20's three steamings there.
First call now for the next Preston Branch meeting, which will be held at 8 pm at the 'Ale Emporium', Fylde Road, Preston on Tuesday, 14th April. The subject matter will be 'South Wales Steam'.
---
Monday 30th March 2015
The main talking point this week has been 5643's impromptu visit to the West Somerset Railway's Spring Gala.
Matt and Alan Vernon did splendid work on Monday in ensuring that the engine received half a bunker full of coal at short notice, and that the spark arrestor was re-fitted. The former was to enable the loco to have a warming fire and work a train from Bishops Lydeard to Minehead, where it could receive a full bunker of coal. 5643 was moved from Preston on Tuesday, assisted by Matt and Ade, and had a warming fire put in the firebox at Bishops Lydeard on Wednesday, where Matt joined it on Wednesday afternoon.
There are plenty of photos and videos featuring 5643 now available on the internet - try the West Somerset Railway Spring Gala thread on the National Preservation web site. There are also quite a number of photos on the WSR Facebook page.
With the four days of running at the Gala now completed, 5643 is now waiting to be loaded up on Wednesday for its return to Preston. There its boiler and firebox will be stripped and cleaned out ready for its 14 months boiler survey and steam test. Keith has a number of other jobs in mind as well.
Back at Preston, work continued on Cumbria, where further progress was made by John on the ashpan, and Ade worked on the cab fittings. Alan has taken the main steam pipe away for rectification, and Tim, Fred and Roger have been busy with the paintbrush. In the other "office", Tom and Trevor have been restoring the wood inner panels on the RMB's doors.
---
Monday 23rd March 2015
This week's headline news has to be the last minute arangement to send 5643 to take part in the West Somerset Railway's Spring Steam Gala. The invitation was received last Thursday after a problem occurred when the low loader transporting class mate 6695 from the Swanage Railway failed in spectacular fashion en route, unfortunately causing some damage to the loco. As the event carries a South Wales theme, a replacement 56XX class loco was seen as a must, and an agreement was concluded on Friday morning. A formal contract has since been exchanged and Allelys will be arriving at Preston at around 10.00 tomorrow (Tuesday) to pick up 5643; let's hope that it has safe journey. The plan is that it should arrive at Bishops Lydeard by lunchtime on Wednesday so that the tanks can be filled and a warming fire lit. The RSR has kindly stocked the loco up with coal so that it can run with a train to Minehead on Thursday and be then topped up with a full bunker.
The timetabled turns that we have been given for 5643 are:
Thursday.
10.35 Bishops Lydeard to Minehead, 13.25 Minehead to Washford, 14.05 Washford to Minehead, 16.05 Minehead to Bishops Lydeard, finish at Bishops Lydeard.
Friday.
11.47 Bishops Lydeard to Minehead, 14.45 Minehead to Bishops Lydeard, finish at Bishops Lydeard.
Saturday.
11.45 Bishops Lydeard to Minehead, 14.45 Minehead to Bishops Lydeard, 17.45 Bishops Lydeard to Minehead, finish at Minehead.
Sunday.
09.30 Minehead to Dunster where the locomotive shunts the yard for the day, 16.45 Minehead to Bishops Lydeard, finish at Bishops Lydeard.
Matt Bedford has been volunteered to go down to the WSR and will be there from Wednesday afternoon until Saturday. All being well, 5643 should be back at Preston on Wednesday, 1st April after which it will be stripped down for its annual boiler inspection and steam test. It will also have a number of other jobs carried out.
Fortunately, 5643 was able to have a timely run out at the RSR's Steam Gala this last weekend. Keith and Tim were allowed the privilege of driving 5643 on Saturday and Sunday respectively, whilst Alan drove John Howe and Adrian drove both No. 6 and Courageous on Sunday. Matt was given the shovel on 5643 both days, which enabled him to gain more familiarity with 5643 in readiness for the trip to Somerset. The sun shone over the weekend and everyone seemed to have a good time.
There was further progress on the re-assembly of Cumbria last week.

Adrian and Alan spent last Wednesday adding cab fittings whilst John did some further welding on the ash pan and also welded some brackets on to the tank. It is reported that John then spent Saturday in the sunshine cleaning the balance pipe ready for painting, but then managed to find a pin hole in it - it just shows that it isn't always to your advantage to clean things too thoroughly!

Adrian, in a brief moment of optimism, reckoned that one more day in the cab and another in the smokebox should see it nearly finished - but then typically regressed to realism by confessing that it will no doubt still be one step forward and another step back. Roger made further progress with painting the wheels whilst Tim sanded down the underside of the boiler in readiness for painting.
Fred must have sinned in a past life as on Friday as he was found to have taken on the task of cleaning out the pit in the new shed after 5643's departure. As always with Fred, he did a great job. He was kept company in the shed by Tom and Trevor who were working on the RMB.
---
Monday 16th March 2015
The Wednesday fencing gang reached the end of the line this week and finished with the last post - the upright, not the tune! The full timers and a specially convened Friday gang did some further sterling work in carrying across and fitting the remainder of the fencing infill posts. There may still be a little more work at the other end of the fence this week to tidy it up. Well done to all concerned!
Inside the workshop, John duly completed the drilling of the holes for Cumbria's smokebox support brackets and, after fitting the last of the bolts, was able to jack up the tank a little way to remove the shims that have ensured that there will be a permanent gap between the top of the smokebox and the bottom of the tank.

Adrian made further progress with the injectors and cab fittings whilst Alan and John H completed the fitting of the balance pipe.

On Friday, Roger continued his task of painting the wheels.

5643 now sports the correct post-1954 shade of green on its boiler and just needs the re-instatement of some of the orange lining to complete the picture in readiness for operation in next week's Ribble Steam Railway Steam Gala at Preston. Fred, meanwhile, has continued with the polishing of the rods. We can also record that Keith and Matt have made a start on manufacturing the cladding for Wootton Hall's boiler. Outside, it was a first steaming for Jimmy Dutton's RS&H 0-6-0ST Linda.

Meanwhile after months of toil, head scratching and battling with beaurocracy, with a considerable number of pages written, Neil pressed "submit" on the Charity Commission website to send in our application to convert the current unincorporated association version of the FRT into the shiny new Charitable Incorporated Organisation version. We are told not to pester them for 30 days and they will, after said 30 days, let us know how things are going. The clock is now ticking..

Finally Alan and Alison have endured a chilly but successful weekend up at Locomotion, Shildon, where FR 20 ran in service for the first time this year.
---
Monday 9th March 2015

There is still no let up with the work load as we head towards spring.

John continues to spend his time drilling holes in Cumbria's smokebox for the support brackets - not easy when you are unable to use a magnetic drill! Still, steady progress has been made, although visits to the hardware emporium to purchase more hole saws have been necessary, but John hopes to complete the task this week. Meanwhile, Adrian and George have been whittling down the many individual jobs on Adrian's "to do" list that he compiled to see through Cumbria's overhaul. Roger has continued his work on painting the wheels, and young Matthew assisted with his first attempt at painting - not sure that his mother was impressed with the amount of red oxide that evaded the overalls and landed on his hoodie!

Outside, the fence gang (no more jokes here, surely) are coming to the end of their task, with only one and a half panels to erect. But the weather forecast for this next Wednesday doesn't look too promising, with wind and rain forecast.

Fred has completed his task of chipping off the loose paint on 5643's boiler cladding, leaving Tim to prepare it for priming and undercoating - see below. Fred has since gone underground, cleaning the motion and frames from the pit. Matt has been assisting Keith with re-assembling the valve covers and superheater element, and has also been tidying up the cab - see photo for a view of bright red paint and shining copper!
Alan, John H and Alison paid a visit to Shildon on Friday to re-fit the injector pipework on FR 20 in readiness for this next weekend's steaming there. Yes, winter doesn't last very long when you have plenty of work to do!
Finally, the RSR Diesel Gala was very well attended on Saturday, assisted no doubt by the appearance of the Colas Class 66 66849 Wylam Dilly, which took a day off from hauling the "Chirk logs" to come down from Carlisle and haul some passenger trains for a change. The loco is well known to our Shildon crews as it was previously the Weardale coal locomotive.
---
Monday 3rd March 2015

Last Wednesday saw the fence gang make more progress and erect another four uprights before the end of the day. Hopefully the job will be concluded in March, subject to favourable weather. Adrian made some progress with fitting the water valves on Cumbria, having extracted the filters from the pile of stuff hidden by cloths on the floor of the cab. One valve has been fitted whilst the other awaits a repair to the filter.

John, meanwhile, has made a good start in fitting the saddle tank support brackets, having attached them to the tank and drilled pilot holes through the smokebox. Four of the sixteen holes have now been opened out to 20mm ready for bolting down. Drilling accurately through 18mm steel plate takes some persistence with a hole saw.
We were assisted on Wednesday by new face, Alan Ogden, who made a new copper gasket for one of the brass injector caps. Alan leads a double life, living both in Lancashire and Spain, so we look forward to seeing him again when he returns after Easter.
We also had a visitation from John Houghton on Wednesday, who is seen screwing a new union into Cumbria's water tank under the watchful eye of Alan Middleton.
Here's an updated view of Cumbria's front end. Meanwhile Bob has been facing up the surfaces in Caliban's regulator valve.
Work has continued on the overhaul of the draw gear between Wootton Hall's engine and tender. The adjacent photos show the new safety links for the tender, wizened old and part-made new tender drawbar links, and also the new pins for the draw bar.

Fred, meanwhile, is nearly at the end of his task of removing the flaking paint from the top of 5643's boiler.
---
Monday 23rd February 2015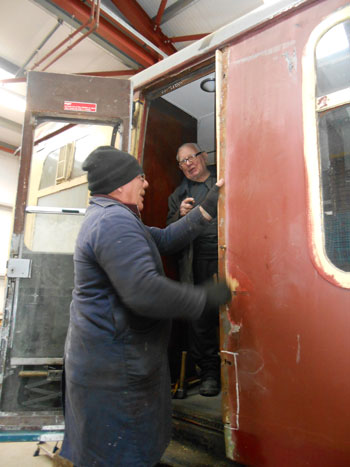 A quieter week for us after the success the previous Saturday of re-assembling Cumbria's new tank and the cab roof. It was time to insert all the relevant bolts and to make a start on fitting the tank support brackets which are bolted to the smokebox. The first job was to ensure that the new 20mm studs underneath the tank were aligned and fitted the existing brackets - some adjustment was required here on one of them, which proved tight - not surprising at the previous studs were probably 3/4" Whitworth! Further work on this will continue on Wednesday.
George spent a frustrating day on Saturday trying to sort out filters and joints for the intakes to the water valves and also found that the lubricator pipe end needs some attention before it can be fitted. The chimney was temporarily removed on Saturday, as part of Keith's slingsman's exam, and also to enable more paint to be applied on the tank around the chimney base.
Elsewhere, Fred has continued his task of de-scaling the boiler cladding on 5643 in readiness for a new coat of paint, and Keith and Matt conducted a visual examination of 5643's valves. They also removed one of the superheater elements in order that Tim could send some photos down to Loughborough, where a new set of elements has been ordered. Matt, incidentally, will be heading down to Loughborough this week to spend a week in David Wright's boiler shop under the aegis of the Boiler & Engineering Skills Training Trust (BESTT). We wish him well.
More progress was made on erecting the new fence alongside the new shed, courtesy of Keith Ray, Mike and David. And Tom and Trevor have been making good progress on fitting the replacement door on the RMB. Persistence and patience here is obviously paying off, so well done to them!
---
Monday 16th February 2015

There was another gathering of the FRT Preston Branch at the Ale Emporium last Tuesday to view more videos, including plenty of shots of Princess Royals and Duchesses, which put matters right after some earlier videos from Scotland and the GWR!

Work at Preston has tended to concentrate on Cumbria, although there was also work on other projects.

Keith Ray and Chris Rycroft extended the outline of the new fencing by another three panels, assisted we understand by the arrival of Chris's vibrator (!), which apparently eased the otherwise arduous task of making holes for the posts. Keith and Chris are aiming to complete the fence in the next three or four weeks.
Fred has started to chip away at the loose paint on the cladding on 5643's boiler in readiness for the application of yet another etching concoction on those galvanised sheets - the latest batch of etch paint has now arrived.

Meanwhile, Tom and Trevor have concentrated their efforts on enabling the replacement door on the RMB to close and lock satisfactorily - with considerable success.

Back to Cumbria, where gloss paint was applied to the top of the boiler cladding sheets on Wednesday in preparation for the fitting of the new tank at the weekend. The second of the repaired sand boxes was fitted under the cab floor and the interior of the cab side painted.

Roger spent Friday scraping the old paint and crud (technical term) off the tyres on the wheels in readiness for painting.



There was a good turn out on Saturday - George, Keith, Matt, John, Adrian, Tim and Matthew - although Alan was once again confined to barracks with another attack of 'man flu' - it certainly sounded bad over the 'phone! Keith and Matt organised the arrival in the workshop of the FR bogie bolster carrying the cab roof and new saddle tank, whereupon the lifting straps were quickly fitted and the tank moved above Cumbria's boiler. It has to be said that it took some while for the tank to be located in the correct place - this was partly due to the fact that both the tank and smokebox were entirely new and, therefore, there were no holes to align with the front support brackets on the tank. We also needed to dismantle some of the newly fitted pipework to allow the cab sides to be moved back, away from some protruding studs on the tank. Having said all that, once the tank was lowered into place, the holes on the rear tank brackets aligned themselves beautifully with the old holes on the lower part of the cab, such that it was possible to fit the bolts without having to make any adjustment to the holes - very impressive! A real credit to those who worked on the new tank at Bradshaw Sheet Metal.
| | |
| --- | --- |
| | |
With this win under our belt, there was plenty of time left to fit the cab roof, which slotted into place without much bother at all - it just took Adrian to jump on it to get it to finally slip into position! And then the chimney was hoisted into position to end the day on a high for everyone.
Now Cumbria looks the part again, but there is still plenty of work to do before we can light the first fire. Our thanks are due to Alan Vernon for making the necessary arrangements in the workshop, to Steve Shearing for operating the crane, to Alan Vipond for acting as slingsman, and to Jimmy Dutton for putting up with us moving his engine Linda temporarily out of the workshop.
---
Monday 9th February 2015
| | |
| --- | --- |
| | |
Lots more progress this week on putting Cumbria back together again. Last Wednesday Adrian decided to do yet more final tuning to Cumbria's boiler cladding and got out his hammer - just how long does it take to get cladding into its rightful position? Anyhow, by the end of the day he was reasonably satisfied, and it was left to John on Friday to insert the final self tapping retaining screws and then tighten the boiler bands. Tim had meanwhile arranged for the cab sides to be lifted into position on Wednesday, and all was looking good until John decided on Friday that perhaps one of the cab sides needed some additional clearance (or air, as Alan would say) next to the cladding sheets. John's fine tuning consisted of the application of an angle grinder and the creation of an impressive display of sparks before he was finally satisfied. Roger was busy tidying up the filler on the bunker inside the cab and then Tim came in on Saturday for a flying visit to apply some undercoat to the cladding and cab where it would later be obscured by the new saddle tank.
Yes, you read it right, we are now talking about a trial fit of the new tank, perhaps next Saturday. With this in mind, Adrian temporarily forsook his taxi driving on Saturday afternoon to have a test hoist of the chimney, and Keith then manifested a hole in the top of the smokebox. George came in on Sunday, somewhat delayed (and frustrated) by the termination at Lancaster of his train from Grange (yes, he cycled the last bit to Preston!), but still managed to make a start with the fitting of the injectors and a steam heat bag. So, more good progress, and perhaps this time next week we might know whether the new saddle tank fits. Let's hope so!
| | |
| --- | --- |
| | |
With 5643 now ensconced in its nice warm shed (well it was, after another fuse was put in the heating system on Wednesday), Fred, Matt and Keith have been attending to its every need and continuing the clean and polish process. As some of you might have already noticed on Facebook, it is now intended to have 5643 running at the RSR Winter Steam Gala on 21st and 22nd March. Cumbria will also make an appearance if it is ready. And meanwhile we mustn't forget the efforts of Tom and Trevor to make that replacement door fit on the RMB.
Alan and Alison paid a trip over to the north east on Wednesday to visit Locomotion at Shildon. Alan has a few jobs in mind to accomplish on FR 20 over the winter period and he came back with one of FR 20's injectors in order to make up some new joints in order to stop some drips occurring; these tend to be frowned upon by the Museum's cleaners!
Finally, time to remind you again that the next Preston Branch meeting will take place at 8pm tomorrow, Tuesday, 10th February at the Ale Emporium, Fylde Road, Preston. More steamy videos will be on show.
---
Monday 2nd February 2015
February already - what happened to January?!
Still, we haven't let the grass grow under our feet, with plenty of activity going on at Preston over the past few weeks.
Last Wednesday saw John start to build the steps in the Ribble Rail shed, ably assisted by Keith Ray, who was kept busy feeding the cement mixer.
Adrian and Tim continued work on Cumbria's cladding. Adrian reckoned that it still needed some fine tuning, and set to work on it with a large hammer - well you wouldn't expect anything else, would you? Work continued on Cumbria on Friday, with John welding up another sand box and Roger and Tim applying paint to the bunker, cab sides and firebox cladding. With the boiler cladding still not completed to Adrian's satisfaction, it was left to George, Tim and young Matthew to continue the job. This involved using ratchet straps to lift up one of the plates into position, and required someone lithe and small to go inside the frames to attach the straps to the plates - just the job for the apprentice! At last, barring the final fitting of the boiler straps (left free to allow some painting, the job looks about complete - unless, of course, Adrian wants to do some more fine tuning this Wednesday!
| | |
| --- | --- |
| | |
Work has continued on cleaning 5643 after its return from the Bluebell Railway, with Fred and Mike giving the copper some attention on Friday. The loco was then shunted over the pit in the new shed on Saturday, where it should be able to bask in some warmth away from the cold winter weather.
With Wootton Hall's tender being cleared away from the unloading road to allow former BNFL Salwick Peckett No. 2003 0-4-0ST John Blenkinsop to arrive on loan from the Middleton Railway, work turned to the engine, where a large amount of rust appeared quickly on the shed floor beneath the loco. Tom and Trevor were also busy inside the shed, fitting a replacement door on to the RMB. Just the small task of making it fit now!

We reported last week the sad news of Jean Houghton's passing. It has now been confirmed that the funeral will take place at Preston Crematorium (Red Scar) at 1.45 pm next Monday, 9th February.

Time now to remind everyone that the next Preston Branch meeting will take place at 8pm on Tuesday, 10th February at the Ale Emporium, Fylde Road, Preston. More steamy videos will be on show.
---
Monday 26th January 2015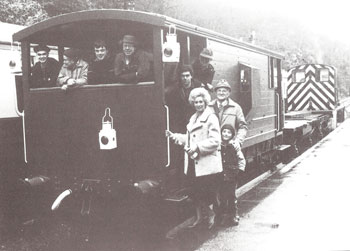 We are sorry to have to start this week's blog with the news that Jean Houghton, wife of former LRS Chairman John Houghton, died suddenly at home on Saturday evening. Jean and John had been married for over fifty years and Jean will have been known to many former LRS volunteers. Details of the funeral will be circulated when known. In the meantime, we are sure that everyone who knows John will be thinking of him at this very sad time. Jean is shown in this photo, taken from the Spring 1990 edition of The Iron Horse, at Haverthwaite on 11th February 1990 re-launching the LMS brake van back into service after overhaul.
5643 eventually returned to Preston on Thursday evening and was offloaded on Friday morning. It had been away from Preston for nearly two years, visiting five different heritage railways, and has returned for servicing and a good clean! Fred, Matt and Keith have already started the latter task, with 5643 being parked over the running pit at Preston to enable the worst of the dirt to be removed in what can only be described as cold wintry weather!
Talking of the weather, Wednesday wasn't the best of times for our heating system to have a technical problem. However, being the modern box of tricks that it is, Tim had already received a 'phone call from the manufacturers at Lytham to say that they had detected a fault and would he please give them a ring to be guided as to how it could be rectified. Needless to say, it wasn't quite as simple as that, and Tim and Trevor spent a good part of the day removing and fitting awkward and heavy panels on the heating system as well as replacing a blown 25 amp fuse. Having said that, the system was back up and running in the afternoon and has functioned properly since.
Steady progress has been made on re-assembling Cumbria in the main workshop, with the cladding (also awkward and heavy!) now in place after attention from Adrian, Tim, Chris, John, George and Keith on Wednesday and Saturday. It is intended that the cladding, will receive a couple of coats of paint before the cab and saddle tank are fitted. Meanwhile, John has been repairing the sand boxes and Roger has been tidying up the bunker ready for painting. Cumbria's cab roof has been moved out of the paint shop and into the main area of the new shed in preparation for movement to the workshop for fitting. Much of the paintwork has been undertaken by RSR's Joe Booth and Dave Hughes, who have now recently joined the FRT as well - welcome both!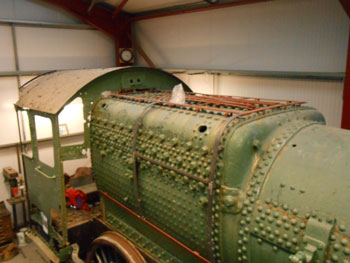 John has also been busy finishing off the steps in the pit in the new shed and now plans to start building the steps in the Ribble Rail pit this Wednesday. Tom and Trevor have been working on the door lock on a replacement door for the buffet car, and Tim is now ready to start undercoating the buffet car roof, having cleaned and sanded down the previous paint. And we mustn't forget Bob, who has been busy sorting out technical specifications for replacement parts for Wootton Hall. Work on Wootton Hall continues wherever possible, and the adjacent photograph shows that the crinolines on the firebox are taking shape.
All in all, there is plenty of work to be done over the coming weeks, and working parties are expected to take place on Wednesdays, Fridays, Saturdays and Sundays over the coming weeks. The heating scheduler in the new shed has been adjusted accordingly!
Finally, we have received a very nice email from Simon Denton, Steam Loco Manager at the East Lancashire Railway: "The ELR would like to say a big THANK YOU for the visit of 5643 at very short notice to the ELR. The loco was proved to be a good performer with the crews and went down well with the public during the visit. The loco also took many by surprise by its power for a small engine. Please say Thank You to all the support crews which came to the ELR and hope they were made welcome throughout the visit to the ELR".
---
Monday 19th January 2015
It has been another busy week and there was also an opportunity to see one of our locos working close to home.
The main task on Wednesday was to fit the crinolines and then the newly acquired ceramic lagging on to Cumbria's boiler. Matt, Adrian and David Starkie managed to complete the job, which enabled Keith and George to commence the fitting of the cladding on Saturday. There was further work on Cumbria's cab on Friday and John managed to re-fit one of the steps, which should make it less hazardous when climbing on and off the loco.
Although Cumbria was the main focus of our attention at Preston last week, there was still time to undertake carriage work and also make further progress with Wootton Hall's cab steps.
Matt and Mike headed off to the East Lancashire Railway on Thursday to breath life back into 5643, which had been winterised by the Bluebell Railway, but now needed to steam at short notice for the ELR's Winter Steam Gala over the weekend. The grate took some time to sort out and the tanks and boiler needed filling with water before a warming fire was lit. The loco also needed to be coaled, and then there was a hunt for the fire irons - where had the Bluebell Railway put them when despatching the loco from Sheffield Park? In the end, a set of irons was borrowed from the ELR to see the loco through the weekend. Any spare time was spent in removing grease and dirt from the underframes.
Alan arrived on Friday and, with Matt (who had managed to get some sleeping car accommodation for the weekend), prepared the loco for a steam test. Keith arrived in the afternoon to check the loco over and then the ELR's rostered loco crews for 5643 descended for some tuition in readiness for the Gala. The weather was, by now, wintery, to say the least, and all the work had so far been undertaken out in the open. You start to wonder why railways want to do Winter Galas!
| | |
| --- | --- |
| | |
Saturday dawned and it wasn't long before the sleet turned to snow and began to build up depth at the Rawtenstall end of the line. 5643 was programmed for a busy day (79 miles), and Alan and Matt were joined by Fred, Derek and Tim. The loco put on a good show with some spirited running and trains ran very much to time, with seven steam locos taking part. Matt was on the footplate for the 18.30 ten coach Beerex return to Rawtenstall. It was then, as the stock of coal in the bunker shrank, that the fireman found some unexpected obstacles to shovelling the coal. Yes, 5643 had been carrying two sets of fire irons all day! Lesson: always look in the bunker before you fill it with coal!!!!
Keith appeared on Sunday and the loco again ran well it seems. Some footage of the Saturday running can be seen here - go to the five minutes mark to see some excellent shots of 5643.
---
Monday 12th January 2015
Headline news this week is that 5643's return to Preston has been delayed by a week owing to a last minute agreement for it to visit the East Lancashire Railway to take part in its Winter Steam Gala on 17th and 18th January. 5643 will be standing in for the booked guest, 9F 92212, which is now unavailable. There's already been a positive response on Facebook not least because the ELR used the Youtube video of 5643 going over the ski jump last time it was there to promote the visit! A working party has been arranged at Bury for Thursday when Matt and Mike have already volunteered to prepare and clean the loco, and the usual acceptance steam test is due to take place on Friday, when Alan and Keith are due to attend. 5643 is now provisionally expected to arrive atPreston on Thursday, 22nd January.
Also headline news this week is that

Cumbria

's boiler has been fitted and bolted on to the frames. John, with Alan's encouragement, completed the fitting of the new plate, which sits below the ashpan, but over the axle, on Wednesday. Arrangements were then made to ask Steve Shearing to come in on Friday afternoon to operate the crane so that the boiler could be mated up and attached to the ashpan, and then the whole ensemble located on to the frames. Friday morning was spent moving a Sentinel diesel out of the way in the workshop and then clearing the decks. After interrupting Fred's display of sparks, emanating from his work on the bunker, the boiler was then lifted and positioned over the ashpan so that the upper flange of the ashpan could be cut to fit the lugs on the bottom of the firebox. The two were then fastened together with wedges before being moved on to the frames. And then the Sentinel had to be shunted back into position. Not a two minute job, but a successful one, which opens the way to being able to complete the re-assembly of the loco. Thanks go to everyone concerned, particularly RSR's Alan Vernon and Steve Shearing, for their assistance. The boiler was then bolted down during Saturday's working party.
Last Wednesday saw some further progress with the RMB's roof before both the RMB and the North London Railway coach were moved out of the heated area of the shed to enable the four foot area of road three to be sealed and painted. All being well, both vehicles should be back in the main area of the shed this week. Tom and Trevor were kept busy in replacing a strip on the top of a door light on one of the RSR's BSKs. Not a conventional repair, but it has always worked for us before.
Despite all the above going on, time has still been found to progress the cleaning and painting of components from Wootton Hall's tender.
We are sad to have to report that Mrs Watkins, mother of RSR Chairman Dave, passed away in Aintree Hospital on 10th January at the age of 95. We are sure that everyone's thoughts will be with Dave at this very sad time for him.
On a positive note, however, it was good hear from Bob on Friday that he has satisfactorily ended his hospital treatment. We all wish him well in his recovery.
---
Monday 5th January 2015
A Happy New Year to all our readers!
There has been plenty of activity at Preston over the Christmas period, with Keith, George, Matt, Tim, John and Matthew all making an appearance. Alan also managed to appear, courtesy of a lift from Alison, although he is still recovering from the 'flu lurgy which has unfortunately floored him for some while.

Most of the activity was centred on Wootton Hall's tender, which is coming to bits very rapidly. Those items which have been deemed re-useable have been cleaned up and painted, making use of new shed facilities. Taking things to bits isn't as easy as you might think, as Keith proved when he managed to break not one, but two, new 110v angle grinders in a morning! These are being returned to the supplier as being not fit for purpose. Our last angle grinder, of the same make, managed to survive for over ten years!

In Alan's absence, John has taken over the job of making a new piece of plate, which, when fitted to the bottom of Cumbria's ashpan, will be located over the axle. Alan is aiming to make a further visit to Preston today to check on progress. Once the ashpan has been completed, it will be possible to attach it to the bottom of Cumbria's firebox and then attach the boiler to the frames on a permanent basis. Re-building of the upper part of the locomotive can then commence.

Tim has recommenced work on the buffet car, with the repairs to the roof being completed so that a new coat of paint can be applied. We can then start work on the sides.

There is no news yet on when 5643 will re-appear at Preston. It is intended to give it a clean down over the RSR inspection pit when it arrives.
---
Home | About us | FR20 | 5643 | "Wootton Hall" | "Cumbria" | Vintage Train | Museum | Gifts | Live Steam | Links
İFurness Railway Trust