Welcome to the part of the FRT website where you can keep bang up to date with the latest news and goings on! We hope you like it!
The aim is to report on the latest activities of our locomotives and rolling stock, and what our volunteers are getting up to. A lot of the activity is at our main base at the Ribble Steam Railway where we are working to complete a new shared workshop building, but we are also active wherever our engines and carriages are working!
The latest blogs and 2017 archive are available here, but this is the archive of older postings from 2016. There is also an archive of postings from 2015 and 2014.
---
Monday, 19th December 2016
Attendance at the Preston Branch meeting last Tuesday was lower than usual, probably due to the approach of Christmas, and the wet weather that evening that caused Alan's car's windscreen wipers to get tangled up with each other on the way to the meeting. Those that were able to attend were treated to, amongst other subjects, some excellent video of Cumbrian steam in the 1960s which brought back many memories of how things used to be. The next meeting is on St. Valentine's Day, so why not put it in your diary to bring the other half along for a steamy evening?!
On the work front, it has been business as usual.


Adrian, Fred and Roger have all been fighting to make the most dust, John's been working away at the east corridor end of the RMB, and Alan and John H turned up with some festive mince pies provided by Alison.

The adjacent photo shows some of our members enjoying afternoon tea in an endeavour to ensure that the mince pie tin was emptied before being returned!




George appeared early on Saturday to remove some more tubes from Wootton Hall's boiler, and Keith and Russ Walker had a productive day outside to lay no fewer than fourteen timbers for the new point outside the shed. As can be seen from the photo, things are definitely beginning to take shape, and it is hoped to make further progress this week.
Ben Massam has again been busy with Fluff, but we are sorry to hear that Anthony won't be with us for a while as he sustained an injury to his ribs at work - we hope that he recovers quickly.
We also hope that Alan finds his voice again soon after it all but went missing whilst performing Christmas songs with Tim on board the RSR's successful programme of Santa Specials. Thanks go to Alison and Jen for staffing the sales stand and who did their best to ensure that as many people as possible bought a 'Thomas' flag! The trains were a sell out and there has been some very positive feedback from passengers.
It only remains for us to wish all our readers a very Merry Christmas and a great New Year!
---
Monday, 12th December 2016
The main event this last week was the Christmas dinner, which was held last Friday eveing at Baffito's on Navigation Way at Preston.

Alison managed to persuade a record number, twenty-one, to attend and all enjoyed a great meal in our usual private room. Well done to Alison and all the staff at Baffito's!
Tim and Mike carried on with work on the RMB last Wednesday, but were without John who was suffering from a stomach upset and who wisely decided to concentrate on recovering in time for the dinner on Friday.
Adrian carried on attacking Caliban with both the new needle gun and also a motorised cup wire brush which produced a dust cloud reminiscent of a nuclear explosion. Alan and John H were seen retreating quickly to the other end of the shed!

On Saturday, Keith and George gave Russ Walker a hand in progressing the laying of the new point outside the shed, and George then continued to burn out some more of Wootton Hall's tubes. Keith has also been spending more time drilling holes in the buffer beam for the Hall's tender.

The RSR's Santa Specials once again kept Alan and Tim busy providing music, and Alison and Jen staffed the FRT sales stand.

Finally, tomorrow (Tuesday) sees the next Preston Brach meeting at The Ale Emporium, Fylde Road, Preston, commencing at 8 pm. A programme of steamy videos is being put together for the occasion.
---
Monday, 5th December 2016
John has finished the final door frame repairs on the RMB and has started to attack the east corridor end, the last piece of bodywork to rectify in its overhaul. He has also welded in the corners of the new gas compartment door, which is pictured during welding and also fitted on to the RMB.
Keith has been making further progress with the tender buffer beam for Wootton Hall, with more metal being cut and worked upon.

Adrian, Alan and John H have been busy again with Caliban, with Adrian making the most of a new needle gun - we wonder how long this one will last! Fred and Roger also joined the fray on Friday, creating another plume of dust.

Outside, we now have a photo of the first piece of the pointwork that has been laid outside the shed, now that the earthworks and boundary fence have been completed.

Yes this is the point of the whole operation! (Was that the best you could do? Ed.)

The commencement of the RSR's Santa Specials has involved FRT members, with Alan and Tim providing the musical entertainment and young Matthew and Wilfie doing a sterling job as elves. Keith has been driving, and Alison and Jen have been attending to the sales stall. Even the FRT's North London Railway coach has been dressed up for the occasion! (Maybe we could put a sprig of something with red berries on 4979 - then we could sing Deck the Hall with Boughs of Holly?! Sorry, I'll get my coat.. )

Looking ahead, next Tuesday sees the second of this winter's branch meetings at The Ale Emporium, Fylde Road, Preston, commencing at 8pm - all welcome.
We leave you with a surprise screen shot of a "Flog It" TV programme, found by Mike Rigg, which shows the NLR coach when it was at MOSI in Manchester. We don't think the old carriage was put up for auction...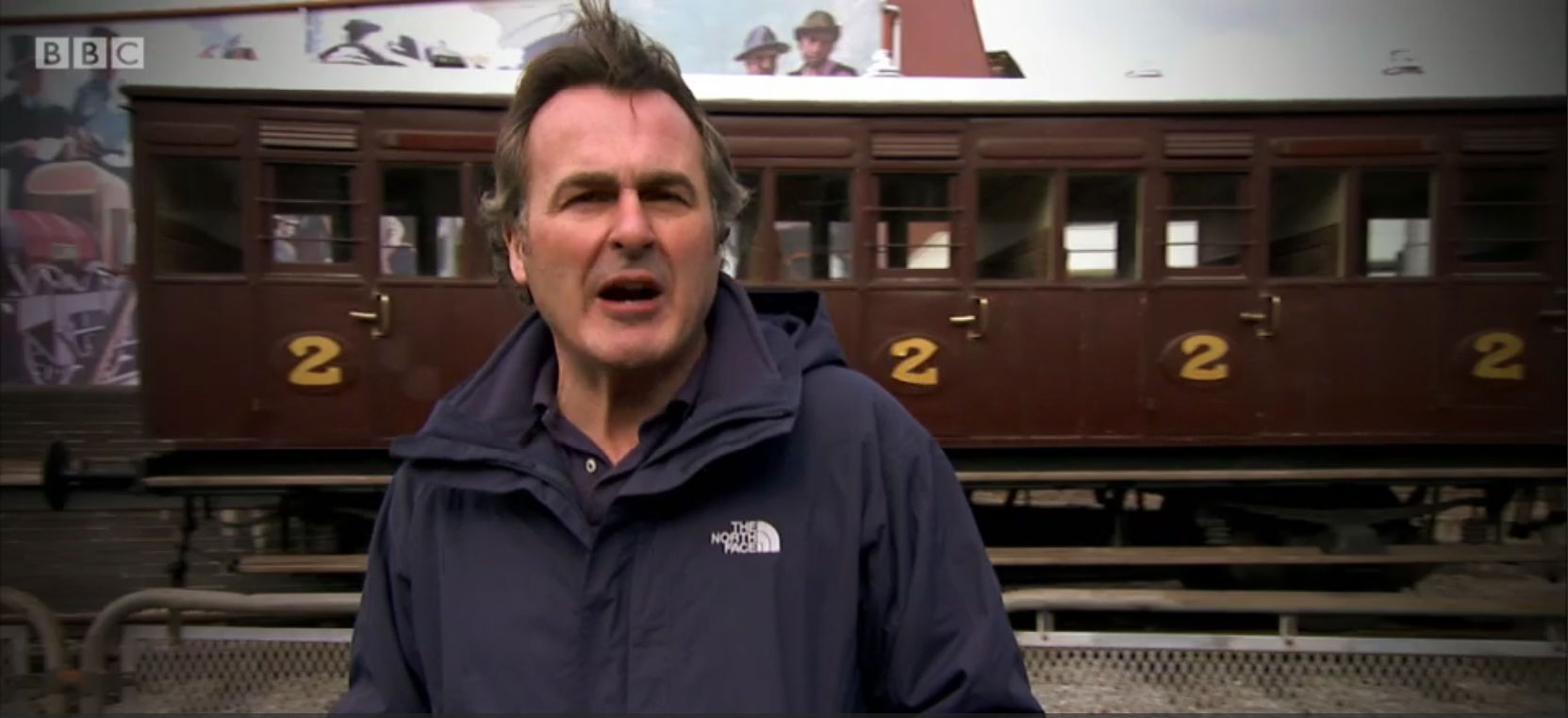 ---
Monday, 28th November 2016
A shorter blog this week and very little in the way of photos as the main blog photographer was AWOL (skiving?) entertaining friends elsewhere. But was that all that was going on? A bit further down the page we have shocking news that he might have cloned himself (in miniature) while he's been AWOL!
Anyhow, we are pleased to be able to report that, with the completion of the boundary fence outside the shed, Ed has been able to make a start on laying the new point into roads three and four. This will no doubt be an ongoing project over the next few weeks.
Inside the shed, John has very nearly finished fitting the surrounds around the last door frame that he has repaired on the RMB. Mike also popped in on Tuesday to do some more painting of the underframe.
Alan, John H and Adrian were busy with Caliban again last Wednesday and Fred and Roger carried on the good work on Friday. Keith has cut a new tender buffer beam for Wootton Hall and has made a start on drilling the necessary holes.
A spare spring, kindly lent by Dave Watkins, was despatched to The Battlefield Line on Wednesday as the other two spares are still under repair. Cumbria was due to operate Santa Specials this last weekend so time was of the essence to complete the repair to the loco. Thanks go to Dave for his help.
Live Steam had a long evening playing folk music at the Old Friends pub in Ulverston on Saturday evening as part of the Dickensian festivities.

After 36 songs(!), Tim's voice was rather frail the following day, but the trio of Alan, Tim and Pete successfully managed to negotiate an hour on the outdoor stage (pictured here) performing their traditional Sunday afternoon role of "sending the people home" to complete the commitments.
And finally, as we promised in the opening paragraph, to Mini-Tim! And possibly Mini-Alan on the fireman's side?! Our old friend Tom Rotherham sent us this picture of a clearly identifiable Chairman stood on the footplate of FR20. This superb coal-fired model is in 5 inch gauge and looks almost better than the real thing. It was made by Mr Jones from the Workington area and is, according to Tom, "mint"! It even has the polished wooden toolbox next to the smokebox on the driver's side.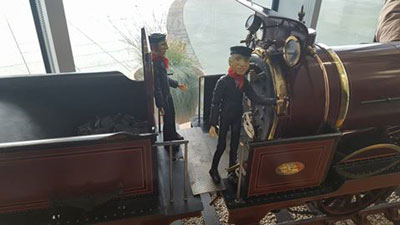 ---
Monday, 21st November 2016
Further progress was made on Wednesday on the road four track in the shed when Ed and Adrian moved and then joined up the lengths of rail in readiness for the point to be laid outside the shed.

The contractors appeared on Friday to start erecting the fence, although they had not picked one of the best of days to do the job, as can be seen from the photo. Once the fence has been completed it will then be possible to lay the new point.



Once Adrian had finished his track work, he joined Alan in dismantling the rear tank support brackets on

Caliban

. This enabled Fred to start cleaning them off with his angle grinder cup brush on Friday.
John spent last Wednesday and Friday lining up the last door lock to be fitted on the RMB and trying to make a silk purse from the proverbial sow's ear in resurrecting the wood that fits within the door frame. He is seen here cutting another inset piece to be fitted. Tim, meanwhile, worked on filling and sanding the east corridor end and Mike found himself on his back once again as he painted the dynamo and applied some insulation to the wiring.
Keith had picked up two bronze castings for

Wootton Hall

that had been manufactured using a pattern prepared by John and which has been illustrated in earlier blogs. These castings form two of the components for a replacement screw reverse mechanism for 4979 and cost £90 each. Keith is inviting sponsorship or donations towards the cost of these items. Saturday saw George appear at Preston to cut out some more tubes from

Wootton Hall

's boiler.
Next Saturday evening sees our folk band, Live Steam, perform at the Old Friends public Friends in Ulverston. They are also due on the Theatre Street stage for an hour at 4 pm on Sunday as part of the Ulverston Dickensian Festival. The weather forecast isn't too bad at the moment!
Finally, the next edition of The Iron Horse has now been proof read and is being printed. It should therefore be landing through members' letterboxes fairly shortly.
---
Monday, 14th November 2016
The major news this week is that the track on road four of the new shed was successfully straightened into its correct alignment, although not without a considerable amount of huff and grunt from those involved!

In the end it was decided that trying to move the track with Fluff on top was a step too far and so the 'birdcage' brake was moved back a few yards into the other half of the shed so that Fluff could be shuffled up and down the remaining track as required.

All in all it was an excellent effort, although we suspect there will have been a few aching limbs amongst the crew that evening!

Outside the shed, the contractors have finished the earthworks required to lay the new point and are just awaiting the delivery of some fence netting of the right shade to erect the boundary fence in the new position.
Inside the shed, it has been more of the same. John has almost completed the welding on the RMB's final door frame and skin whilst Tim has almost completed the filling and sanding on the other side of the coach. Once John has put the door lock back in place he will be able to concentrate on whatever repairs are deemed necessary on the east corridor end - this is not likely to be a two minute job, but there should be less work than on the west end of the coach.
Whilst Mike and Paul were absent and engaged on other tasks (the trackwork has been done now, chaps, you can come out again!) it was good to see both Trevor and Tom back on both Wednesday and Friday. Trevor has been again installing wooden backing pads on to which the melamine panels will be re-installed. Trevor also has it in mind this week to take the pattern for the south side toilet window to a glazing supplier so that a new pane can be manufactured.
Alan and John H spent some time on Wednesday vacuuming Caliban's frames to clear the dust, and then Fred and Roger came in on Friday to create, err, some more dust. Adrian has been notable by his absence over the past week or so, but we expect to see him back next Wednesday - yes, Adrian, the trackwork in the shed has been done, although there is still the new point to lay!

Finally, Keith has been making progress on Wootton Hall's new right hand cab side, as can be seen from the photo here. Keith and George were back at Embsay on Saturday to work on the seal between 5643's superheater elements and the header following some earlier problems.
---
Monday, 7th November 2016
No further progress was made last week on the re-alignment of track on road four of the shed. Perhaps Mike, Paul and Adrian took heed of the warning of hard work ahead in last week's blog and decided to embark on other more urgent tasks at home!

However, the contractors have made more progress outside, as can be seen from the photo.
So, it was back to welding, sanding and filling on the RMB as John and Tim spent a further two days taking forward the project. We didn't see Tom and Trevor but, contrary to last week's blog, they had made an appearance the previous Friday.
Alan spent more time drilling out the remnants of rivets on brackets supporting

Caliban

's running plate, and Fred and Roger continued their synchronised dust making activities on Friday, sending Bob to the archives where the air was somewhat cleaner!
h

Keith started cutting recently arrived steel to form up a replacement panel for the second of Wootton Hall's cab sides. He had previously erected the right hand cab steps, as can be seen in the photo - unlike the Class 56XXs, the 'Hall' Class seems to anticipate very wide enginemen!

Keith and George were at Embsay on Saturday to re-pack 5643's glands and intend to be back there next Saturday to check over the new superheater elements which have needed some work to cure a leak at the joints with the superheater header.

Alan and Alison spent a wet and cold weekend at Locomotion, Shildon, for FR 20's last steamings there this year. It is reported that Alan spent his evenings in the campervan laying out the next edition of The Iron Horse magazine, which should be going to the printer very shortly.
---
Monday, 31st October 2016

The contractors moved in last Tuesday to start the task of moving the boundary fence alongside the FRT shed and re-installing the kerbs in the Total lorry park. One photo shows a digger at work on Wednesday and the other depicts progress by Saturday.

Inside the shed, of course, there is the need to slew the track on road four back into a straight line. Just a minor problem is the fact that there is rolling stock on the track in the form of Fluff and the North London Railway 'birdcage' brake coach body and chassis. However, with plenty of muscle (Ed, Keith, Mike, Tim and John), and with the aid of three jacks, a good start was made on Wednesday, and by the time that it was agreed that we should 'jack in', so to speak, the project was half way to completion. The photo on the right shows Ed and Mike at work with a jack. On Friday, Keith was able to persuade the Amber Trains trainees to move and pack to its correct position the remaining track near the entrance to the shed. It just now needs another good session or two to get the two tracks to align with each other.

Back inside the main shed, John started to tackle the last door post on the RMB. Once the outer skin had been removed it was possible to shake hands with the bottom of the door pillar - until it dropped off! John reckons that he would probably have given up at that stage if it had been the first door post that he had tackled, but having done all the others, it is a bit late in the day to do that. It's a good job that John has plenty of patience! He persisted on Friday and reconnected the corner post that had corroded. Meanwhile Mike did some more painting of the underframe and David painted another bogie side on Saturday.

There was more work on Caliban, where Alan probed the area previously hidden by the corroded running plate that he removed last week, and Fred made some more dust with his cup wire brush on Friday.

Anthony made more dust with

Fluff

on Wednesday, and Alan and Ben made further progress on Thursday and Saturday.

David arrived with bags of rivets which Keith had ordered for

Wootton Hall

- although David had asked for them to be delivered to Preston, all 98kg of them were delivered to his home in Huyton! Oops! That should keep his car well weighed down!!
We had a visit on Wednesday from Alan Usher and his wife, Donna, who came to see us. Alan works at Locomotion and also at Kirby Stephen East, and he went away with some ideas for the Stainmore Railway's new shed.
Alan and Alison have just spent another successful weekend at Locomotion, Shildon, where FR 20 has been undertaking its penultimate weekend of steamings prior to the winter layover. We are told that the Saturday was particularly busy with Locomotion staging a Family Fun Day. Alan and Alison are due back there next weekend for the final steamings, which include Driver experience sessions on both days.
---
Tuesday 25th October 2016
There's been plenty going on again this last week.


First, some ground breaking news (literally) - the final paperwork for the transfer of the lease for a triangle of land just outside the FRT's shed has been completed. This will enable a new point to be laid to enable access to road four of the shed without having to resort to slewing the track. The Trust is very grateful to Total Lanfina for their cooperation in allowing the RSR and, therefore also the FRT, to benefit from the land.

A start to the groundworks has already been made in that the approach track to the shed has been lifted to allow contractors to move the fence and undertake the necessary earthworks to allow the new track and point to be laid. It is expected that the contractors will start work this next week.
We are pleased to be able to report that the superheater elements in 5643 have been successfully tested in steam and that Keith completed the pipework repairs that he started the previous weekend. The loco was then pressed straight back into service last Sunday and again on Tuesday. Well done to all involved in the work. Keith then turned up at Preston on Wednesday with two valve rods for Wootton Hall that had been purchased from Bury that day.
The RMB overhaul has continued, with John completing repairs to the west end door surrounds, and the windows and underframe are continuing to change colour as paint is applied.

Alan's efforts to release the corroded running plate on Caliban

were eventually successful, as can be seen from the adjacent photo - and so on to the next part of the project.

Wednesday saw the departure from Preston, to Peak Rail, of the engine for the replica new build of LMS diesel electric No. 10000. It had been in store at Preston for nearly five years. A Class 58 loco has been donated to provide the frames and the owning group is hoping to acquire some suitable bogies. Makes the task of restoring an ex-scrap yard 'Hall' Class look easy by comparison!
On Saturday, the Trust's folk group,

Live Steam

, was back in action for the first time in eleven months, performing at the eightieth birthday party at Littleborough for our old friend Richard Greenwood, who of course has just completed the necessary legal work on the lease for the land outside the shed. The band welcomed Pete Skellon (a long standing member of the Bahamas Locomotive Society, and who lives in Barrow) to the line up. George eventually made it to the gig, having cut out a dozen tubes from Wootton Hall's boiler during the day, but missed the first half of the gig after getting lost on his way, by bike, from his B&B at Ripponden. Still, he got there in time for the food!
Finally, staying with the

Live Steam

theme, Adrian has been scanning some of his old photographs, so we leave you this week with the first of our 'blast from the past' photos which we aim to include in future blogs. As you can see from this photo, probably taken in the early 1980s, two of the band's line up (looking very young!) are still playing today.
---
Monday, 17th October 2016
Last Tuesday saw a healthy gathering at The Ale Emporium in Preston for the first of the winter season of Preston branch meetings, held on the first Tuesday evening of alternate months. There was a good selection of steam video from the final days of steam on BR to more current heritage operations. The next meeting is scheduled for Tuesday, 13th December.
After that, it was another day back at the workface last Wednesday.




John continued his welding operations at the west end of the RMB whilst Tim continued putting undercoat on the window frames as well as finding more minor blemishes on the bodywork to fill and sand. Mike Rigg and Paul Newton were busy painting below, with some of the more inaccessible parts being reached, as can be seen from this photo.

Alan and John arrived to do some more work on Caliban, with Alan continuing his mission to drill out rivets which are holding in place wasted parts of the running plate which need to be replaced.
Friday saw John back at work fitting woodwork and aluminium beading around the RMB's east end door frame, and the South Lakes Gang was back chipping away at Caliban's frames.
Keith has once again been making components for Wootton Hall, using some of the new plate that arrived last Wednesday. As you can see from the photos, a new curved plate alongside the right hand cab side was made and fitted last Wednesday. Keith was also due to attend to some pipework on 5643 at Embsay on Saturday in preparation for a steam test of the new superheater elements on Sunday.
George called in at Shackerstone on Sunday and reported that Cumbria appeared to be performing satisfactorily.
Looking forward, next Saturday sees the new Live Steam line up performing at Richard Greenwood's birthday party at Littleborough - yes, it's another significant birthday! Therefore another band practice is due to take place at Cark this Wednesday evening and we expect George to join the band as well next Saturday evening.
---
Monday, 10th October 2016
Just when you think that things should be winding down as we approach the 'quieter' time of year, we hit a week when various of our working members were faced with a variety of tasks in different various parts of the north.
Wednesday was, indeed, relatively quiet at Preston with only John, Paul and Tim there to continue work on the RMB. John managed to re-fit the hinges at the west end doorway having this time made an adjustment to avoid using a shim that was there previously - or so he thought. When the door was re-hung, it mysteriously wouldn't lock, until of course that aforesaid shim was re-inserted. It all adds to the mysteries of dealing with Mark 1 coach repairs! Paul has been busy with the wire brush and paint brush again down below the frames and Tim finally managed to get some undercoat applied around some of the window frames.
Fred spent Thursday performing his speciality act of cleaning 5643's smokebox at Embsay before bringing Roger and Bob to Preston on Friday. Fred and Roger were to be seen chipping away at rust on Caliban's frames whilst Bob, as a fugitive from such an unhealthy dusty atmosphere, spent his time attending to 'Hall' Class drawings. Keith was off work that day so was able to make a start on cutting some more components for Wootton Hall from the new sheet of steel that had arrived on Wednesday.

On Saturday, George and Keith went to Embsay to remove 5643's superheater elements, but failed to fit the new elements as the holes that had been drilled to fit over the fixing studs turned out to be too small. It was Sunday, when Fred joined Keith, that a suitable drill was acquired and the superheater elements fitted. More work is required next weekend to replace some pipework elsewhere on the loco.

Alan has had a busy week at Shildon. He oversaw the operation there of Furness Railway No. 20 last Wednesday and Thursday, when it was required for training purposes, before driving the loco for the passenger service on Saturday. Tim relieved Alan on Sunday and both were tempted to spend some money at stalls at the very well attended Shildon Model Railway Exhibition, which was held in the covered area of the Museum. Alison, as ever, did a sterling job in both providing fantastic loco crew breakfasts and staffing the sales stall, where a healthy sum of money was raised towards to the Trust's funds.
Another reminder that the first Preston Branch meeting of the winter season takes place at The Ale Emporium, Fylde Road, Preston tomorrow (Tuesday) evening at 8 pm. More steamy videos are expected.
---
Wednesday, 5th October 2016
We seem to have hit a period where the work seems to be never-ending as we progress our projects on the RMB, Caliban, Wootton Hall and Fluff. Even so, the Wednesday Gang was back in full swing last week with attention being given to each of the above vehicles.
John continues to do battle with corroded door pillars on the RMB, although he seems to have got the measure of the job now, as can be seen from the photo of his latest pillar.
Tim has been ensuring that the tops of the all the window frames are sealed and then took the opportunity to apply gloss black paint to the west corridor end. Trevor is far away in Mexico at the moment, so we are without the input from the Blackpool Gang, but the boys down below were back and, as can be seen, have been making progress with painting below the frames.
Adrian, Alan and John H were back in action on Caliban, with John H using the needle gun to clean off the wheels; but the consumption of both energy and lunch led to an enforced afternoon doze! Alan was attacking Caliban with the drill whilst Adrian was wielding his angle grinder.

In addition, Keith and Anthony have been busy with Wootton Hall and Fluff respectively.

Alan and Alison were at Locomotion, Shildon, over the weekend, although the Sunday steaming had to be cancelled due to lack of available staff. Alan is currently back at Shildon to prepare FR 20 for two staff training days on Wednesday and Thursday, and Alison will be joining him again for the weekend's steamings, with Tim also joining them for Sunday.

Last night saw a gathering of the Trustees at Alison's house, with the main business being concluded by 10.00 (a record), although Any Other Business (Alison's sandwiches and cakes) lengthened proceedings rather longer! It should be recorded that Jim Kay made the trip all the way from Pickering for the occasion, and faced a very long journey back afterwards.

As well as the steamings at Locomotion, in connection with the Shildon Model Railway Exhibition, this weekend should see the new superheater elements fitted to 5643 at Embsay. Fred is starting the job on Thursday by cleaning out the smokebox, with Keith and George tackling the elements themselves on Saturday and Fred joining Keith to lend a hand on Sunday. Other volunteers would, of course, be very welcome.
Finally, we must not forget the 54th Barrow Model Railway Exhibition, which is also taking place on Saturday and Sunday at the 6th Form College in Rating Lane. There will be a free bus service on both days - see timetable below:
---
Monday, 26th September 2016
Work progressed on the RMB again last Wednesday and Friday, with John tackling yet another rusted door pillar. He had hoped that a little welding would sort the problem, but a full-blown replacement, culled from the body of the former horse box that was scrapped, has been called into play. Inside the RMB, Trevor has been inserting wooden battens within the ribbed frame in the buffet area which will secure the melamine panels when they are fitted. Tim and David have undertaken more work on the exterior paintwork above and below the sole bar. The body will then be ready for a full scale repaint once John has finished his welding activities. Mike and Paul had a week off whilst they undertook other activities, but hope to be back this next week to continue their work on the underframe and bogies.
| | |
| --- | --- |
| | |
Alan, John H and Adrian and appeared on Wednesday to further Caliban's overhaul. Just for once, Adrian was seen working with just a sheet of sandpaper instead of a mechanical tool which creates clouds of dust! Fred and Roger turned up on Friday with their synchronised dust making apparatus in order to clean up more of Caliban's components.
Keith has continued work on Wootton Hall and Anthony Jolly put in some time on Fluff on Wednesday.
Alan and Alison enjoyed a weekend with the Steam Punk enthusiasts at Locomotion, Shildon, over the weekend. Alan is seen here on FR 20 on a Locomotion Facebook photo, complete with those goggles around his topper!

Alan and Alison are back at Locomotion yet again for another two days of steaming next weekend. Then hopefully they will be back in good time for the Trustees' meeting at Alison's house next Monday evening. Advance warning here, then, that the blog may be delayed next week.
---
Monday, 19th September 2016
John returned from his roofing exploits at home to find that the C&W gang had also taken up the same cause on the RMB which, despite the unseasonal intense heat of that day, received a coat of grey gloss. Painting that roof has been one of the longest known jobs in the history of the gang in that it was started way back in 2010 when the RMB first arrived in the RSR running shed. Unfortunately, it had to be moved outside before the job was completed, and it was then decided that a different shade of grey was required as the decision had subsequently been made to paint the rest of the coach in red and cream livery.

This last weekend saw the annual Autumn Steam Gala at Locomotion, Shildon, where FR 20 was scheduled to be in service at the east end of all trains on both days. The duties on the other end of the train were shared, in two hour slots, by visiting engines Barclay 0-4-0ST Bon-Accord, Hawthorn Leslie 0-4-0ST Agecroft No. 1 and Hawthorn Leslie 0-4-0ST Sir Cecil A Cochrane.

The fireman's job on FR 20 was to keep enough steam to maintain vacuum for all journeys and then be able to haul the trains downhill; however, it was also necessary to act as banker when the smaller engines struggled either on the morning wet rail, the corner at the west of the line, or through lack of steam!

Alan, Alison and Tim spent a happy weekend there enjoying the sunshine and were joined by Dickon Chaplin-Brice and Peter van Zeller on Sunday.

The sun was so hot on Saturday that Alan decided that it was time to ditch the "Victorian" jacket - he reckoned that it had shrunk, although the accompanying photo of breakfast time suggests that Alison's cooking might have something to do with it!

Alan and Alison are back at Locomotion next week for the Steam Punk event, so don't leave your goggles lying about this week or they may be purloined!
---
Monday, 5th September 2016

Working parties are starting to show some recovery after absences during the summer holidays and the blog is somewhat longer this week, though perhaps not back to full strength just yet!

The RMB overhaul continues to make progress with David, Paul (see photo) and Mike wielding paint brushes on the underframe, Tom and Trevor rebuilding panelling inside, and Tim continuing to seek out blemishes on the exterior which need filling and sanding. John has nearly made it to the east end of the platform side of the coach with his welder.

Keith and George have again been busy working on Wootton Hall and work also continues on Fluff. Caliban has taken a back seat just recently because of Alan's visits to Shildon and Adrian's work commitments. Fred and Roger, however, continue to busy themselves with cleaning up components.

Looking forward, next weekend sees the Ribble Steam Railway's annual Autumn Steam Gala, which sees Grant Richie 0-4-0ST No. 272 make its debut in service. The following weekend is the annual Locomotion Autumn Steam Gala at Shildon, at which FR20 will be back in steam. The old girl is also scheduled for duties there for the subsequent three weekends.
---
Tuesday 30th August 2016
An extremely short Bank Holiday blog this week, amid more holidays, to let you know that FR 20 passed its steam test at Shildon last Tuesday and has been in steam there over the past three days. Thanks to Alan and Alison who have accompanied FR 20 over the weekend and taken some money on the sales stand, and also to Alan for warming up FR 20 and undertaking the steam test on Tuesday. It also looks as if 5643 and Cumbria have been turning their wheels this weekend.
---
Monday, 22nd August 2016
Another mid-summer holiday update on progress.
The RMB overhaul has continued to make good progress with John moving on from repairing the servery window to renewing another door pillar.

The filling sanding and priming of the bodywork has now caught up, while inside the coach, Trevor has been repairing the melamine panels whilst Tom has been sanding the servery window surrounds.

Mike has been away for a couple of weeks but Paul and David have continued the work on the frames and can be seen here cleaning up the original gas compartment cover.

The FRT's potential Olympic synchronised cup wire brush angle grinding team of Fred and Roger have once again been busy cleaning Caliban's frames.

Alan and John H also made an appearance last Wednesday to work on the loco, although the heat appeared to have a detrimental effect on progress after lunch as can be seen from the photo...!

Keith has been making more progress with Wootton Hall, as can be seen from the photo of the assembled cab steps.

Bob has again been working on the drawings for the project and can be seen here educating Matthew on the finer points of the General Arrangement drawing.
Over at Shildon, we are pleased to be able to report that FR 20 passed its cold inspection by the BES boiler surveyor a week last Friday and that Alan, Fred and Tim went back last Monday to re-fit the ashpan, safety valves and plugs. An in-steam inspection is due to take place at 1 pm this Tuesday, with the locomotive due back in action over the Bank Holiday weekend.
---
Thursday, 11th August 2016
Well, after a break for summer holidays, the blog is back with an update on the happenings over the past three weeks.
Firstly, we go back as far as Tuesday, 19th July when the AGMs of the two Furness Railway Trusts were held in the FRT shed at Preston. The only major drama of the evening occurred when a leg on Bill Ashcroft's chair slid into a gap adjacent to a rail on the floor and Bill toppled over sideways, as if in slow motion. Adrian told us afterwards that, as Bill had only just been praising the blog, he didn't know whether to go to Bill's assistance or get his camera so that the blog could have a photo of the event! Fortunately, Bill appeared to be non the worse for his tumble, although he probably felt a bit sore the morning after.
Otherwise, everything went to plan as reports were received and accepted and the trustees re-elected for another term of office. The only change was the appointment of Mike Rigg as an additional trustee to the new (CIO) FRT. The Extraordinary General Meeting of the old FRT unanimously passed the pre-notified motion to dissolve the organisation, which has done us proud over the last 25 years.
The only other administrative item of note to record is that the new bank accounts for the new FRT CIO have, at last, been opened. You will no doubt receive a communication from David Rimmer regarding the need to transfer standing orders/direct debits to the new accounts.
Some good progress has been made on the current projects at Preston over the past few weeks.
George has been cutting out more tubes from Wootton Hall's boiler and has erected a fan system to ventilate the boiler whilst he is at work - George can be seen here setting up one of the fans.

Keith, meanwhile, has been finishing off the creation of the crinolines around the boiler and has been manufacturing new items for the loco. He is seen here cutting new metal to form the backing plate to the cab steps.
There have been more clouds of dust around Caliban as Fred, Roger, Adrian and John H have removed old paint and rust from around the frames. It is starting to look quite tidy with the addition of some red oxide paint. The smokebox door has eventually been parted from the smokebox with the aid of the gas axe, its hinge having seized up after so many years out in the open.
John D has continued to weld up new metal on the exterior of the RMB and Tom and Trevor have now been able to re-fit both servery windows. The filling and sanding has continued and some gloss black paint has at last been applied to the west end corridor entrance and door.

Down below, the replacement gas compartment cover has now been successfully trial fitted by Paul and Mike and new handles have been created, ready to weld on. David has also been chipping away at the rust spots on the main underframe.

Fluff has also been receiving more attention from Anthony, where the fourth cylinder has been identified as the culprit in preventing the engine being turned over.

5643 and Cumbria have continued to turn their wheels at Embsay and Shackerstone respectively. FR 20 was the focus of attention this last Monday when Alan, John, Fred and Tim paid a visit to Shildon on a very dirty day out to prepare the boiler for a dry inspection by the BES surveyor this Friday. They were joined there by member Brian Goodfellow. The Gang can be seen moving the ashpan, which doesn't seem to get any lighter! All being well, another visit will be made next Monday to re-assemble the boiler in readiness for a steam test. John won't be able to make it, so let Tim know if you a fancy a trip over to the north east. We meet near Junction 36 on the M6 at 8 am.
---
Monday, 18th July 2016
After a great deal of waiting, we can bring you the news that the new superheater elements for 5643 arrived at Embsay this week - just too late for the steam test last Monday. However, they have been certified by British Engineering Services and will no doubt be fitted as and when time permits.
Back at Preston it has been a case of carry on as usual, with work taking place on all the current projects.

Tom is seen here laughing as John removes another part of the RMB for renewal. The second photo shows the replacement piece of steelwork tacked into place - John seems to be getting quite good at this! You can see from the phot the quality of the finish on the other, already completed, bar window.

Paul, back from his holiday in the south west, has carried on work on the new gas compartment cover and is seen here doing a spot of tin bashing. No doubt Mike will be back this week to give him a hand. Tim has been undercoating the west corridor end as well as some hoovering of the shed floor in readiness for the AGMs. The chairs have also received a wash.

Ade, Fred and Roger have again been cleaning down the frames on Caliban and John H has been causing everyone to walk around with ear defenders - not because of his line of conversation, but because he has been in action with the needlegun again! And Anthony has been doing some more renovation on Fluff. Meanwhile, yet another heavy sheet of steel has arrived to keep Keith occupied on Wootton Hall.

So, on to the aforementioned AGMs and an EGM, to be held in the new shed on Tuesday evening, 19th July, starting at 7 pm. Time to reflect on the Trust's activities of the last year and to look forward to future activities. Will there be anyone new elected as a trustee, or will it be the same hands as before? Why not come along and find out? See you there!
With school summer holidays approaching there will be no blog next week, but we hope to be back on line the following week.
---
Monday, 11th July 2016

Andy Booth has fitted a patch screw in 5643's firebox to replace the lap rivet removed for inspection at the request of the boiler surveyor. The boiler was subsequently filled with water and then satisfactorily steamed.

There were still some stay nuts to replace so, at Keith's request, six new die nuts were procured from South Coast Steam on Thursday, arriving at Preston on Friday in time for Keith's weekend visit to Embsay; we guess that's what they call in the trade "just in time" procurement!

As a result of all this work, the steam test for the boiler surveyor took place today and - good news - 5643 has been given a new ticket having successfully passed the formal inspection.

John has again been busy at Preston repairing the first of the servery windows on the RMB, with the assistance of his "supervisor", Tom. Both are seen here, happy at their work.

Trevor has continued with the re-fitting of interior panelling.

With the boys "down below" still enjoying what we hope are stress free holidays in the south west, Tim has been making further progress in filling and rubbing down small indentations in the RMB's exterior bodywork, with plenty more red oxide being applied.

Caliban's frames have been the centre of attention from a mixture of needle gun and cup wire brushes as John H, Adrian, Roger and Fred have made further progress in removing rust and old paint this last week.

Meanwhile Alan has been giving the boiler some more attention.

We mustn't forget Wootton Hall where Bill Norcross has been busy manufacturing 36 new bolts for eventual use in fastening down the smokebox to the saddle.

Looking forward, a reminder that the AGMs of both the old and the new FRT charities - and an EGM of the old to discuss its dissolution - will be held in the FRT shed at the Ribble Steam Railway at Preston on Tuesday, 19th July, commencing at 7pm. And its Tom's birthday again!!

---
Monday, 13th June 2016
And so back to Preston, where our intrepid workers below frames on the RMB, Mike and Paul, have been investigating how it will be possible to replace one of the gas box covers, which was removed to perform a similar job on the GER Royal saloon.


After some trials using the folding machine, it was decided that trying to work with a 2mm sheet of steel was going to be beyond them. However, Keith has managed to find then a lower gauge piece of steel for them to use and we will follow their progress over the next week or so.

Other than that, there is little much new to report, apart from the fact that Tom and Trevor appeared on Wednesday instead of Friday to accommodate Trevor's domestic arrangements, and John has now finished welding up another of the windows on the RMB.

As predicted in last week's blog, Caliban's boiler has been moved inside the FRT shed where work can continue in good working conditions.

Member Ed Tatham's road roller is now operational again after considerable work to its firebox. It is seen here on the RSR's car park at Preston last Wednesday where various people had a go at driving it, with varying success!

Keith continues to rebuild the back end of Wootton Hall, and the adjacent photo shows another section that is being welded up by John Stewart. Keith and Fred are off to Embsay this next weekend to prepare 5643 for its annual boiler examination and, hopefully, to look at the newly manufactured superheater elements.
---
Monday, 6th June 2016

With half term holidays now over it is time to write another blog, having first applied yet more after sun cream for those who have been out and about on the western side of the country.
Of course, some members have been diligently taking shelter in the FRT's shed at Preston from that yellow thing in the sky.

John has acquired some more welding wire and has continued his mission to repair the steelwork around one of the RMB's windows, whilst Paul and Mike (who had returned from his two weeks of holiday) were once again busy down below, including cleaning up and painting the battery and gas boxes.

The interior of the RMB is starting to look a little more organised after the efforts of Trevor and Tom, although a clearout of paint and other items will be required before the job can be completed.
John H and Alan were busy last Wednesday removing plugs from Caliban's boiler, which has now been removed from the FRT's bogie bolster and placed on a shorter four-wheeled chassis. It is hoped to be able to shunt the latter into the FRT's shed some time this week, bringing the boiler under cover for the first time in many a year. Fred and Roger were also busy working on Caliban on Friday, cleaning up the buffer beam. Bob stayed at home preparing for another cruise to which he seems to have taken a liking. Elsewhere in the shed, some racking has been erected in the storage bay, which should assist in keeping the place tidy; this follows the removal of Glasshoughton's inner firebox which has been taken away for repair.
Looking forward, the FRT's Great Western 0-6-2T, 5643, will be coming out of traffic at the end of next week for its annual boiler inspection and steam test. Some firebox work is planned and Keith would welcome any offers of help over the weekend of the 18th and 19th to undertake the necessary washout and cleaning.
Finally, the latest edition of our magazine The Iron Horse is back from the printers for proof reading and all being well should be heading to members' letterboxes very shortly.
---
Monday, 24th May 2016
It has been one of those weeks where we have had to catch up with some of the admin jobs.
The Trustees' Meetings of both the old and the new Furness Railway Trusts met last night at Alison's house and managed to get through a total of 22 agenda items plus many platefuls of Alison's sandwiches, sausage rolls and cakes in less than two and a half hours. The bad news was that the Highways Agency had taken the decision to close the M6 south of Carnforth at 8 pm in order to progress the Junction 34 road works, so we hope that all those heading south eventually managed to reach home some time before 2 am! However, those Trustees would travel content in the knowledge that they had approved two Trustees' Reports, reviewed both sets of accounts and a cash flow forecast, and formally adopted an Acquisition and Disposals Policy for the CIO along with a Child and Vulnerable Adult Protection Policy. It's no wonder that we don't get too many people wishing to stand as a Trustee at AGMs! And talking of AGMs, it was agreed to hold the AGMs of both FRTs (unincorporated and CIO) at the new shed, Preston, at 7 pm on the evening of Tuesday, 19th July. Put it in your diary now! Formal notification and papers will be sent out in due course.
| | |
| --- | --- |
| | |
Back to the real work at Preston, and it is pleasing to be able to report more progress on our projects. John D managed to undertake so much welding that he ran out of wire on Friday and had to make do with preparing new pieces of metal for missing bits of coach panel on the RMB. Tim was again busy with the sanding machine and filler, whilst the downstairs gang of Mike and Paul decided to have a week off to attend to other matters. However, David managed to remove some more rust and crud from under one of the headstocks. The 'Blackpool Gang' of Trevor and Tom Bradshaw were back in action again on Friday installing new wooden panels to the interior.
| | |
| --- | --- |
| | |
Fred was the lone representative of the 'South Lakes Gang' on Friday and busied himself cleaning up curved cab hanging bars from Wootton Hall and grinding weld from the outer panels of the RMB. Keith, meanwhile, continued work on Wootton Hall and was assisted by John Stewart on Saturday who welded up some more of the drag box components. George also turned up on Sunday to assist and to collect some replacement guard iron bolts for Cumbria which had been manufactured by Bill Norcross.
There was also more progress on Caliban on Wednesday with Adrian and Alan dismantling items and John H doing the vital job of providing more chocolate mini doughnuts. Anthony Jolly and others have also been busy with Fluff's engine.

For those of you wondering when the next edition of The Iron Horse will be available, Alan spent yesterday laying it out ready for the printers and it should be taken in there later this week.

Elsewhere at the Ribble Steam Railway, we are pleased to be able to report that Grant Richie 0-4-0ST No. 272 of 1894 was successfully lit up for the first time since its painstaking restoration at Preston. Being built in Kilmarnock, it not surprisingly seems to have similar attributes to Andrew Barclay locomotives, but that is another tale! Well done to all who have worked on this rare little machine.
There is no blog planned for next week due to school holidays and the need for the blog team to re-acquaint themselves with their respective families.
---
Monday, 16th May 2016
Plenty more progress this last week at Preston to report.
Mike and Paul continued their work beneath the frames of the RMB, and Tim has almost completed the necessary sanding and filling around the heavily welded toilet area. The latter has required some "sculpturing" to bring back the original shape, but it now looks pretty much as it used to with a coat of green anti-corrosive primer on it.

Tom and Trevor made another appearance on Friday and have been refitting interior panels where John has completed the welding on the steel body and Tom has also been applying filler to the window frames.

Meanwhile, in a quiet moment, Tom let slip that he has "taken the huff" over the photo in the blog a couple of weeks ago of Alison with her other, rather younger, sales assistant! Obviously there is still life in the old dog yet!! John has had a week off welding as he has had the builders in at home to renew the window fascias and soffits at Dixon Towers. He will no doubt be back this next week to continue his metalwork with renewed vigour!

Adrian and Fred have been working on Caliban, with Fred making his usual cloud of dust with a cup wire brush on the buffers and bufferbeam. Fred also tried to free up one of Caliban's couplings, with a little help from Trevor. A little more WD 40 and some heat is needed we think.

Keith has been ploughing on with the reconstruction of Wootton Hall's drag boxes. The almost completed tender drag box can be seen here, in readiness for riveting to the frames. Well done, Keith.

Next Monday evening sees a Committee Meeting taking place at Alison's house, so the blog will probably be a day late. As mentioned in last week's blog, there will be two lots of accounts and reports to review as well as all the other customary business to conduct, but it is to be hoped that the meeting will end the right side of midnight!
---
Monday, 9th May 2016
A shorter blog this week, but still enough we hope to let you know that work has still been progressing at Preston with all our current projects.

Mike and Paul have continued to work on areas below the sole bar of the RMB, and we can highlight just one of the challenges that can be found when working 'down below'.

Mike came across a jagged, non load bearing, metal backing piece to a gas switch, which could do some mischief to anyone catching their skin on it. The solution chosen to put matters right was to replicate the lost corroded area of metal with a well crafted application of fibreglass paste, and then to sand and paint it to make it look like new.

The photos show Mike in full creative 'bodge' mode and the finished result, barring the paint.

Paul, meanwhile, can be seen patiently undercoating the nearby bogie.

John has been making more progress on welding new metal on the other side of the RMB, and the finished job around the centre door can be seen. It just needs some grinding down of the weld, filling, sanding and painting to finish the job.

Alan has been across to Embsay to inspect 5643's firebox in advance of the annual boiler exam. As anticipated after last year's inspection, some work will be required and it is hoped to be able to arrange this after the end of May.

Keith has, meanwhile, been making further progress on Wootton Hall.

Behind the scenes, the 2015 annual accounts for both the old unincorporated Furness Railway Trust and the new Charitable Incorporated Organisation have been passed to the Trust's Independent Examiner for inspection, and the Committees are due to meet on the 23rd May to finalise and approve the Trustees' Annual Reports.

The paperwork for this exercise has doubled in size because of the transfer of the assets and undertakings of the old FRT to the new CIO FRT part way through the financial year, on 1st December - this date was planned to coincide with the VAT accounting period to at least enable a smooth transition on that front! A date for the AGM will be set shortly and notified to all members.
---
Tuesday, 3rd May 2016
Last Wednesday saw a meeting of the new and the old.

We welcomed new member Paul Newton to the team and Mike Rigg set him to work on one of the RMB's bogies, where he seen here with a paint brush and some red oxide. Always wise to start from the bottom, they say, and this certainly seems to be the case with Paul. We look forward to seeing Paul as a regular member of the Wednesday Gang and hope that he enjoys our company.

Also paying us a visit was early member Neil Glover, who is seen here with Adrian and Keith. Readers of the very early editions of The Iron Horse will recall seeing Neil in photographs, when he started the Haverthwaite Fire Brigade. Also calling in to see us again were Tom and Trevor Bradshaw. Trevor is making a good recovery from his recent illness and hopes to be back with us soon on a regular basis.

As usual, more progress was made on the RMB, Caliban, Fluff and Wootton Hall. Another photo is included here from John's welding album.

5643 was scheduled to appear at the Embsay & Bolton Abbey Railway's Branch Line Gala over the weekend, which appears to have received plaudits from those who attended.

As trailed in last week's blog, there was a campervan rally at Locomotion, Shildon, over the Bank Holiday weekend, which also featured a Spring Steam Weekend featuring FR 20 and Peckett 0-4-0ST

Teddy

. We can report that both campervans eventually made it to Shildon and were joined next door by the arrival of some Travellers who appeared in rather more upmarket vehicles than those of Alan and Tim! The three days of steamings went to plan, with musical interludes in Alan's campervan on Friday and Saturday evenings, the latter assisted by copious amounts of refreshment. Needless to say, Alison looked a little fragile on Sunday morning, and caused some hilarity amongst Locomotion's staff when describing an evening's threesome session in the campervan! Deirdre and Matthew arrived on Sunday evening and fourteen volunteers and staff went for a well earned meal at The March Hare, near Bishop Auckland, Alison is seen here with sales assistant, Matthew, on Sunday. (We hope that Tom doesn't get jealous!) FR 20 now takes a summer break, which will enable us to undertake the annual boiler exam and carry out some cleaning and maintenance.

More working parties at Preston this next week.
---
Monday 25th April 2016
It has been another busy week for us, and not just at Preston.
This time in April usually sees the nail biting saga of whether support vehicles, campervans 1 and 2, can make it through the MOT. Alan took in his Renault Eriba, approaching 30 years old now, and got it back with the required piece of paper without too much expense, but with a 'must do better' report. Tim's VW Bay Window, now in its 44th year, decided not to play ball and required a call out from his local garage before it would even come out to play. One new battery and starter motor later, it headed off down to Morecambe for its annual specialist TLC and a visit to the MOT bay, where it was promptly failed for a seized brake cylinder. However, after a total of three days in hospital last week (not cheap - it's not NHS you know), it also emerged with the required piece of paper.
There have, as usual, been more working parties and progress on the rail vehicles in our collection. John D has been busy with the welder again on the RMB.

And Mike has been making the sparks fly, grinding down John's weld whilst Tim has once again been applying the filler and sanding it down; he has even got to the stage of applying some paint around the much welded toilet area of the steel panelling.
Elsewhere, Fluff has again been attracting attention from a variety of diesel afflicted volunteers - yes, it's a good job that there are some. The rocker cover has now been removed.
Keith has also been busy manufacturing some of the smaller items required for Wootton Hall, including the coal pick support - see photo. He has also taken the opportunity to fix various items to the underside of the cab roof.
Adrian managed to grab the needle gun from John H this week and removed some more paint from the inside of Caliban's frames.
Next week sees FR 20 back in steam for the final time before its summer break at Locomotion, Shildon, on Saturday, Sunday and Monday for the Spring Steam Weekend there. Also in steam will be diminutive Peckett 0-4-0 Teddy, which will also be giving rides and allowing cab access - just remember to breathe in when entering! The occasion will, of course, allow both campervans the opportunity of a run out after their respective visits to the garage, with Alan, Alison and Tim on hand at Locomotion to look after No. 20. There may well, therefore, be a delay in the publication of next week's blog.
---
Monday 18th April 2016
There was the usual gathering at The Ale Emporium last Tuesday evening for the final session of the winter season of Preston Branch meetings when Alan produced some previously unseen video of Furness Railway No. 20's visit to the north east in 2008 which saw it operate at the Tanfield Railway, Locomotion, Shildon and Beamish. It was a groundbreaking tour for FR 20 which has of course made Shildon its second home as well as since visiting Beamish again as well. There then followed video from Derek Milby which contained comprehensive coverage of main line steam tours in the north west during 2015 and early 2016.

There was more progress made on our projects at Preston working parties over Wednesday, Friday, Saturday and Sunday. John (or should we now christen him Sparky?) is seen here cutting up metal to insert in the side of the RMB. Tim has been applying lots of filler, but realised that he was a lower league player when Richard Pearson (visiting from Locomotion, Shildon) confessed that they had used around thirty cams of filler on Deltic "King's Own Yorkshire Light Infantry" when it was there recently for a repaint!

Alan has been working on removing corrosion from one of Caliban's valves, seen here at the milling machine and then polishing the surface after machining.

Keith has again also been making good headway with "Wootton Hall", assisted by George on Saturday.

In fact there has been a pretty good turnout of working members this week with visits also from Mike, John H, Anthony, Fred, Roger, Bob and David.

The adjacent photo shows some of the gang on Wednesday, plus member Ed visiting to check up on progress.

The RSR's Steam Gala on Saturday and Sunday, featuring visiting Peckett 0-4-0ST "Teddy", saw Adrian, Alan and Tim in action on the footplate whilst Alison and Tom attended the sales stand.

Tom, seen here closing doors on the North London Railway coach, also gave plenty of visitors guided tours of the FRT shed alongside Frank Masson.

Finally, the bus situation has now marginally improved for people wishing to visit the RSR following the cuts and rearrangement of services. The No. 75 has now been resurrected, although only runs every two hours along Chain Caul Way. On the alternate hours, the No. 80 runs to Navigation Way and, of course, the No. 89 operates generally every 20 minutes to McDonalds, leaving you with a ten minute walk.



---
Monday 11th April 2016
There was more progress this week on the overhaul of the RMB, where John is seen here cutting out more metal around one of the windows. Tim has been busy again with the filler whilst David has been removing more paint from the east corridor end. Also featured here is a 'blast from the past' photo of the RMB at Carnforth in 1982 before being transported to Haverthwaite.
Anthony Jolly has been attending to Fluff's engine and Alan, John H and Adrian have been working on Caliban, with plenty of noise coming from John's needle gun - still, it keeps him quiet, if you see what we mean! And we mustn't forget the continuing efforts of the South Lakes Gang (Fred, Roger and Bob) who appear on Fridays to undertake the many cleaning and painting tasks.
The major engineering job of the week, however, centred on our shed's white circular dining table, which had mysteriously disintegrated - we know the culprit!

As you will see from the adjacent photos, it took the might of the FRT's engineering dept to put matters right. No heavy sandwiches allowed in future.



Progress is being made elsewhere behind the scenes with the promise of the imminent arrival of the long awaited replacement superheater elements for 5643, and the final preparation of the accounts for 2015 taking place - complicated by the transfer of assets from the original FRT into the new Charitable Incorporated Organisation that is the new FRT on the 1st December, 2015. There have also been some signs of progress in the seemingly interminable task of opening a new bank account for the new CIO - it's no wonder that people go for offshore accounts if it is now this difficult to open an account in this country!!!
Looking forward, it is last call now for tomorrow evening's (Tuesday) Preston Branch meeting at The Ale Emporium, Fylde Road, Preston when there will be some north west steam video shot by Derek Milby during 2015 and 2016. Commences at 8pm.
Also on the agenda this week is a talk that we have been asked to advertise at the Lakes College at Lillyhall near Workington. Rob Davidson, a senior lecturer at Newcastle University, will be talking about the highs and lows of developments in the rail industry, why changes are made and asks whether this is done for the right reaons. It is billed as a thought provoking talk for those in the industry. It is at the Lakes College on Wednesday evening from 6.3opm and advance booking of the free tickets is advised (you can do this via the link on our Facebook page.)

A little bit further forward, next weekend sees the Ribble Steam Railway's Steam Gala with guest loco, diminutive Peckett 0-4-0ST Teddy (pictured here) making its first appearance at Preston, before it heads off to Locomotion, Shildon for the summer. The FRT's second class North London Railway coach is also rostered for duty at the beginning and end of each day on Victorian specials.
---
Monday 4th April 2016
Back again after a week's break caused by the Bank Holiday!
Alan and Alison had a busy Easter at Locomotion, Shildon with FR 20 in steam for four days over the holiday weekend. There is just one more period of steaming, at the beginning of May, before FR 20 and its supporting crew have a well deserved summer break, although a boiler inspection will need to be undertaken before the autumn season of steamings starts.
Cumbria was also in steam over Easter at the Battlefield line in Leicestershire, and 5643 had turned its wheels at Embsay the weekend before. All three FRT operational locos are therefore back in service after the winter break.
Work has progressed further on the four projects at Preston, although there was an understandable lower attendance at working parties around Easter. We are pleased to be able to announce that the snifting valve tops for Wootton Hall featured in the last blog have been well and truly sponsored - many thanks to those who so willingly put their hands in their pockets. Well done.
Public transport to the FRT's base at the Ribble Steam Railway has taken a turn for the worse with the axing of the No. 75 bus service, which used to stop a matter of yards from the main gate.

This service has succumbed to the cuts in Lancashire County Council's subsidies to local bus services and the last bus ran on close of service yesterday.

The nearest bus service to Preston city centre is now the No. 89 from McDonalds, generally every ten minutes during weekdays and Saturdays, and every 20 minutes on Sundays, during the day.
Looking forward, the last of this season's Preston Branch meeting will take place at The Ale Emporium, Fylde Road, Preston next Tuesday evening, 12th April, commencing at 8 pm. There will be a video showing of north west steam in 2015 and 2016 filmed by Derek Milby.
---
Monday 21st March 2016
A two week blog this time owing to the indisposition of our blog poster last week. However, Neil is now back on his feet by all accounts. So, plenty more progress to report on our current projects.
| | |
| --- | --- |
| | |
John has been plugging away with the RMB, repairing one of the wooden inserts against the repaired west end door pillar, which had decayed in various places over the years. This has now been fastened in place, the weld ground off around the toilet area and the aluminium door strips re-fitted alongside the toilet end door. This leaves the way clear for Tim to tidy up the bodywork with some filler and paint over the coming weeks. John has also been carrying out some more welding around the centre door and it is to be hoped that this area will be completed shortly. The platform side window frames have been filled again, sanded and re-primed, and are now ready for the undercoat, which has now arrived. David has again been removing paint from the east end corridor end. We have been without Mike, who is preparing for a family wedding, which seems to entail doing lots of decorating for other people! John has also now declared that it is time to do some home decorating and will be giving our working parties a miss this week!
| | |
| --- | --- |
| | |
Alan, Adrian and Sam have again been dismantling Caliban and were joined on the 9th Match by one of our very early members, David Eaves (pictured with Alan and Sam), who had visited Caliban when it was still operational at Courtaulds' Red Scar Works at Preston. David had also travelled on the Lakeside & Haverthwaite Harbinger, which transferred stock from Carnforth to Haverthwaite, and he had the photos with him to prove it. This kept everyone entertained over lunch, trying to put names to faces on the photos. Anyhow, David was impressed with what was going on at Preston and we hope to see him again soon.
We also show a photo of Adrian getting down to what he does best - hitting things with a sledge hammer. He was worried that the last blog's photo of him dismantling with on a pair of mole grips might diminish his reputation! As ever, we mustn't forget Fred and Roger's efforts to clean up and paint some more of Caliban's components.
Work continues on Fluff, and a photo here shows Alan giving encouragement to Anthony Jolly in his attempts to remove the cylinder head.
Meanwhile, Bill Norcross has been busy manufacturing a new screw threaded bar for Cumbria's handbrake, and this has now been completed and the completed handbrake picked up by a member of the Battlefield Line so that it can be re-fitted to the loco in time for Easter operations there.
Keith has, as usual, been working away on new components for

Wootton Hall

.


We show here a photo of a couple of snifting valve castings which Andy Booth has offered to the Trust at £75 each. Keith is looking for sponsorship for the purchase of these items, so please let him know if you can help.
---
Monday 7th March 2016
Work at Preston continues apace, some of it dismantling, some of it creating new components. and some of it putting rolling stock back together again!
John repaired anther door pillar on the RMB on Wednesday and six of the window frames were primed and small pock marks filled the following Saturday. David has also been busy scraping paint from the east end of the coach around the corridor.
Caliban has seen further dismantling of its components, the Wednesday working party marching on a full stomach after the late, but much appreciated, arrival of Alan's birthday cakes. Adrian, Alan, Sam and John H were kept busy, with Alan cleaning up the valve faces and Ade demonstrating to Sam how to take things apart!

Fluff was again the subject of the diesel gang's attention.

Keith has once more been busy making new components for Wootton Hall's drag boxes. He is seen here drilling holes in the engines new rear drag box back plate - quite a substantial bit of kit to have to reproduce. Derek made an appearance and was able to see the products of the new gas cutter which he has sponsored.

With the RSR's Diesel Gala in full swing at the weekend, the shed received occasional parties of visitors, led by Frank Masson, who must surely now be thinking of applying for his Blue Badge from the Guild of Registered Tourist Guides. Frank, bless his cotton socks, always remembers to highlight the donation box attached to Wootton Hall!

Although Cumbria is staying put down at the Battlefield Line in Leicestershire over the winter, the handbrake has made an appearance at Preston as the bottom threads on the handle have become worn causing the brake to unwind itself involuntarily unless chocked. Bill Norcross is now manufacturing a new threaded bar which, we hope, will rectify the problem.

Alan and Alison have been across the Pennines once more this last weekend to accompany FR 20, which has been in steam once more at Locomotion, Shildon. The wintry weather was a challenge on Friday, but Alan faced the additional challenge of getting home today after the southbound M6 was closed for most of the day following a serious collision between two lorries in the Lancaster area.
---
Monday 29th February 2016
Well, a rare blog dated 29th February and yet more progress to report at Preston.
John Dixon looked a happy fellow when he was able to re-fit the door successfully on the RMB after his considerable efforts to fit a new door pillar and surrounding steelwork. As you will see from the photograph, the door lock fitted beautifully into place and all that remains on that job is to re-fit the surrounding aluminium strips before the filling and painting can commence. Elsewhere on the vehicle, all the platform side windows (apart from the buffet windows) have been re-sealed and are ready for painting.
Adrian has again been busy taking apart Caliban, and Fred and Roger have been spending their time cleaning and priming the dismantled components. Fred and Roger have also been cleaning up Wootton Hall's tender springs, as can been see here. George spent the previous Saturday trying to remove the bolts that hold Wootton Hall's smokebox on to the saddle, having already removed the nuts.
David appeared with another length of track for Keith's railway layout for the new gas cutter, which seems to have been busy judging by the amount of newly cut metal now on show in the shed. Keith is clearly making up time for not having a Meccano set as a boy.
As reported last week, work on Fluff has recently concentrated on the cab and bonnet where most of the steelwork has been removed both to enable work on to engine to take place and also for replacement steel to be inserted where corrosion has proved to be too far gone to be repaired.
---
Monday 22nd February 2016

Work continues at Preston on all fronts.

As seen from the photos in last week's blog, Keith has continued to make progress on Wootton Hall's drag boxes, although he has now decided he needs a longer piece of track for the new toy - the gas cutter that is, not 4979! The current 1.8m length isn't quite long enough to do all the metalwork that is needed.

Birthday boy Alan decided to go off with Alison for a visit to Ravenglass last Wednesday, so we had to do without any birthday cake!

However, the hungry crew soldiered on in his absence; John made further progress on welding new metal on to the RMB whilst Tim did some more sanding and filling. Adrian again did what he is most famous for, and did some more dismantling of Caliban.

Talking of dismantling, Fluff's engine cover has been taken apart and it looks as if we will need to order some new sheet metal to enable the growing diesel gang to re-assemble it.

The cab also needs a makeover as the years standing outside in Lakeland and north eastern weather has taken its toll.

The good news is that the engine appears to be in reasonably good condition and Anthony Jolly has managed to acquire a manual for it. The photo shows Liam Diamond at work on the cab with a drill.

We hope to have news of the efforts of the Friday and Saturday working parties in next week's blog.
---
Monday 15th February 2016

We are very sorry to have to start this week's blog with the news that Pauline Allcock, wife of our membership secretary Peter, passed away late last week after a short battle with cancer. Those of you who attended the end of season social event in our shed on the 31st October will recall that Pauline, along with Alison, put on the buffet for us that evening. Our thoughts are with Peter and his family at this sad time.
Last Tuesday evening saw a small but perfectly formed gathering at the Ale Emporium in Preston. This brought back memories of the West Coast Main Line and Settle and Carlisle Line in the last days of steam as well a nostalgic view of some of our heritage railways over twenty years ago. The last of this season of branch meetings is due to be held on Tuesday, 12th April.
As many of you will be aware, the S&C is now expected to be shut for several months following a massive land slip near Armathwaite. The good news for those living further west* is that arrangements have been made for the programmed steam specials over the S&C in the coming weeks to operate over the Cumbrian Coast Line - the first is scheduled to run this Wednesday. *Tim should be pleased!
David arrived at Preston last Wednesday with the promised gas cutter that was mentioned in last week's blog.

This was finally put into action on Saturday when Keith and John Stewart started to cut more metal for Wootton Hall. It looks a great piece of kit.

Incidentally, the internet is a wonderful facility for searching for such specialist tools and, after some shopping around, it was possible to reduce the cost by a massive 80%! Tim should be pleased! (Again.)

John finally managed to weld his newly fabricated door pillar on to the RMB. Next task is to weld on some replacement steel to cover the door pillar and then hang the door in the right place!

John H, Alan and Adrian have spent more time removing components from Caliban - it keeps Fred and Roger busy cleaning them up (the components, not John, Alan and Ade!) and applying primer.

The weekend saw Alan and Alison head over to Shildon for the first of FR 20's steamings this year. Alan and FR 20 can be seen in action on a video on Locomotion's Facebook page.
---
Monday 8th February 2016
We were delighted to see Trevor and Tom Bradshaw at Preston last Friday, making a welcome return after Trevor's recent illness.


It will still be some while before Trevor is able to drive and come back to work with us, but it was good to be able to see them both after their absence from our working parties.
More progress has been made on the RMB with John fabricating up a replacement door pillar which is ready for welding into position. Tim continued with the sanding and filling whilst Mike made some more progress on cleaning the bogies with the needle gun.
On Wootton Hall Bob has been preparing the regulator valve for a hydraulic test. Keith has been progressing with the renewal of the Hall's drag boxes and a new sponsored gas cutting tool is being purchased to speed up the cutting of the steel plates for the project. Photos will no doubt appear on its arrival. Thanks go to the sponsor for funding the purchase.
The left hand valve cover on Caliban was removed last Wednesday with Alan applying the heat and Adrian poised to crawl underneath to remove the nuts with a spanner.

Once achieved, Alan was able to join John for a bite at the new (OK, second hand) table in the shed!

Fred and Roger were kept busy on Friday cleaning up more of Caliban's components. Meanwhile, young Anthony has been cleaning more paint off Fluff as part of his work to restore the loco.

Tomorrow (Tuesday) sees the next Preston Branch meeting when steamy videos of steam in the North West and on Heritage Railways will be the subject matter. As usual, the gathering will take place at 8 pm at The Ale Emporium, Fylde Road, Preston.

Tomorrow should also see the arrival at Preston of the former Foxfield water crane which has been in storage at Haverthwaite for many years. The RSR intends to erect it after it has received some restorative work.
This next weekend sees the first of FR 20's steamings at Locomotion, Shildon, this year and Alan has been preparing his camper van for the trip to the north east.
---
Monday 1st February 2016
We have received good news regarding Trevor Bradshaw, who recently suffered a heart attack. Trevor is now home from hospital and, all being well, will be popping in to see us at Preston, along with Tom, on Friday.
We trust that Trevor will see some progress in the shed since he was last at Preston, before he went on holiday in December. Indeed, there has certainly been some movement on our projects just this last week.
John has been busy with the tedious task of repairing a door frame on the RMB whilst Mike has acquainted himself with the needle gun to blast away scale on the bogie cross bearers. Mike has also been able to make a start on undercoating the sides of the bogies - see adjacent photos.

Meanwhile, more progress has been made on stripping Caliban, the team being strengthened by the appearance of Sam Middleton last Wednesday, and again on Saturday. The right hand piston has now been removed and, by the end of Saturday, the right hand valve chest cover had also been removed along with the cylinder drain cocks and linkage. The branch pipe from the steam chest was also dismantled.
On Friday, Alan, John and Fred braved the gale force winds and paid a visit to Shildon. With FR 20 due to steam again in a fortnight, it was time to change the boiler water and also to give the loco a spruce up, including a special 'Fred' clean in the smokebox. The annoying leak on the valve cover was also repaired.
Next Tuesday will see another Preston Branch meeting at The Ale Emporium, Fylde Road, Preston, starting at 8 pm. More steamy videos, no doubt, and a good selection of real ales.
Mike Rigg informs us that he enjoyed watching last week's TV viewing recommendation of the restoration of 'Clyde Puffer' VIC 27, In turn, Mike recommends the following YouTube clip of the 125th Anniversary steam bash at the Corus steelworks in Workington in 2002. The video shows action from half cab 41708 along with FC Tingey and Hawarden, including some great shots on the trestle bridge. See it here.
---
Monday 25th January 2016

Firstly this week, we are sorry to have to report that Trevor Bradshaw suffered a heart attack last weekend and was taken to Victoria Hospital, Blackpool. His wife informs us that Trevor is now on the mend and should soon be back out of hospital. However, it will no doubt be a while before we see Trevor, and perhaps father Tom, at Preston and we wish him well in his recovery.

We are pleased to be able to inform you that John Houghton celebrated his 80th birthday last Tuesday and he brought us in some celebratory doughnuts on Wednesday.


However, it seems that the occasion was all too much for our birthday boy, and he is seen here fast asleep whilst work on Caliban goes on around him. (Thanks, Ade, for the photo!)

Anyhow, despite a lack of input from one member of the gang, Caliban is still gradually being dismantled, and the adjacent photo shows the cylinder covers off on the fireman's side.

John D has been busy with the welder again on the RMB and Mike has brought in his cushion to enable him to clean off and paint the bogies in a little more comfort - let's hope that the cushion isn't too comfortable, bearing in mind John H's experience!
Last week we brought you the news of the restoration of the FR Bench, but for technical reasons we couldn't include a photo at the time. Well, we have put that right now, and here it is! And it is a fitting tribute to late FRT Trustee Norman Gard.
Now for something different. Those of you who don't watch BBC ALBA, the Gaelic TV channel, will probably have missed a delightful documentary series of three half hour programmes on the saving and restoration of the Clyde Puffer VIC 27, better known as the Vital Spark in the 1990s TV series, Tales of Parahandy. It appears that the vessel was left to rust after the end of the TV series, but was rescued by a gang from Isla and taken to the boatyard at Crinan for restoration in 2008. The story is then fairly familiar to those of us who try to create the proverbial gleaming silk purses out of rusty sows ears! Three thousand tons of rock had to be cleared to make a new slipway, the power washing of the hull revealed gaping holes in the platework, and the wheelhouse collapsed into many bits whilst being lifted off the boat. Cue many wildly over optimistic forecasts for completion of the project, overrunning costs, withdrawal of the main financial backer and the discovery that the boiler needed replacing rather than repairing! Oh, and the working conditions are akin to overhauling an 0-6-2T in a Lakeland car park! Needless to say, the project still isn't finished. The programmes are still available on BBC IPlayer - use the search facility to find Air an Smùid (Steaming) - there are English sub-titles for the Gaelic bits for those who don't speak that lingo. Recommended watching.
---
Monday 18th January 2016
Welcome to the second blog of 2016 - January seems to be disappearing fast!

There is plenty of work going on at Preston as usual.

John is back in full swing with his metalwork on the RMB and Tim is still busy with the sanding machine, filler and paint pot. Mike has taken on board the task of cleaning and painting the bogies and has already made a good start.

Caliban's components are still being dismantled in order that they can be freed up, cleaned and painted. The pin through the reverser and quadrant took a bit of shifting, but has now been removed after a bit of persuasion (see photo) - everything now moves freely after some attention from Fred with the emery paper.

Roger meanwhile is applying the primer paintbrush to anything that comes his way.

John H has finished cleaning off Caliban's front buffer beam, Alan has been trying to free off cylinder covers, and Adrian has been dismantling slidebars.
Some of you will remember the former Furness Railway bench that had been stored in the Cell Truck for many years. It had, unfortunately, been damaged by loco components (not ours!) being placed upon it and, upon arrival at Preston, was found to contain lice in the padding. A decision was taken at the last Committee meeting to add the bench to an order that was being placed by the RSR for restoration of other furniture; it would then be an appropriate memorial to Norman Gard, who originally gifted the bench to the Trust. The Furness Railway bench is now on display outside the cafe, with the old Furness crest neatly sewed on to it; take time to sit awhile and remember Norman!
Speaking of the Committee, it met at Alison's house on Thursday evening. There were two agendas, one for each of the charities that we currently have, with a total of 24 agenda items. Even more of a mountain to climb was the pile of sandwiches, mince pies and mammoth sponge cake that Alison had provided - "no one leaves my house hungry", is her motto! Even worse, we didn't have Peter van Zeller to give us a hand as his car had hit a spot of black ice near Duddon bridge on the way to the meeting and had gone off road - to be joined shortly afterwards by another off roader! Fortunately, we are pleased to report that Peter was unharmed and was given a lift home by friends in the locality.
Saturday saw a working party take place at Embsay to tidy up 5643. Keith, Fred, Roger and George braved the wintery weather and found 5643 looking in good condition. They spent their time there cleaning the wheels, frames and side rods. Well done!
---
Monday 11th January 2016
A belated Happy New Year to all our readers!
You will no doubt be pleased to read that some useful progress has been achieved in our shed at Preston over the festive period and the first week of the New Year.

Keith and George have been working hard on Wootton Hall. Keith has been piecing together new drag boxes for the Hall's engine and tender and is seen here drilling holes in a yet another new piece of angle for the front tender drag box. George has been removing the bolts that hold the smokebox on to the saddle, which needs some heat to enable the nuts to be turned.
Alan, John H, Adrian, Fred and Roger have been busy with Caliban. John H has been needle gunning the front buffer beam, Adrian has (as usual) been dismantling components, and Fred and Roger have been cleaning up and priming various components including the brake gear and reversing lever and quadrant - it is hoped to be able to part the latter two items once the WD40 has worked its way through the pin that holds them together. Anthony Jolly has also been busy working on Fluff.
Tim has continued to fill and sand various areas of the RMB whilst John has been rescuing some 'Z' section from the former horse box that we dismantled some while ago in order to make up some replacement door pillars. Some of you will have noticed the sign 'door jammed' that John chalked on to one of the doors some weeks ago. It seems that the door wouldn't open after John had cut away some of the metal around one of the hinges. However, in order to progress the repair, John called upon Tim to lend him a hand to get the door back open again. After a considerable amount of battering, the door still wouldn't open whereupon Tim suggested to John that perhaps it was locked. There was then good news and bad news for John. The good news was that the door opened without any trouble once the lock had been turned - the bad news, of course, for John was then he suddenly realised that he had become fodder for the blog!
It's that time of the year when lots of work goes on behind the scenes to close down the yearly accounts and also to process the membership renewals. In addition, the Committee will be meeting at Alison's house on Thursday evening to progress various issues, including the new lease. As we technically still have two charities, there will have to be two meetings, which will keep Neil, the minute writer, busy! It has also kept David busy swopping the VAT account from one charity to the other. Let's hope that the meetings conclude before midnight!
---
Home | About us | FR20 | 5643 | "Wootton Hall" | "Cumbria" | Vintage Train | Museum | Gifts | Live Steam | Links
İFurness Railway Trust