Welcome to the official website of Furness Railway Number 20,
Britain's oldest working standard gauge steam locomotive.

THE FURNESS RAILWAY TRUST
Registered Charity 1005211
Visit our new weekly blog for all the latest news about what we've been up to!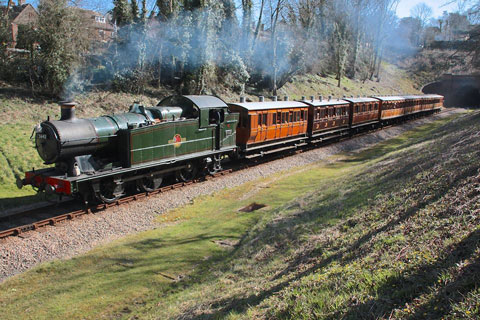 Welcome to the award-winning official website for the Furness Railway Trust.
For the latest on what we - and our locomotives and carriages - have been up to, visit our weekly blog.
The FRT owns Britain's oldest working standard gauge steam locomotive, Furness Railway Number 20, GWR duo 0-6-2T 5643 and 4979 "Wootton Hall", Austerity "Cumbria" and our vintage train.
We have our engineering base in Preston at the Ribble Steam Railway but our locomotives and carriages are found at heritage railway sites nationwide.
Our fund-raising and your support keeps us going. Why not Gift Aid a donation?!

We are also on Facebook.
Can't find what you're looking for?
Try the Search Engine, the Site Map, or our guide to navigating the site.
Website by Neil Smith and Mike Rigg
Colours used are original to the Furness Railway Company paint scheme.
Website designed to be viewed at 800 x 600 resolution.
This website uses Javascript, but can still be used without these applications.
You can get in touch via this website.
Website last updated: 11th November 2014
© Furness Railway Trust
5643 has been winning new admirers in a year long contract hire to the Bluebell Railway.
Meanwhile work is advancing to return Cumbria to steam in 2014 with the boiler returning to Preston after extensive specialist boiler repairs at the Severn Valley Railway. Meanwhile new pistons have been installed in the locomotive's cylinders.
And FR Number 20 remains operational locomotive in residence at Locomotion, the National Railway Museum at Shildon, County Durham. Locomotion has asked for the veteran locomotive to remain at this NRM site for 2015!