Number 4979 "Wootton Hall" is one of an illustrious line of named locomotives of the Great Western Railway.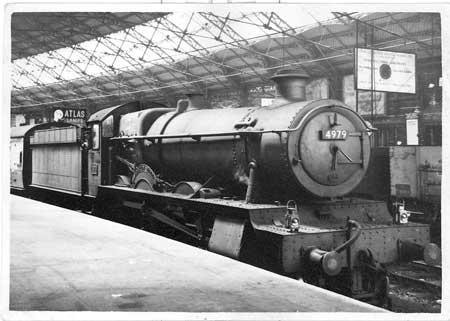 The class was the standard mixed traffic design on the GWR, handling express passenger and heavy goods trains.As befits a jack-of-all-trades, it had a varied career with the Great Western and British Railways, serving in the West Country, the Midlands, South Wales, London and Oxford. It is seen here in a photo by Eric Scholefield, at Bristol Temple Meads station in the early 1950s, when Mr Scholefield was a photographer with the Royal Air Force.
"Wootton Hall" came into Furness Railway Trust ownership in 1994, when members heard it was up for sale. There had been a feeling that our fleet lacked a large tender engine, and this purchase filled that gap.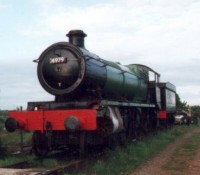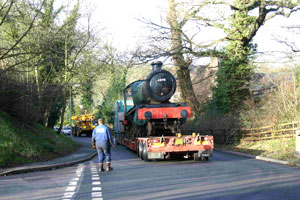 For the first 12 and a half years in FRT ownership, the locomotive was stored at the Lytham Motive Power Museum - having passed along Blackpool Promenade en route from its previous home at Fleetwood!
However, in March 2007 it was moved to a new storage site at the Appleby Heritage Centre, where it now resides right alongside the Settle to Carlisle Railway Line! Much of the cost of the move was sponsored by the Lytham Motive Power Museum, which has aspirations to reopen in the future.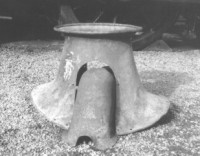 4979 has had to take its place in the restoration queue behind first Furness Railway Number 20, and its fellow Swindon stablemate, Number 5643. However, this does not mean it has been left to rust: a small team, led by Keith Brewer, visits "Wootton Hall" most weeks to carry out preventative maintenance and to purchase items when funds or opportunity allow. This is a sensible policy: many items found on Great Western Railway engines were standardised, and so it has sometimes been possible to get something for "Wootton Hall" at the same time as purchasing a similar part for our GWR 0-6-2T 5643, for less than we would have to pay were we to order the two fittings separately. We have also kept our eyes open for other one offs: for example, the FRT has obtained this original GWR safety valve bonnet and clack valve cover for use on "Wootton Hall". This was purchased from a local collector.
A new solid copper top to the chimney is being made - to replace the copper plated steel original which has understandably rusted away. A similar copper cap already adorns the chimney of our operation GWR locomotive No. 5643. Prices are being sought for some of the smaller valves in the cab and around the cylinder block.
It is intended full scale restoration will start once the Trust has secured its own Museum and Workshop.
---
History of 4979 "Wootton Hall"
Great Western Railway Chief Mechanical Engineer Charles Collett produced the "Hall" class as a development of the earlier "Saint" class of his predecessor George Jackson Churchward.
The "Halls" were the standard mixed-traffic locomotive on the Great Western, equally at home with express passenger trains and lengthy, heavy goods workings. Indeed, at its last shed, Oxford, "Wootton Hall" was in a pool of engines that were expected to rush up to London with fast passenger workings, potter around on local passenger trips, and plod to south Wales with goods trains, and even sit around as station pilot, able to take over any duty if a passing locomotive failed.
The success of the design is evidenced by the number built (330), over such a long period of time (1928-1950).
Our particular engine entered traffic in February 1930, and gave almost 34 years of service before being withdrawn in December 1963. As mentioned above, it had its fair share of shed allocations, taking in Plymouth Laira, Penzance, Tyseley in Birmingham, Severn Tunnel Junction and Cardiff Canton in South Wales, and ended its days in the London Division of the Western Region of British Railways, based at Southall, Reading, Didcot and finally Oxford in July 1958.
It was withdrawn in December 1963, and, like 5643, was sold to the Woodham's scrapyard in Barry, South Wales. It escaped the cutter's torch, because of Woodham's policy of scrapping old railway wagons first, this being more profitable work. But unlike 5643, an quick release from Barry wasn't on the cards for "Wootton Hall"; it languished there until 1986, leaving to be moved to the Fleetwood Locomotive Centre in Lancashire.
Once at Fleetwood, little was done to the locomotive, and it was word went round it was up for sale in early 1994. Rumour quickly reached members of the Furness Railway Trust, who were able to raise the money for the purchase price.
Home | About us | FR20 | 5643 | "Wootton Hall" | "Cumbria" | Vintage Train | Museum | Gifts | Live Steam | LRS | Links
©Furness Railway Trust 2010