We start this week's blog with profuse apologies to Bob. Last week's publication erroneously summed up Bob's contribution as "poring over drawings, sensibly in close proximity to the kettle in the warmth of the mess room." However, it appears that our Friday correspondent had not done his homework and Bob assures us that he had in fact been busy in the workshop repairing Cumbria's regulator valve. We trust that this full and frank apology will spare the Trust any litigation.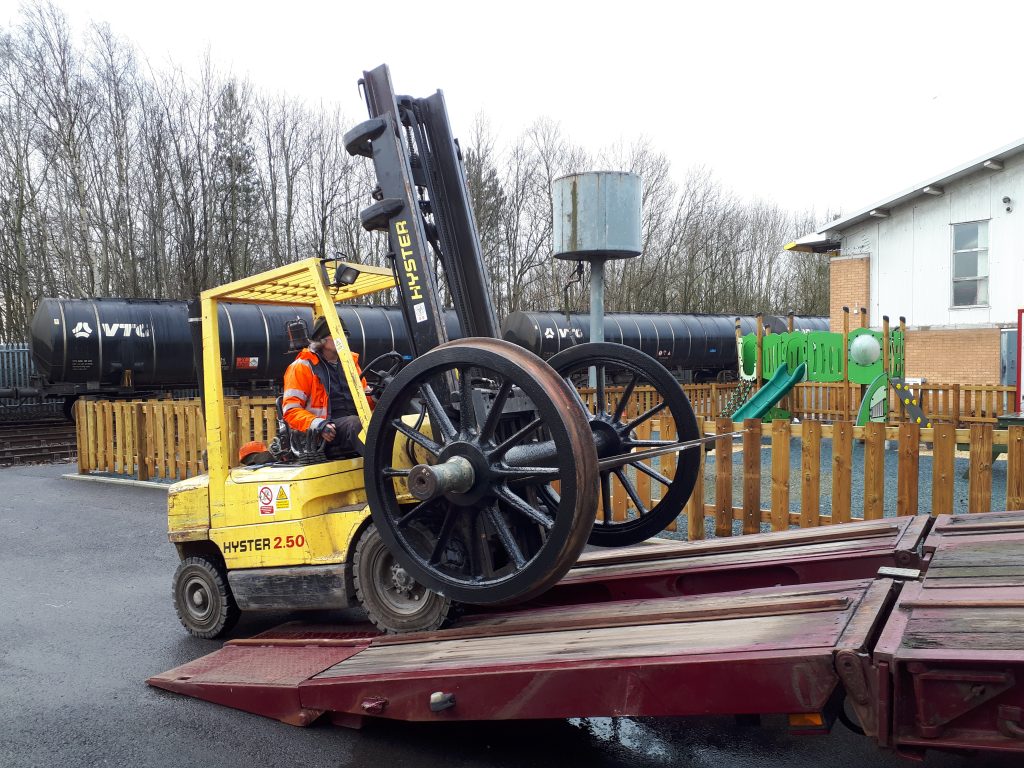 Wednesday started early with members on site in good time to enable prompt loading of seven wheelsets when the low loader arrived. Just for the record there were three from Wootton Hall's tender, both Caliban's wheelsets and FR 20's tender wheelsets. These are expected back sometime next month after attention to tyres and/or journals. Adrian is seen here with the fork lift.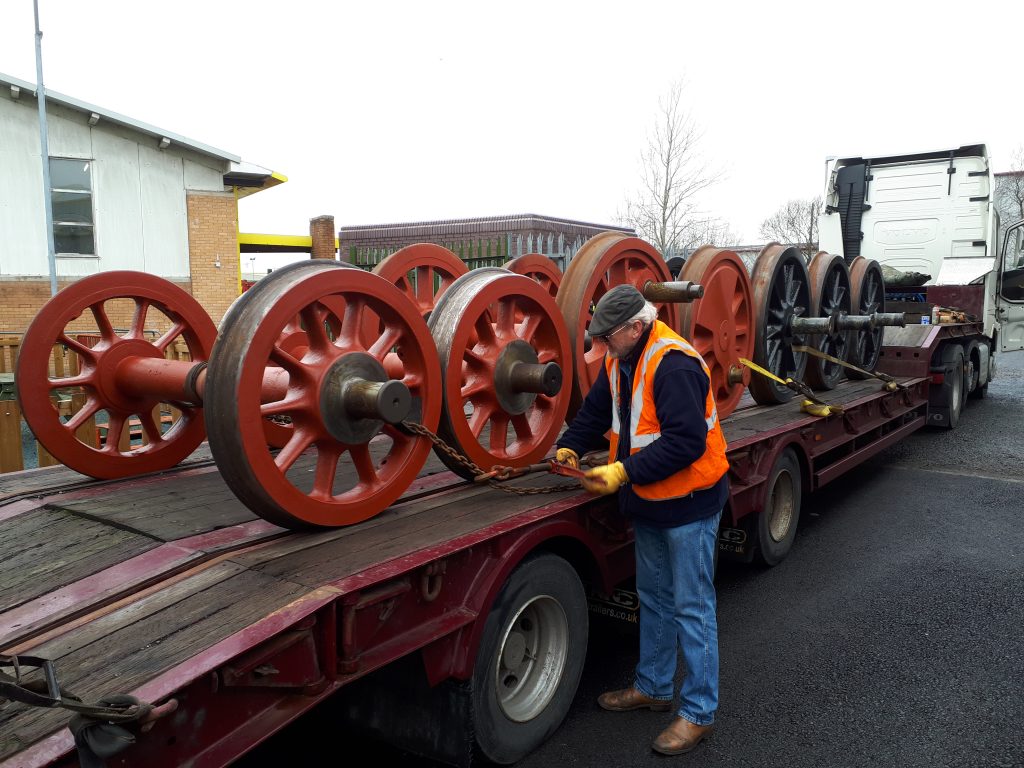 Martyn Soames straps the wheelsets to his rig.
Once the wheelsets had departed it was time to wash out FR 20's boiler. This had been delayed by bad weather over the previous two Wednesdays.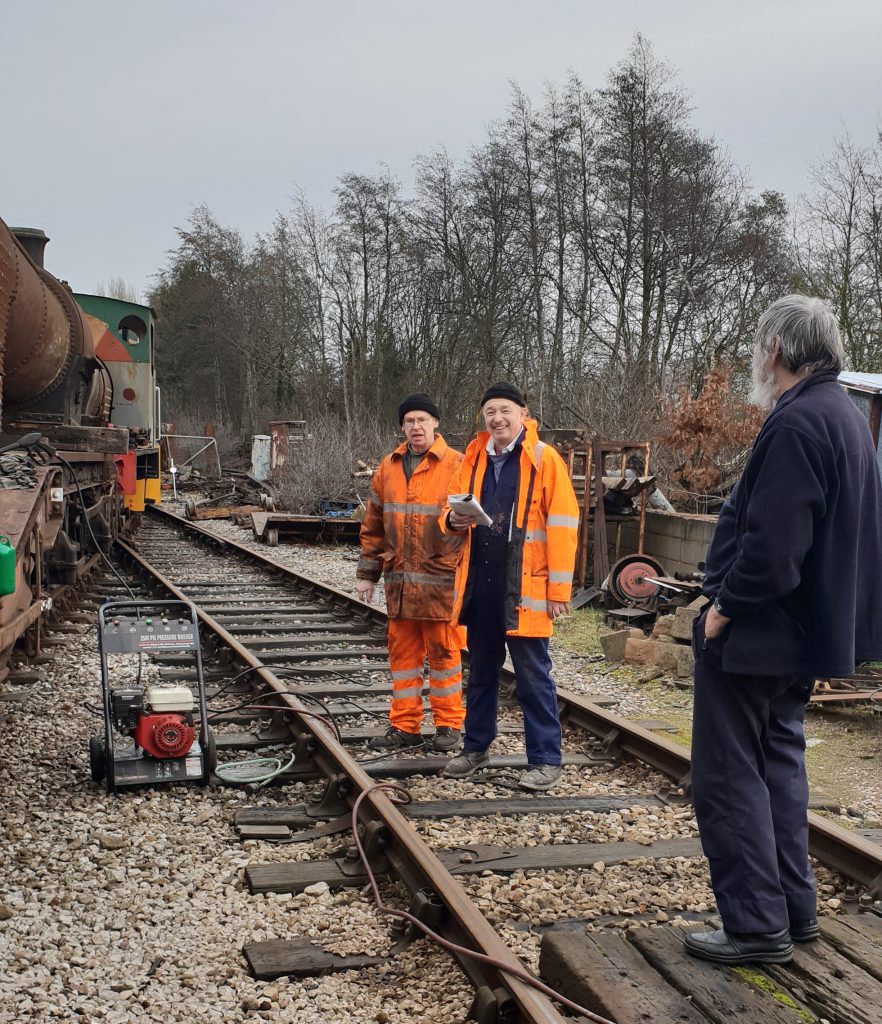 Alan and John watch on here as Tim takes the drastic step of inspecting the instructions for the water pump in the hope that it might be coaxed into life.
Fortunately, Mike appeared and twiddled the right knobs with the result that a throrough wash out was carried out. An inspection by the boiler surveyor is booked for tomorrow, Tuesday.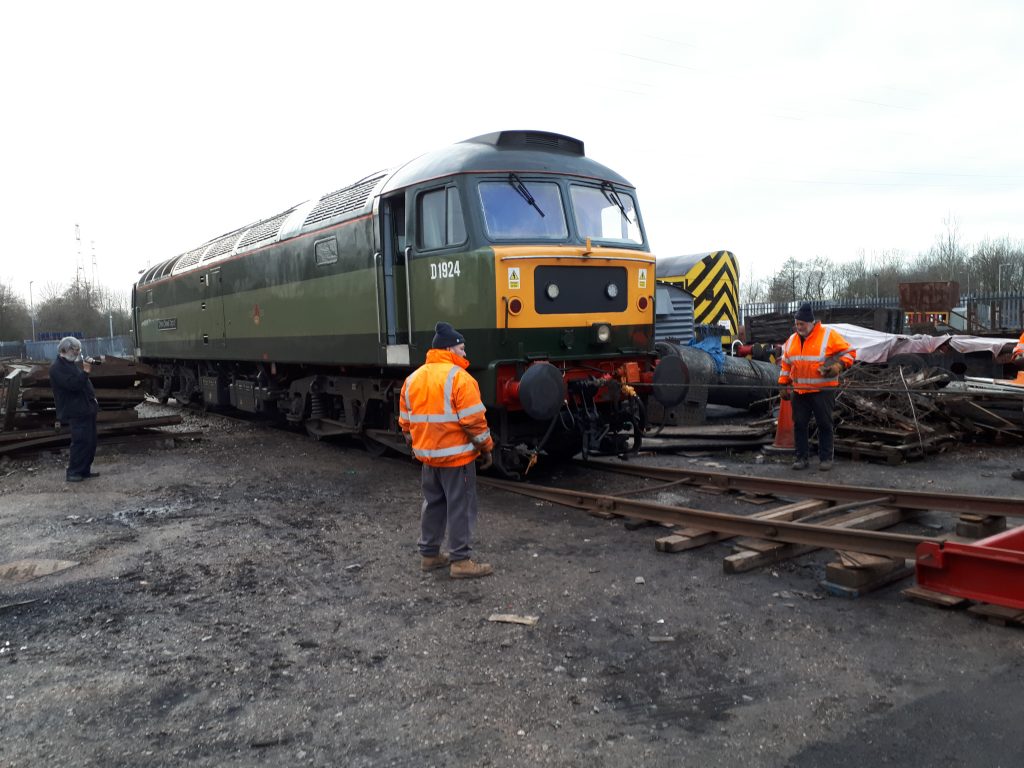 The rest of Wednesday was spent watching Crewe's Class 47 D1924 being winched on to a massive trailer for trip back to its home depot. The loco had taken refuge at the RSR the previous Thursday after suffering a problem which prevented any longer distance movement by rail. We trust that D1924 will soon be back in good health.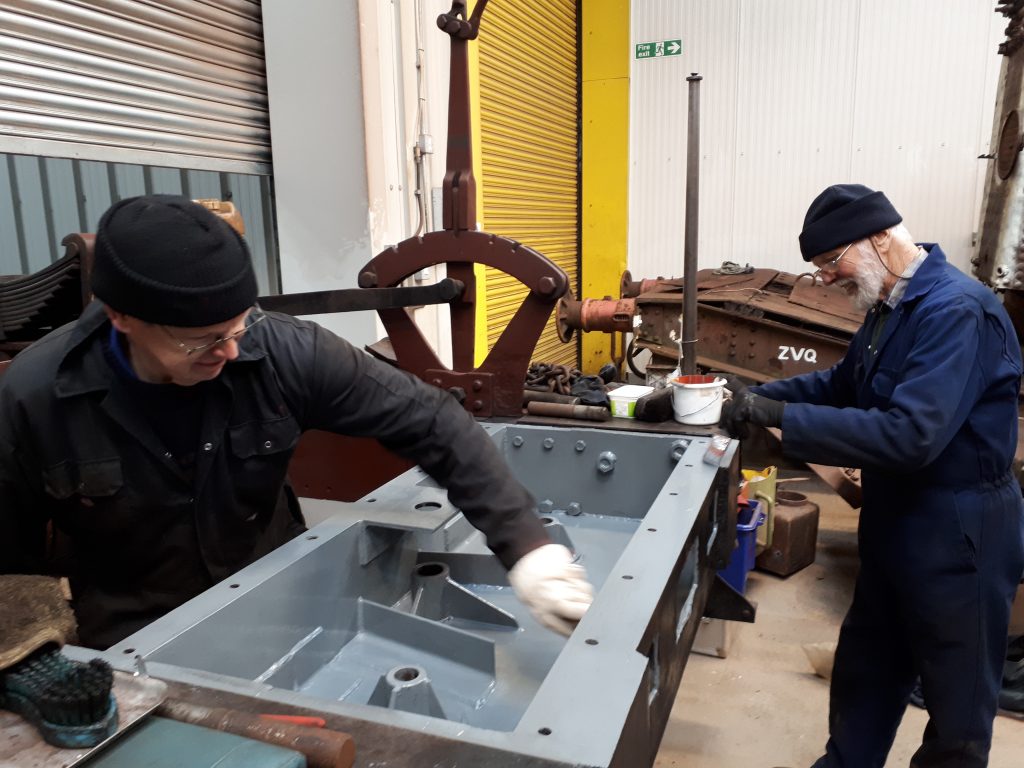 On Friday John Dixon and Roger continued their work on FR 20's drag box, attending to the securing holes on the footplate and applying a coat of undercoat.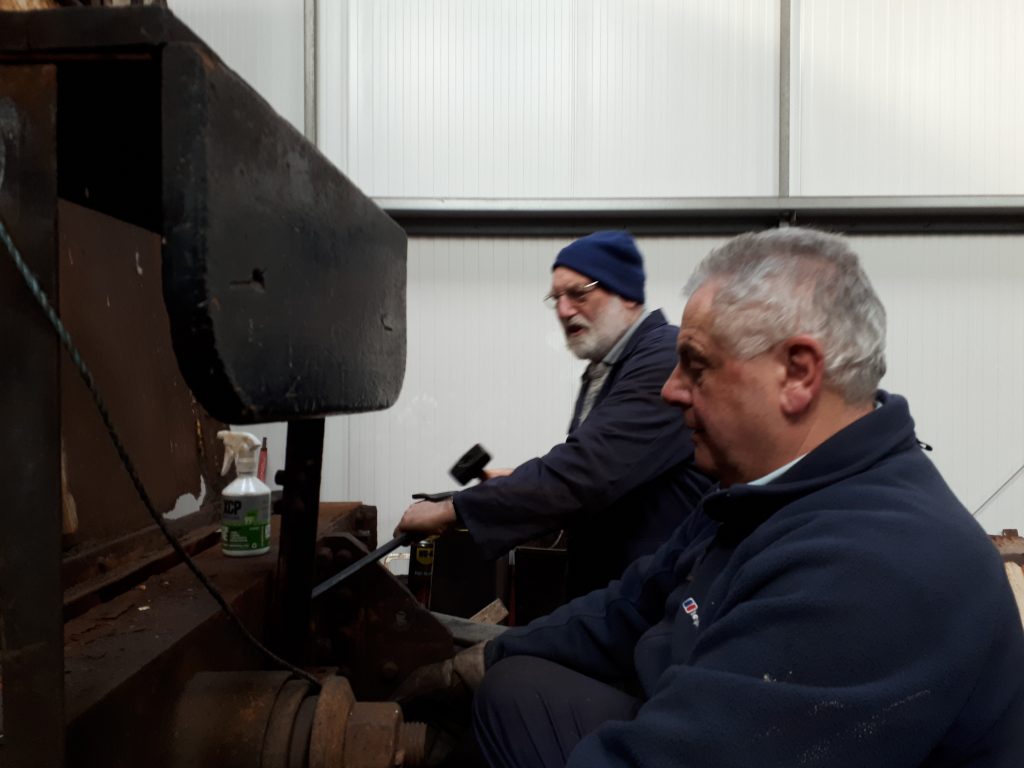 Matt Jervis made a start on removing Cumbria's regulator (borrowed from 3793) and 'J' pipe whilst Fred continued to clean Caliban's buffers. Paul Newton continued his work on the former L&NWR platform seat and John Davis and new volunteer Phil Bell attended to the removal of Fluff's rear cab sheet.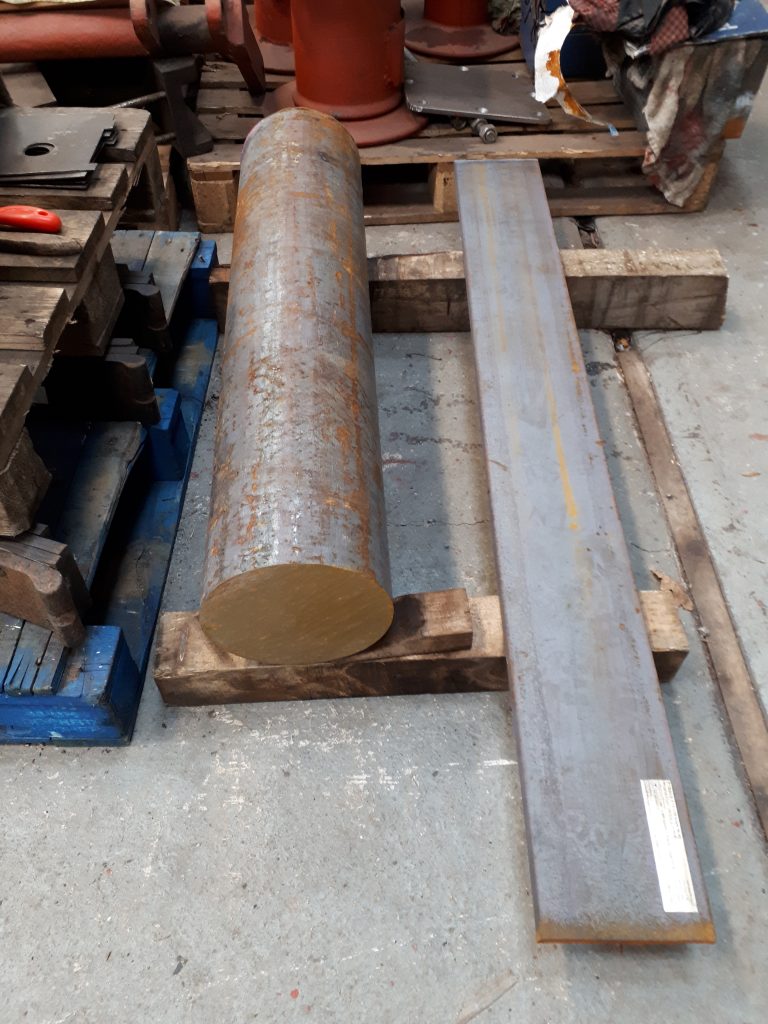 There has been more progress on Wootton Hall with the arrival of new steel for the construction of the reverser – no, that round thing isn't a log!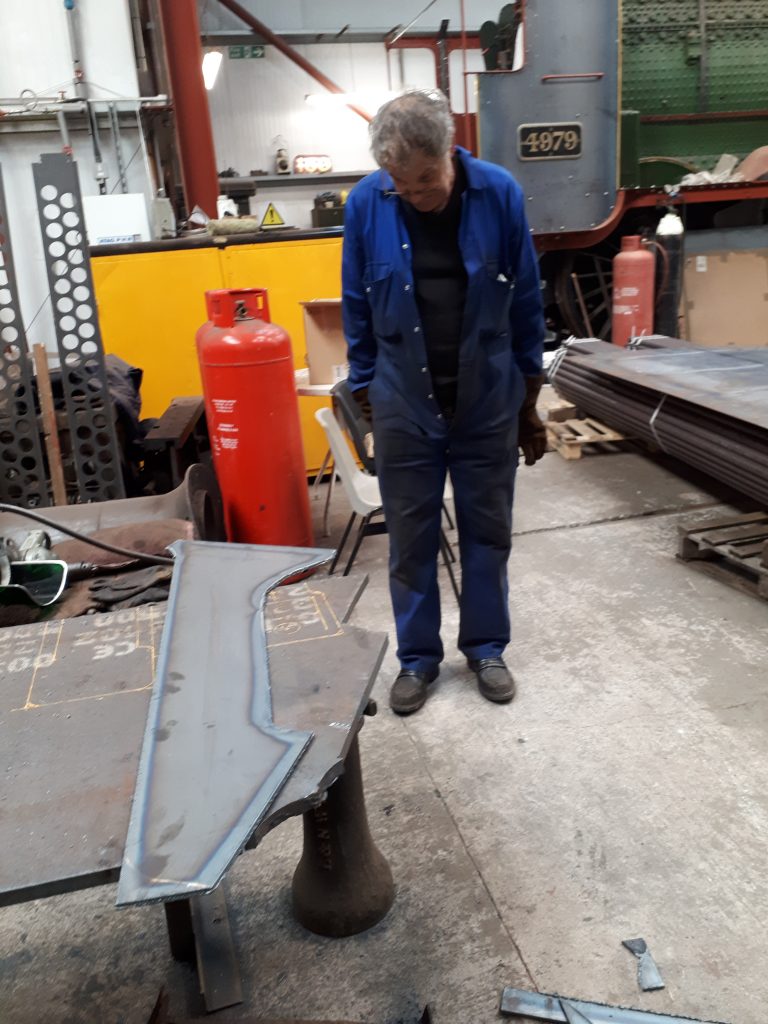 Keith has started the job of making up pipework for the injectors and is seen here with a newly cut corner stay for the recently purchased tender tank.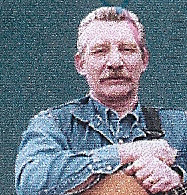 We conclude with the sad task of recording the death last Thursday evening of former Live Steam band member Stuart Bennett. Stuart had, in the 1970s, been a member of popular South Lakeland folk group Bag 'O Rags, which had entertained members on many occasions during those folk revival days. They were legendary occasions which brought many of our members together and the tales are still retold of merry nights out at such hostelries as the White Hart at Bouth and the Swan at Urswick. In 1999, after a period of time away from the folk music scene, Stuart accepted an invitation to join Live Steam and brought a new dimension to the band with his vocals, harmonies, guitar instrumentation and contributions to musical arrangements. Stuart clocked up over 140 gigs with the group, including the recording in 2001 of the CD Silver Jubilee, before reluctantly having to retire through ill health in 2008. We had many, many good times together and we send our sincere condolences to Stuart's wife, Carol, and his family.