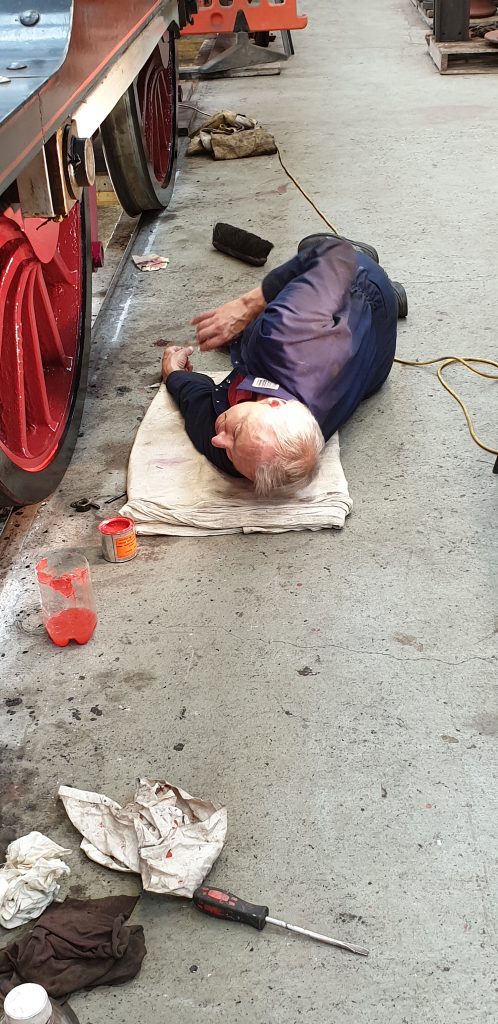 Work on FR 20 has this last week focused on completing the painting of the engine frames and wheels. Lining out the wheels can be an awkward job and Ade caught Tim trying to make himself comfortable on the floor before finishing off the right rear wheel – you can never find a pillow when you need one!! Meanwhile Alan has finished scraping in the white metalled tender bearings.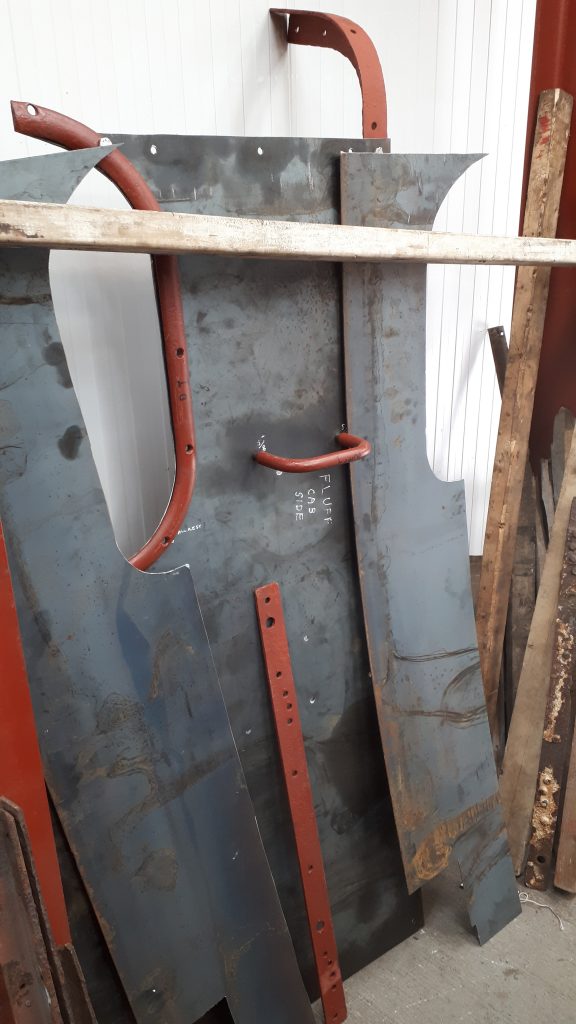 There has been continuing good progress with Fluff as various components are freed off and prepared for re-fitting. Paul Balshaw has primed some more areas between the frames whilst Phil Bell has been preparing new cab sheets (seen here in store) as well as re-working an existing door sheet that can be re-used.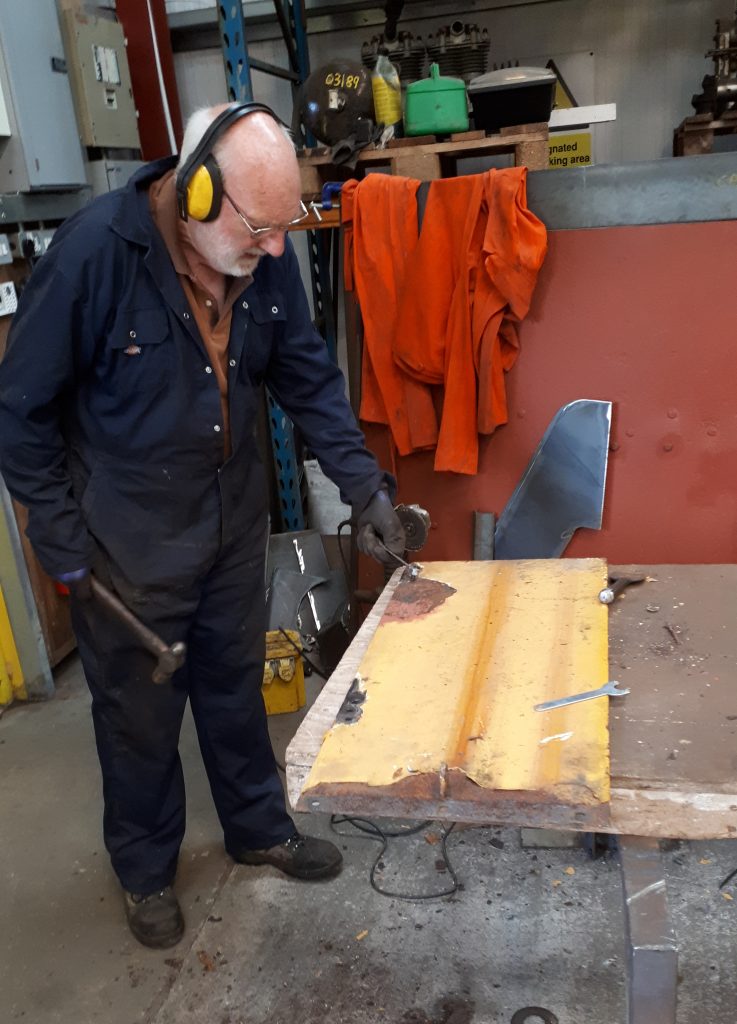 Ade has again been working on Caliban's axleboxes and preparing some new steel cover plates for them.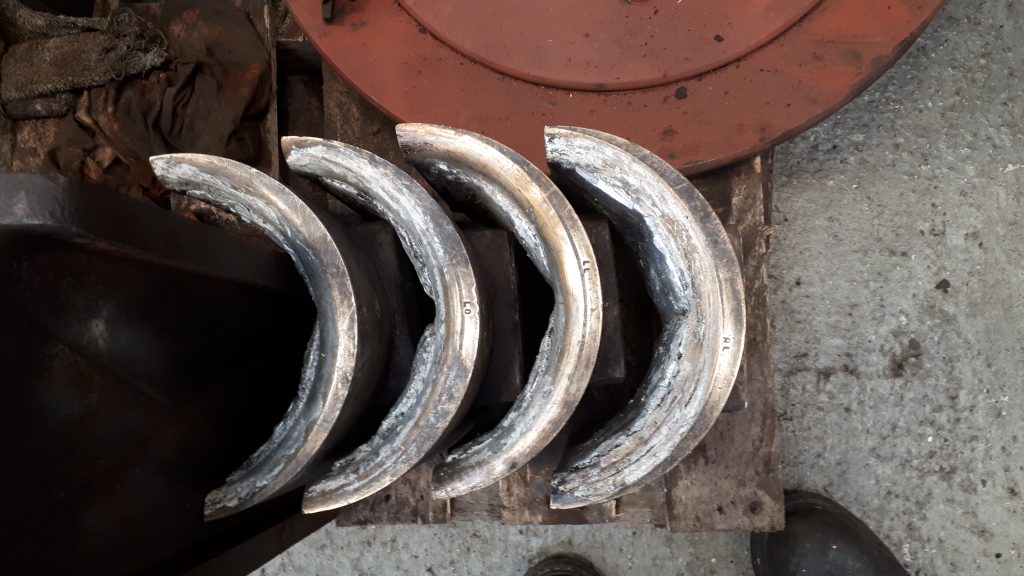 Jimmy Dutton has completed the white metalling of the bearings which await machining once Alan has returned from sunning himself in the south of England.
Keith has continued his work on Wootton Hall's tender tank and preparing new platework. With a fair amount of welding work now building up, the Trust has purchased some new kit to comply with recent directives regarding weld fume.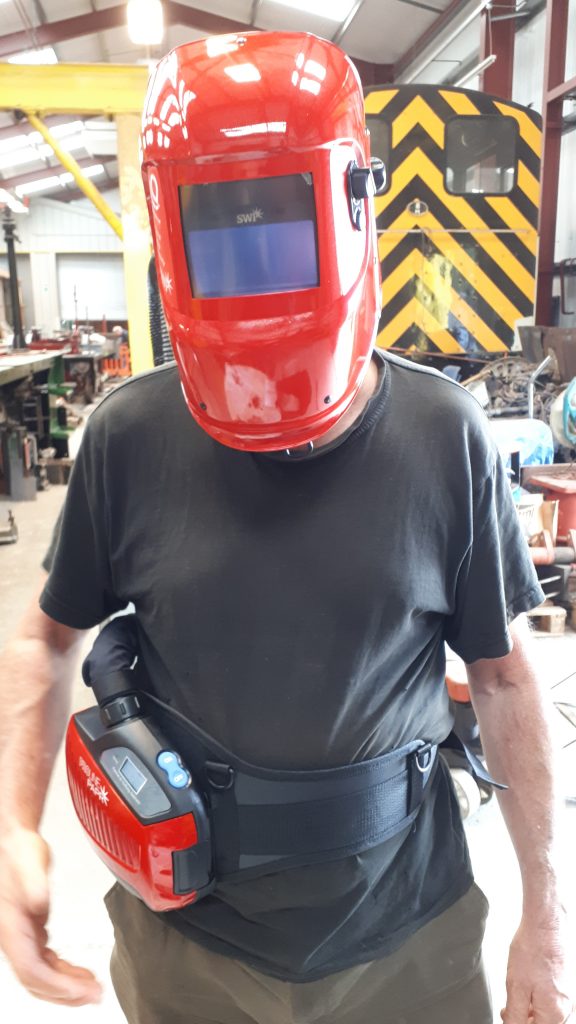 Keith is seen here modelling the new welding mask complete with air blower.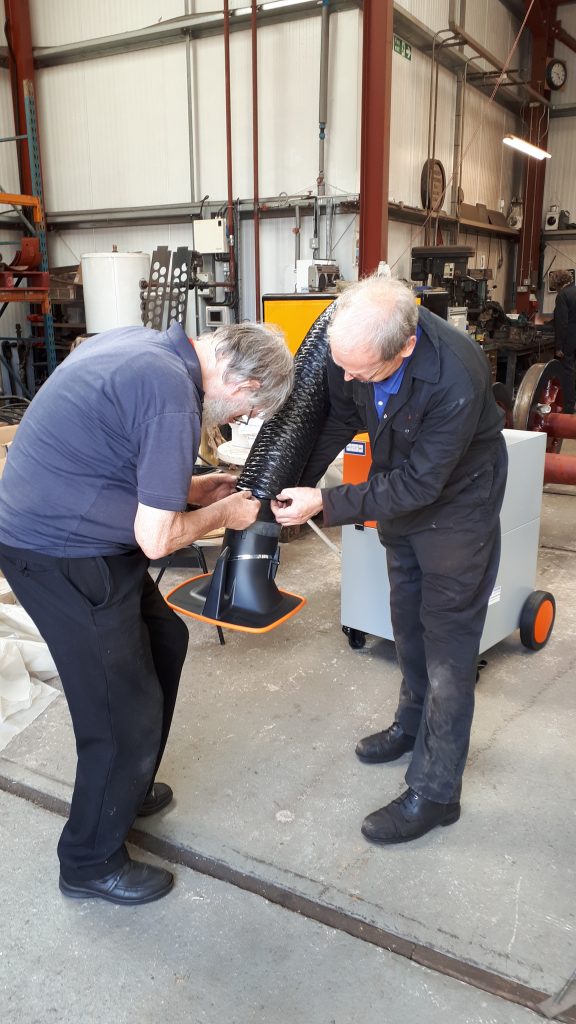 Alan, John and Tim spent the latter part of Wednesday assembling the new mobile fume extractor. Delivery was certainly very prompt but, unlike a car which you expect to be able to drive away from a salesroom without having to fit the wheels, the same cannot be said for the supposedly mobile fume extractor which turned up with quite a number of subsidiary cardboard boxes containing wheels, tube, extending mechanism, nuts bolts and sealing rings plus (just to confuse) a few bits and pieces that you didn't actually need. Added to that were various meaty booklets in a wide range of languages with complex diagrams explaining how your A level rated Meccano set should be constructed. Of particular note, there was an alarming warning sign illustrated with a set of teeth that indicated that you had to be careful when releasing the tensioned extending mechanism from tie wraps to prevent yourself receiving a blow in the mouth!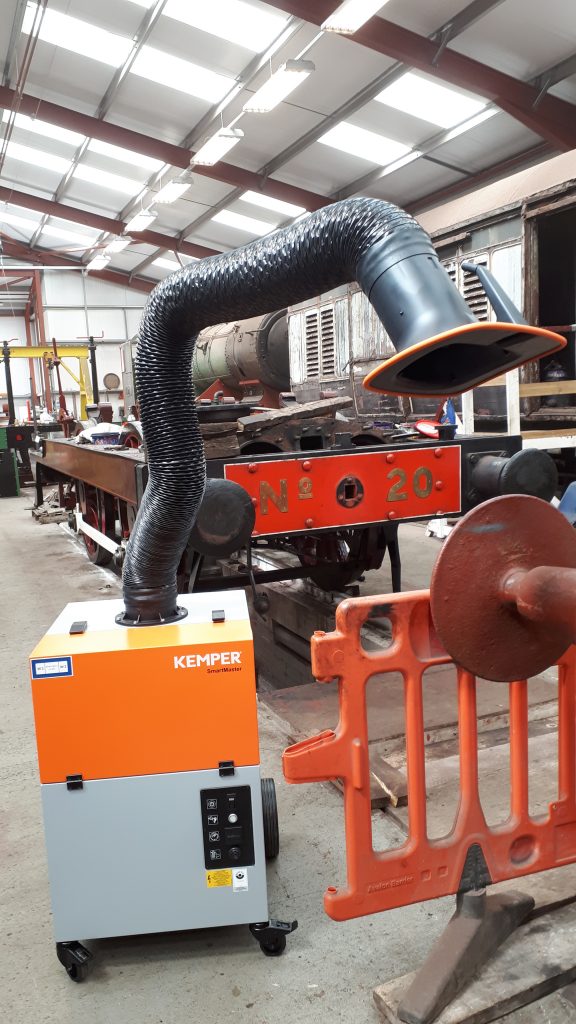 We are pleased to be able to report that the extractor was successfully assembled without damage to either the equipment or the volunteers and that Nellie (with the extendable trunk) was tested without managing to inhale any loose wigs…
Over at Embsay, Cumbria is out of traffic for its 14 month boiler survey and also some attention to its regulator and left hand injector amongst other things. Charles Adams has become a member of the FRT and has kindly taken on the role as guardian of the loco whilst it is at Embsay. Charles has drawn up a maintenance list which is being ticked off as individual tasks are completed.