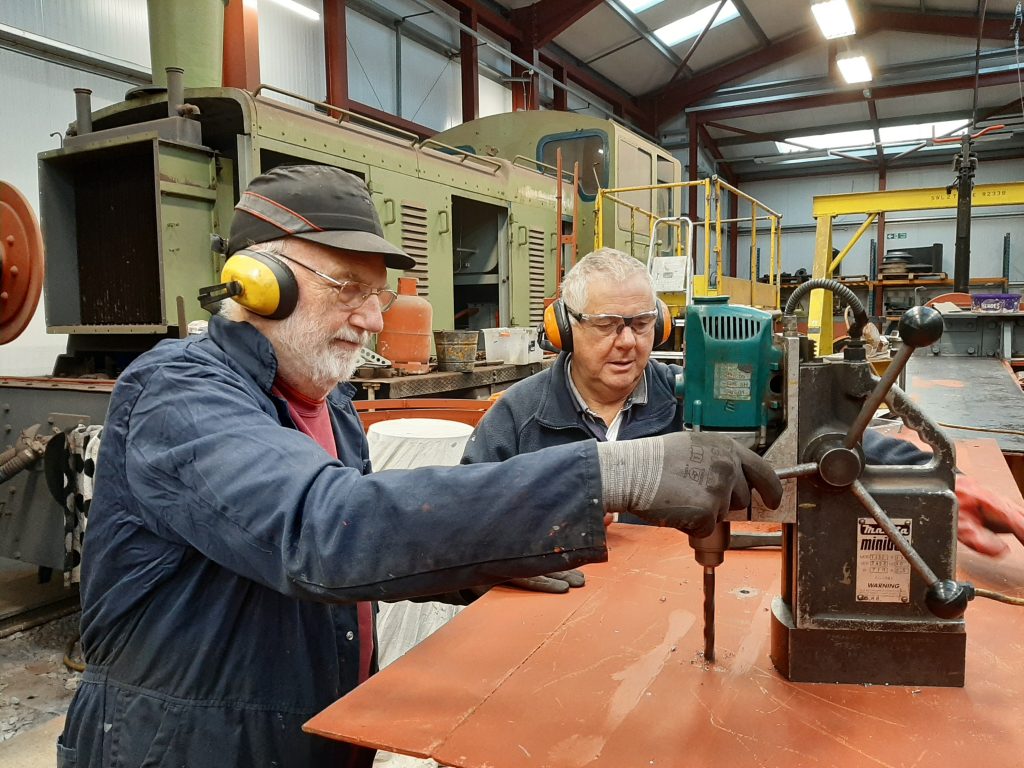 Fluff's makeover continues to progress at a steady pace. Phil Bell and John Davis have been drilling the new plate for the running board.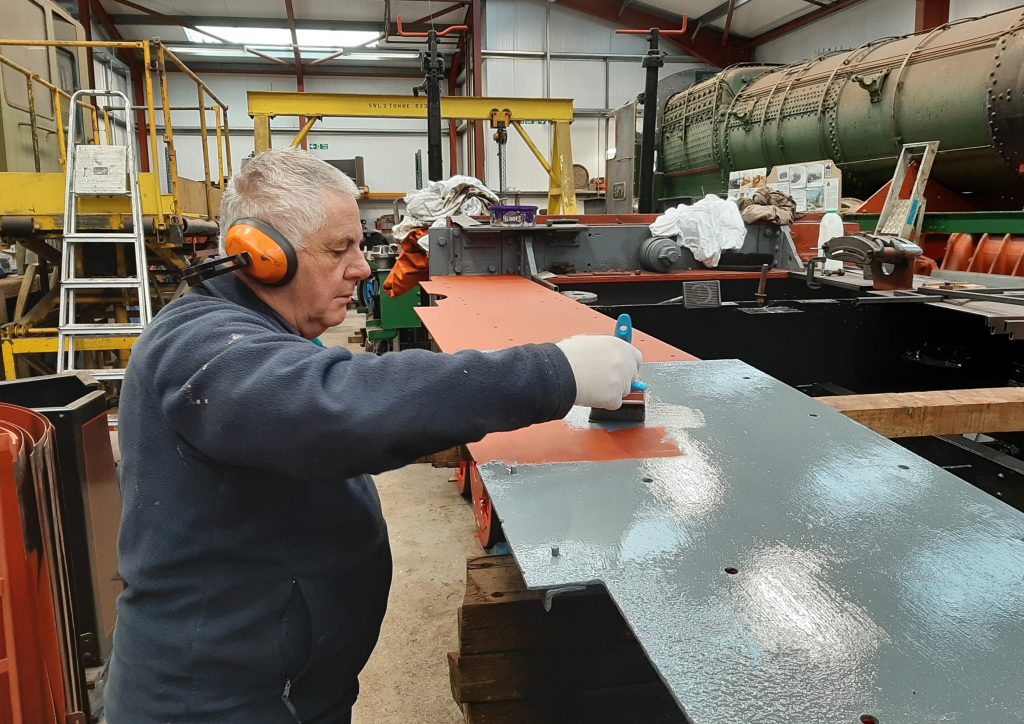 John then went on to give the plate a couple of coats of paint.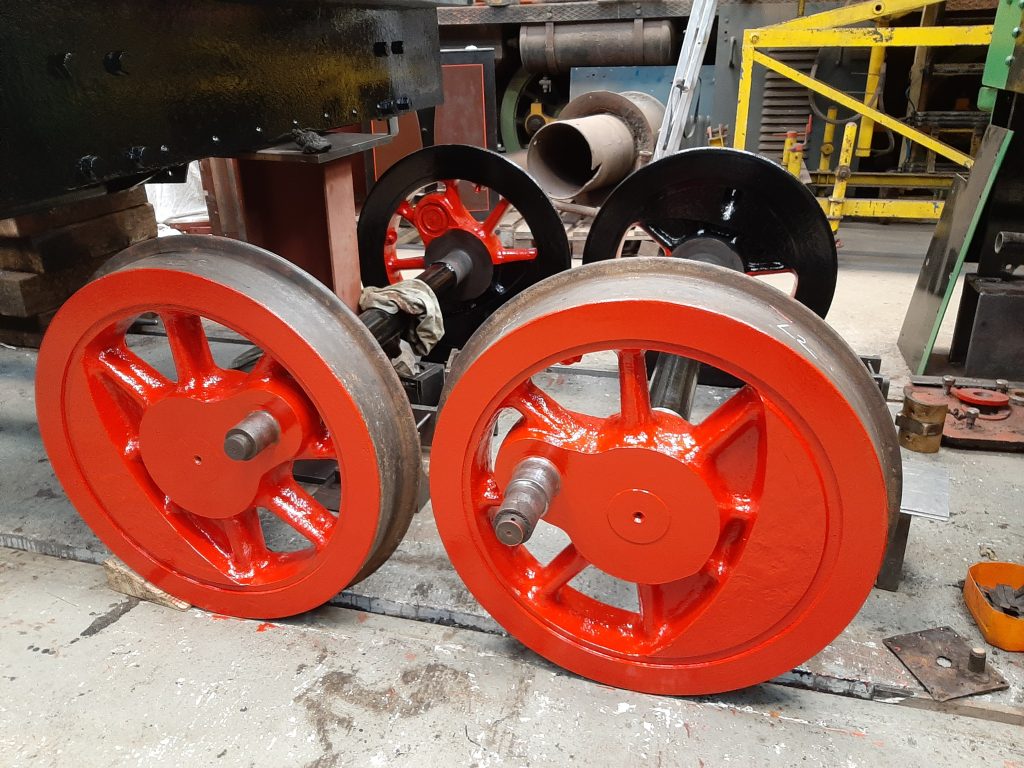 Meanwhile David Rimmer has been painting the wheels.
One of the many tweaks that are being applied to FR 20 during its overhaul has been the addition of more dummy rivet heads by John Dixon. Horror of horrors, it had been noted by the rivet counter amongst us that one side of the tender possessed a few more rivets than the other!!! We can now all breathe easy now that this error has been rectified, even though it took 20 years to spot the error!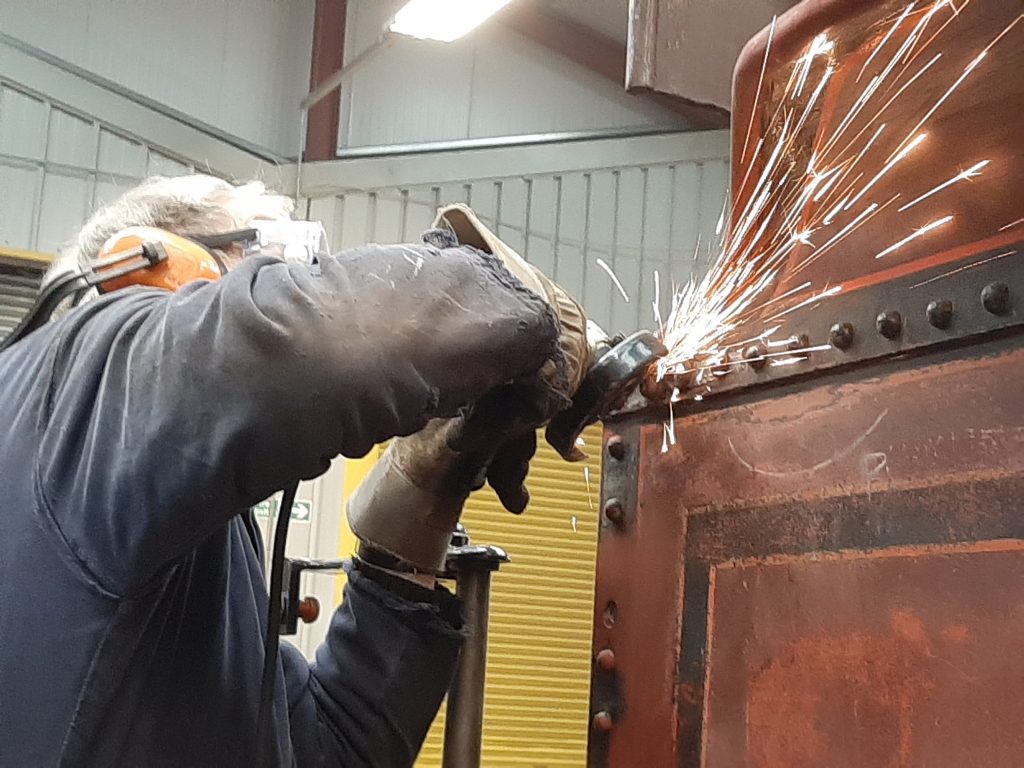 John is seen tidying up the rivet heads after welding them into place.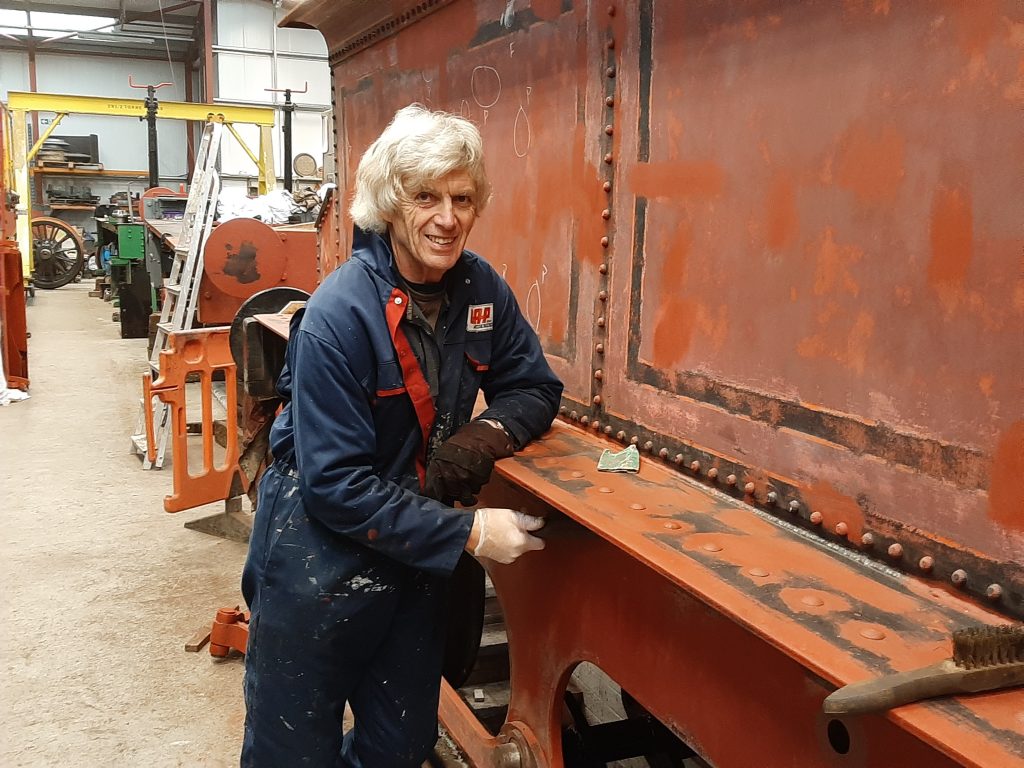 Tim has been on top of the tender to apply a coat of red oxide and Ed Tatham has been cleaning up the nuts that secure the tender tank on to the frames.
Phil and Roger spent Friday starting the process of re-fitting the right hand tender brake gear after it had been cleaned and painted. The left hand brake gear had been deliberately left in place in order to act as a guide for the re-fitting process. Turned out to be a wise move!
Fred spent last Friday cleaning up Wootton Hall's tender filler top after a new section of ring had been welded into place.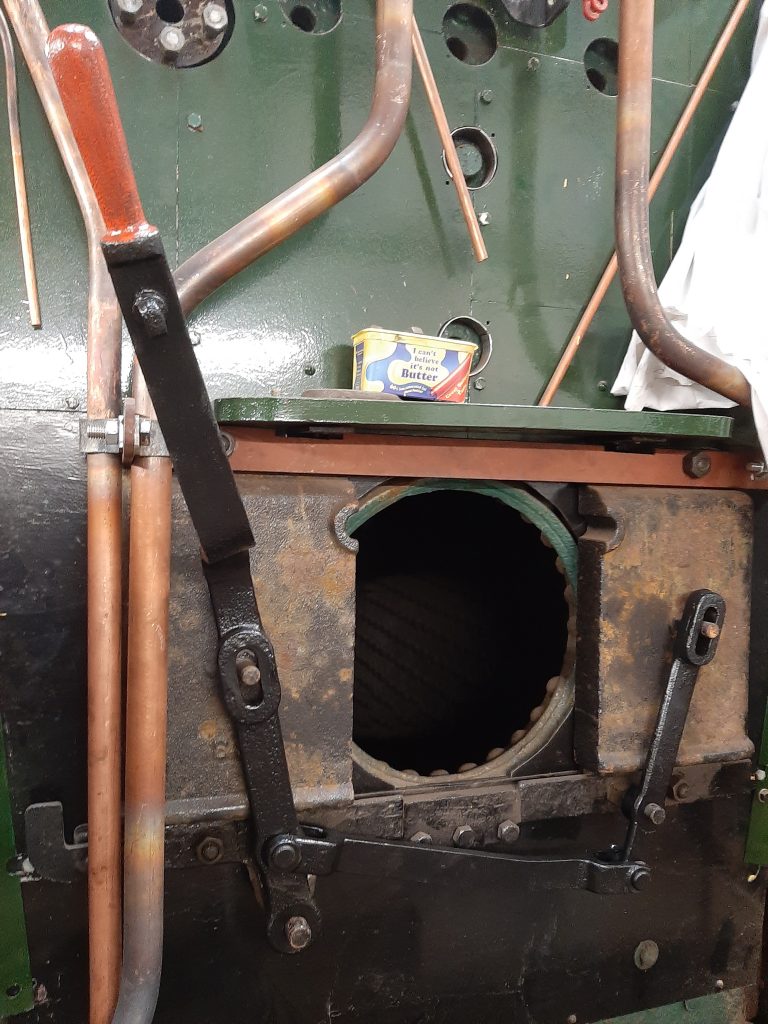 The recently acquired firehole door mechanism for Wootton Hall has now been cleaned, painted and fitted.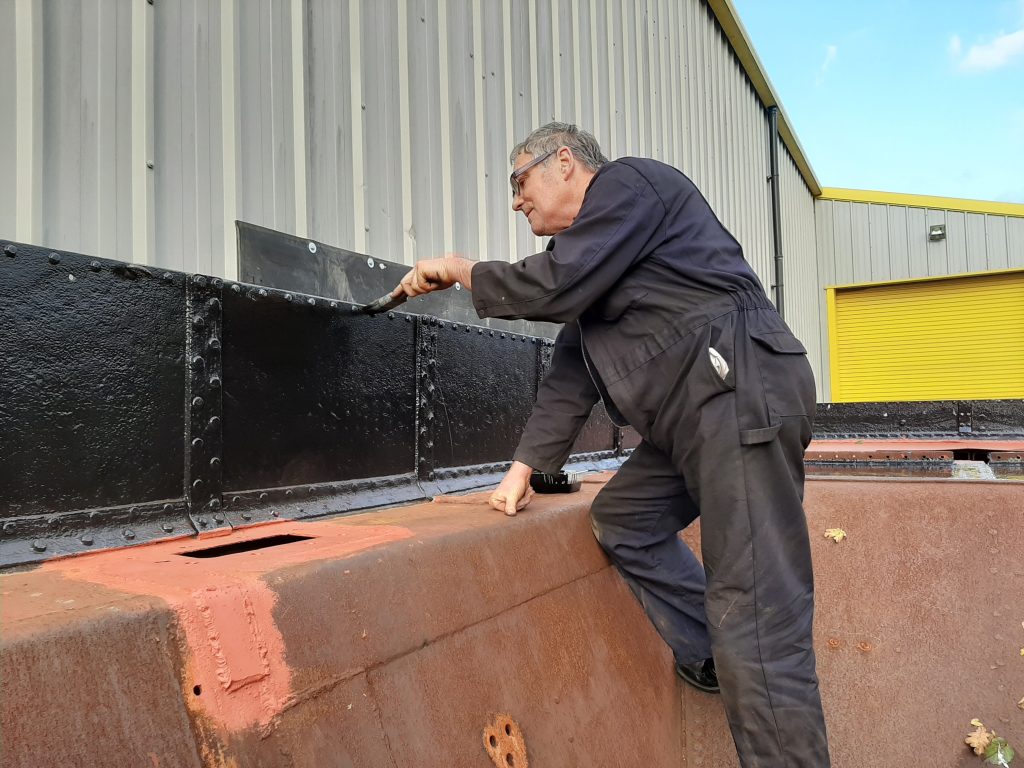 Keith is seen here putting a spot more paint on Wootton Hall's tender top.
Adrian has been making some more progress with Caliban and Keith and Fred have again been over to Embsay to complete the washout of 5643.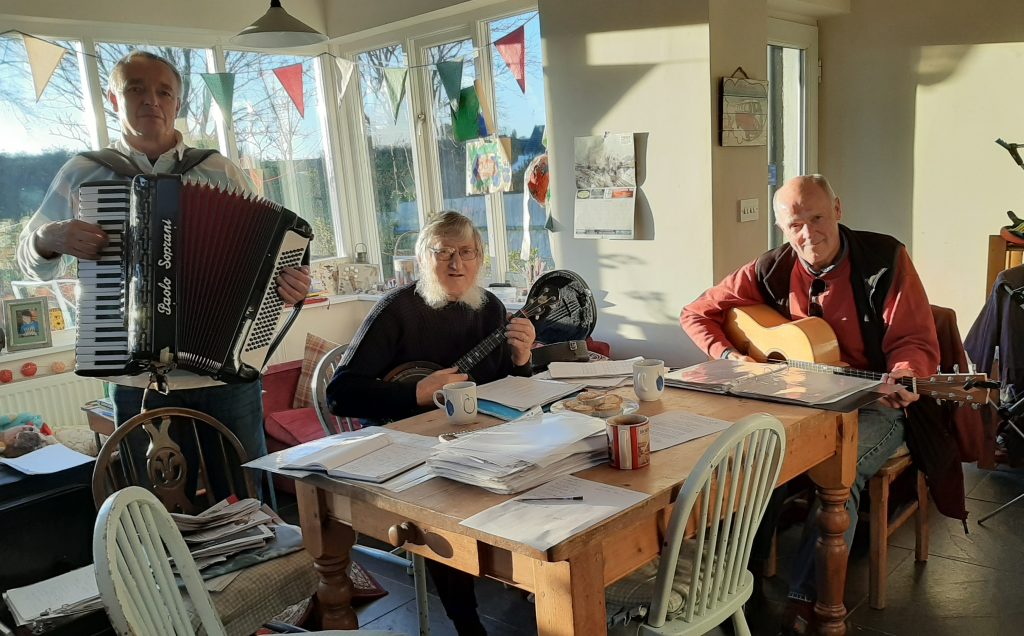 With the Ulverston Dickensian Festival coming up next weekend, Live Steam have been practicing in earnest this afternoon around a plate of mince pies. They will be performing at the Old Friends pub on Saturday evening and then at Abbeyfield House after lunch on Sunday. Finally they will bring down the curtain on the festival on the outdoor Theatre Street stage late on Sunday afternoon. Let's hope that the weather stays fine.
Tomorrow will see the Trustees meet at Over Kellett where there will no doubt be another pile of food to tackle before they are allowed to go home. However, there might well be the odd left over pieces of cake for Ade on Wednesday!