We are sorry to have to start this blog with the news that long-time member, Bill Ashcroft, died last Thursday morning at the age of 82. We understand that Bill had just completed a course of chemotherapy the previous day following a diagnosis of lung cancer at the beginning of the year. He was certainly one of life's characters and was involved at Haverthwaite in the early days, although an inability to drive through a medical condition resulted in a scaling down of his involvement. Bill then joined the support crew for the late Paddy Smith's LMS liveried Black Five No. 5407 before transferring to the "dark side" of bus preservation, acquiring John Fishwick & Sons' Leyland half cab double decker No. 10 which he restored. He latterly became involved with the restoration of a Leyland Lion. Bill took many railway photographs which recorded the end of steam and have been sort after by railway periodicals. He recalled to us how, when working at County Hall at Preston, he would nip off to the toilets, which held a prime viewing position overlooking the entrance to Preston station, in order to take photographs of passing steam traffic. More recently, Bill started to make frequent appearances at the FRT's new shed at Preston and we will miss his cheerful voice recalling old times. Our condolences go to Bill's wife, Ruth, and his family.
Work has continued at Preston this last week, although there was a pause in operations on Wednesday in order to observe sand blasting demonstration which had been arranged with a view to the RSR and FRT joining forces to buy some new equipment.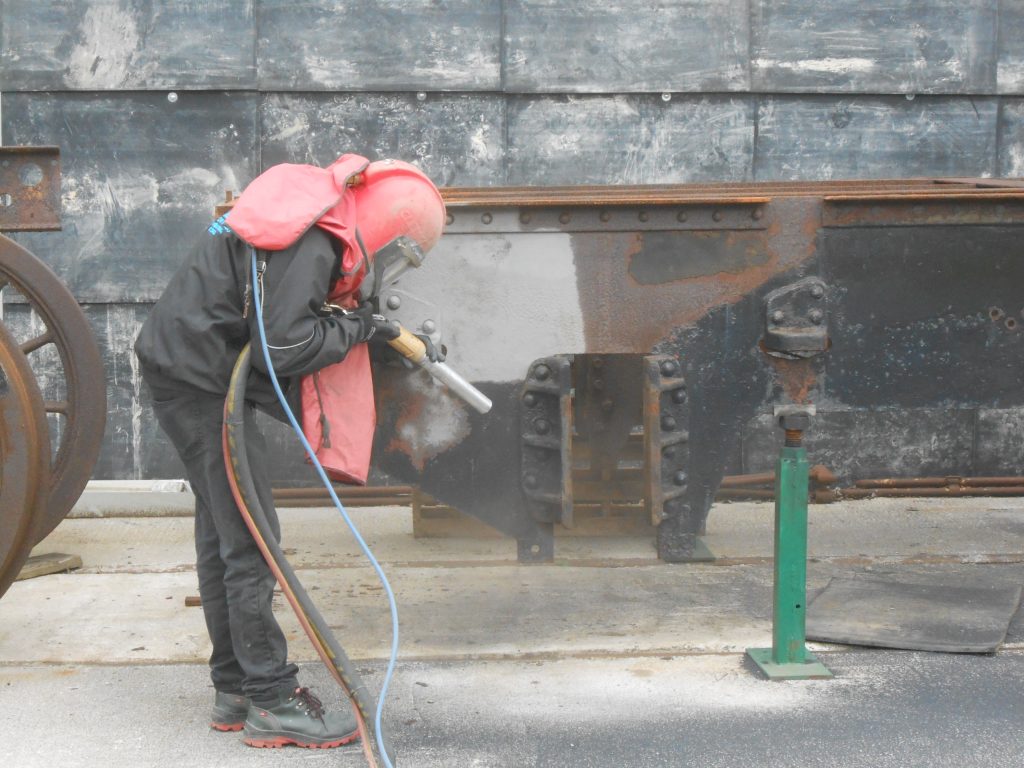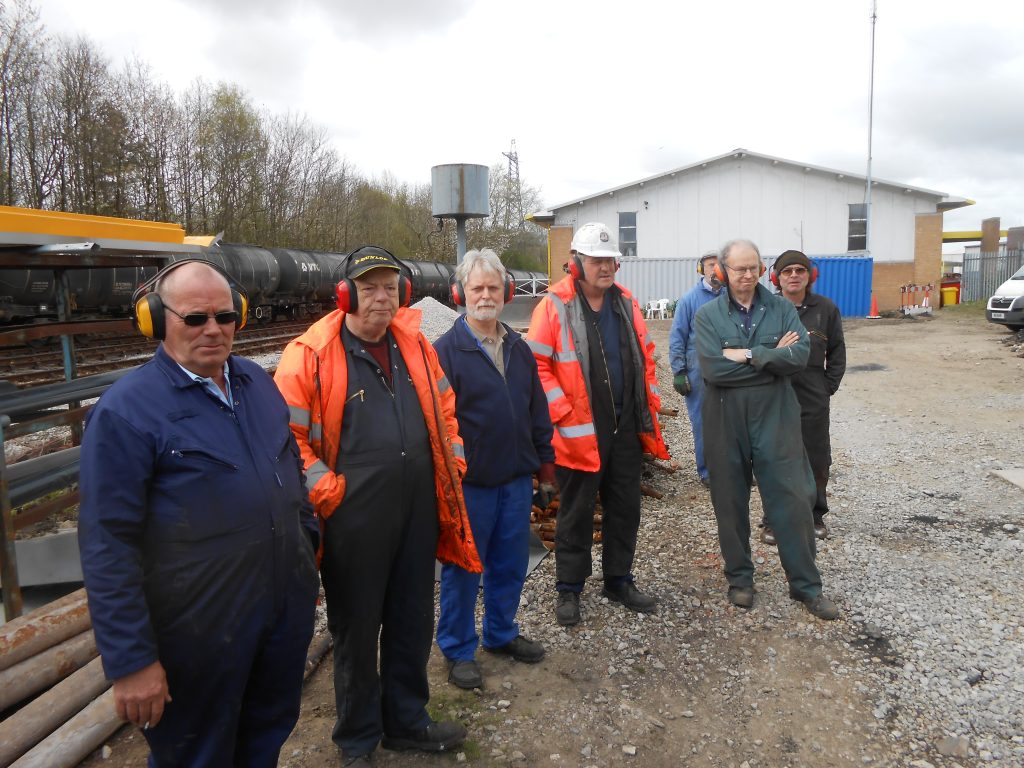 The onlookers can be seen here along with a photo of the sand blaster attacking the frames of Wootton Hall's tender. The demo showed that the compressor would need some attention before it could be used for sand blasting.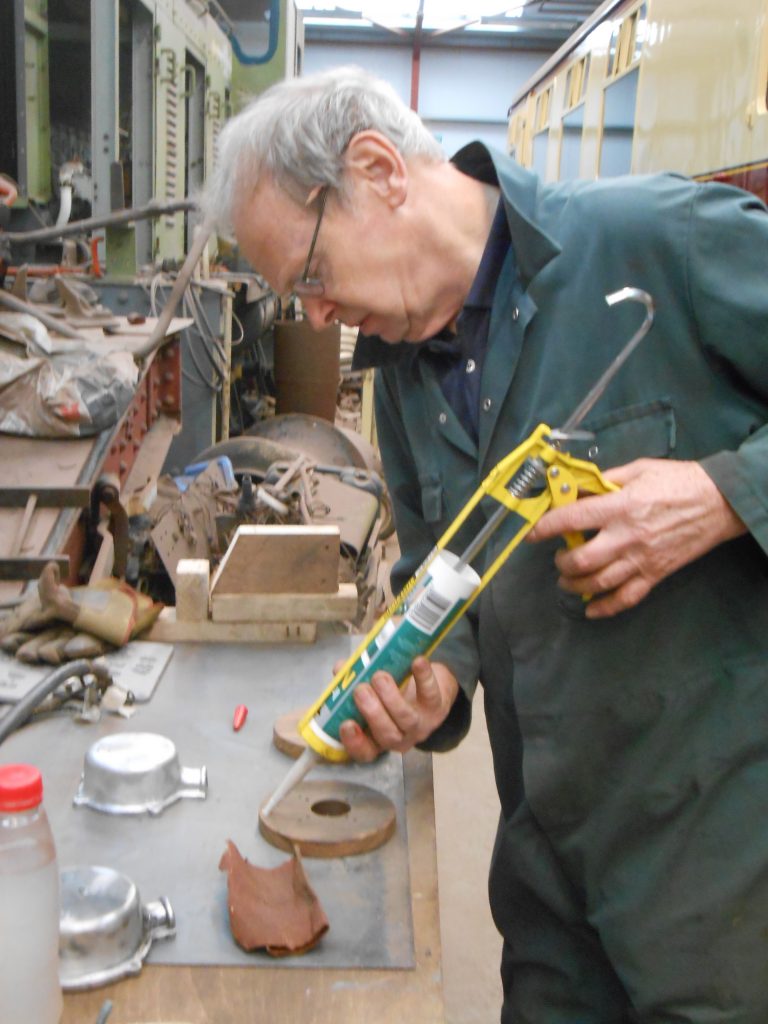 John has been busy re-fitting items on the RMB and can be seen here preparing one of the lighting cable pattresses. Mike has been back working in the toilets and Tim has varnished the east corridor end of the coach.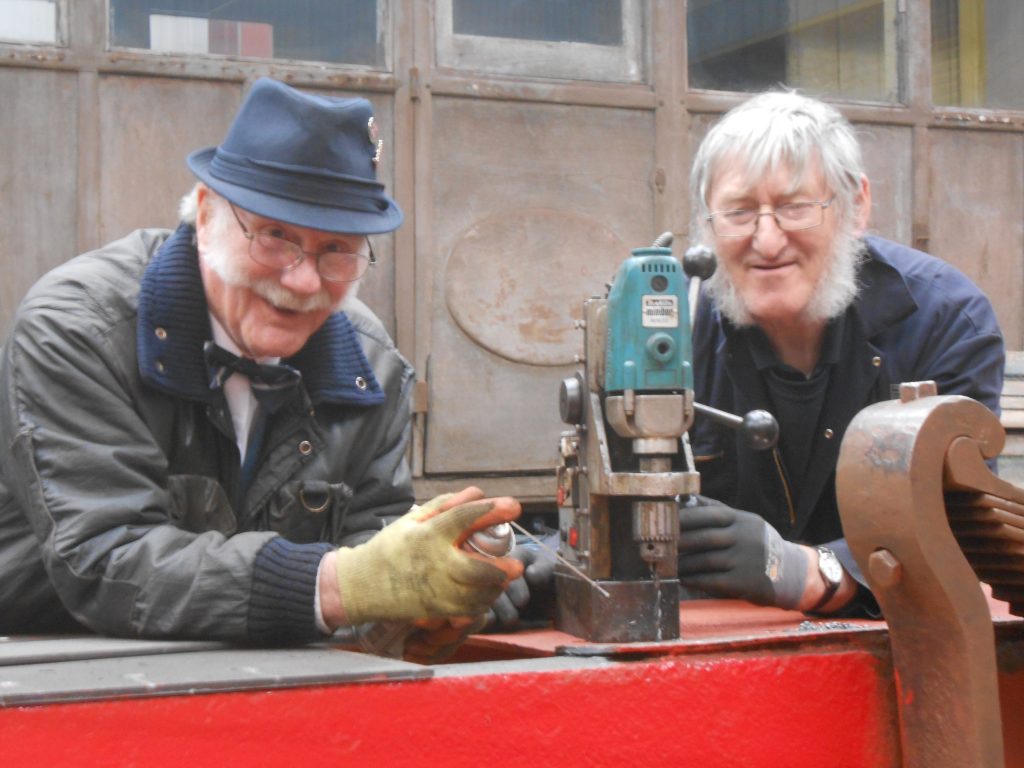 Alan and John H, seen here contemplating their next move, have been working on Caliban's running board and Adrian has removed some further scale and rust from the frames. Keith and David have been filling the scrap metal skip with scrap tubes and components from Wootton Hall.
George reports that work is proceeding at Shackerstone on Cumbria's big ends and a new clack valve. The loco should be back in traffic the weekend after Easter, subject to a satisfactory steam test.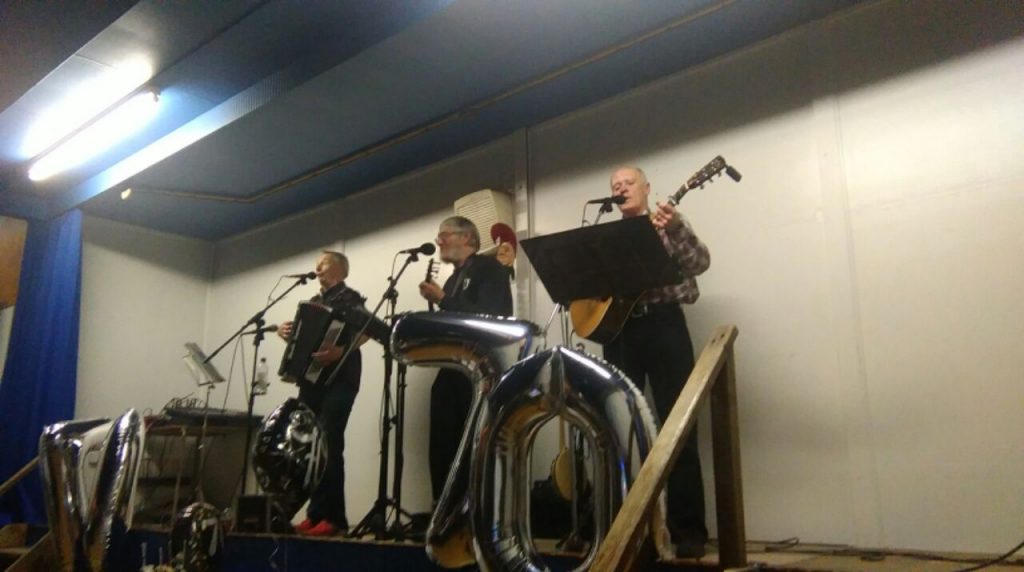 Our folk band Live Steam had a busy Saturday evening at a private 70th birthday party at Out Rawcliffe village hall, which seemed to be successful.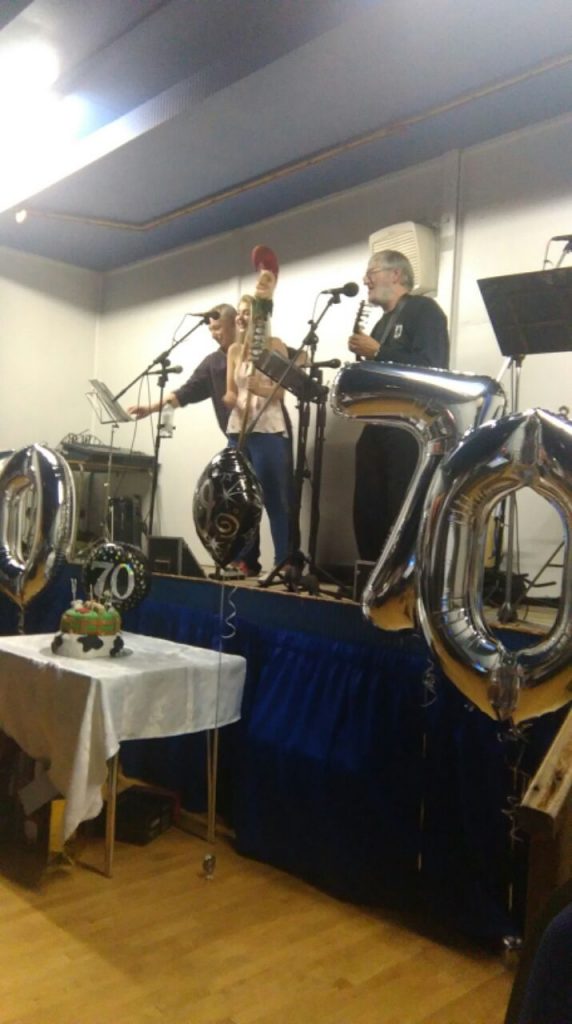 Tim reprised his tuition of the zob stick to an unsuspecting female from the audience.
Last call here for the final Preston Branch meeting of this season which will take place at 8 pm tomorrow, Tuesday evening, 11th April, at The Ale Emporium, Preston. Archive steam video will be screened.