We are afraid that we have to start this week's blog with more bad news for, as some of you will already be aware, Alan Middleton was admitted to Blackpool Victoria Hospital on Wednesday evening. He is currently in the Acute Medical Unit suffering from confirmed coronavirus. Alison is in enforced isolation at Thornton Cleveleys and is, as I am sure you will understand, very frustrated. The good news is that Alan appeared to be a little better today when he was visited by son, Andrew, and grandson, Sam. Seems he was complaining about too much salt on his food, which can only be a good sign! Fortunately the latest tests have concluded that there are no other underlying symptoms on his lungs other than coronavirus. We wish Alan well and our thoughts are with both Alan and Alison at this distressing time.
Needless to say, the current emergency has very much dampened the Trust's activities at Preston. We received news that Embsay did not now foresee a need for 5643 in the immediate future and so arrangements have  been made for it to return to Preston, provisionally this Thursday. We had not been planning for this eventuality so Tim, Keith  and Ade spent quite some time last Wednesday with a tape measure before coming up with a plan to squeeze the loco into the main shed area so that some TLC can be given to its brakes, pistons and valves.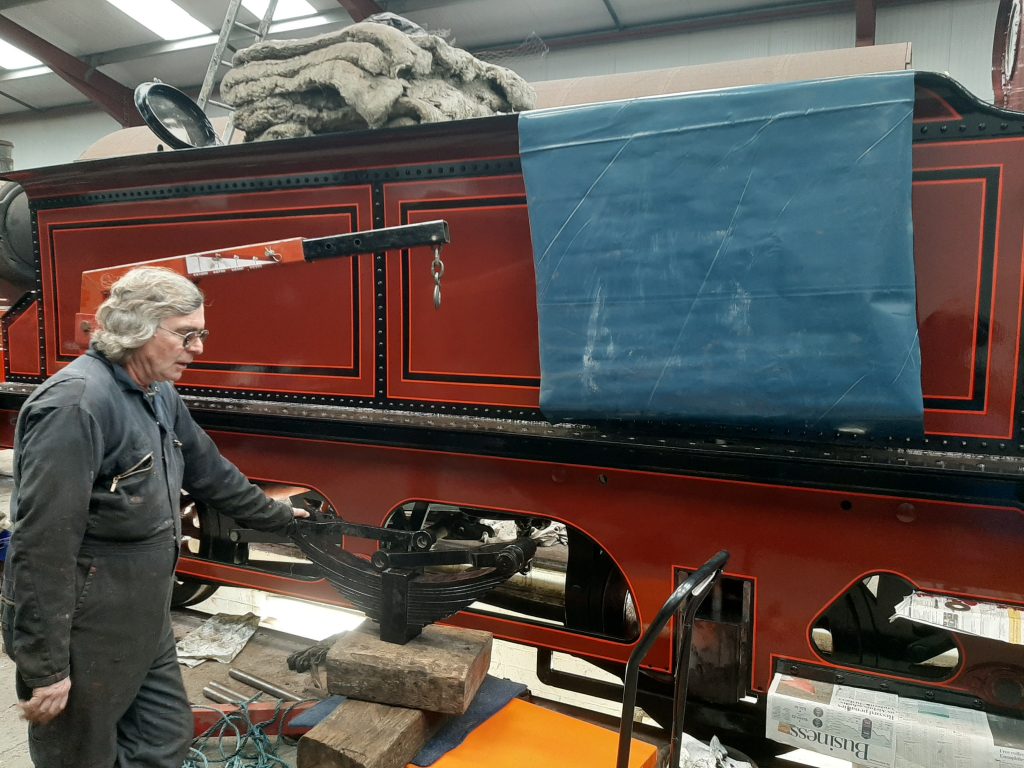 The other main task on Wednesday was to refit the springs on to FR 20's tender in order to make it mobile.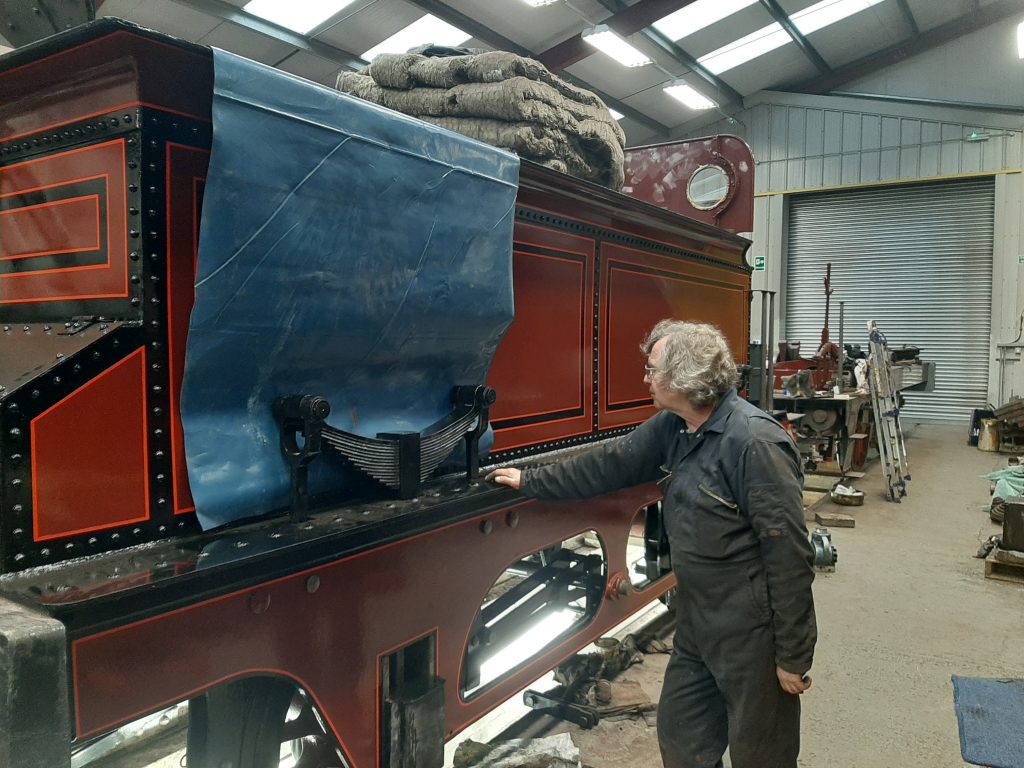 This had to be achieved carefully without scratching the newly completed paintwork, so a thin polythene screen was mounted to protect it.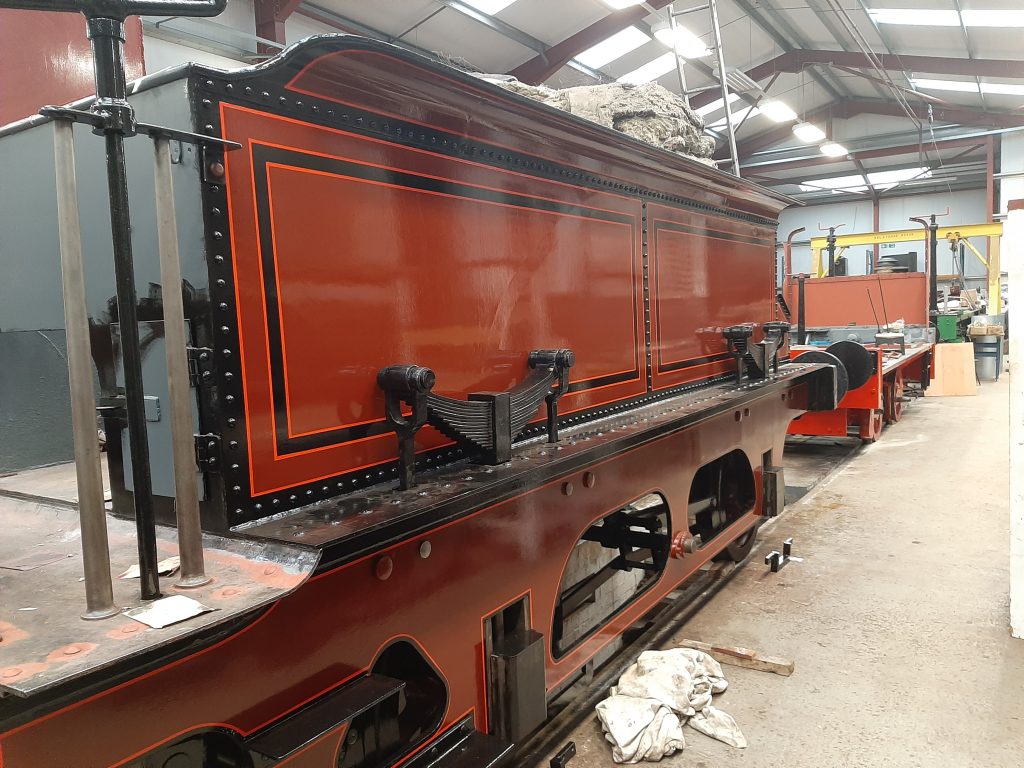 The new lifting table proved to be invaluable.
It is planned that the tender will take the place of Caliban's boiler on road two of the shed whilst the boiler will once again be exiled outside the shed. After arranging for the removal of the  ballast packer to the Ribble Rail shed there should now be room for Fluff on road four in the unheated part of the shed, but with only six inches to spare.
Ade appeared on Sunday to start the first part of the shunt but was thwarted when he found diesel shunter Stanlow with a broken fuel line. This was temporarily fixed today and so Ade and the Ribble Rail people should be able to do the necessary preparatory work before Thursday.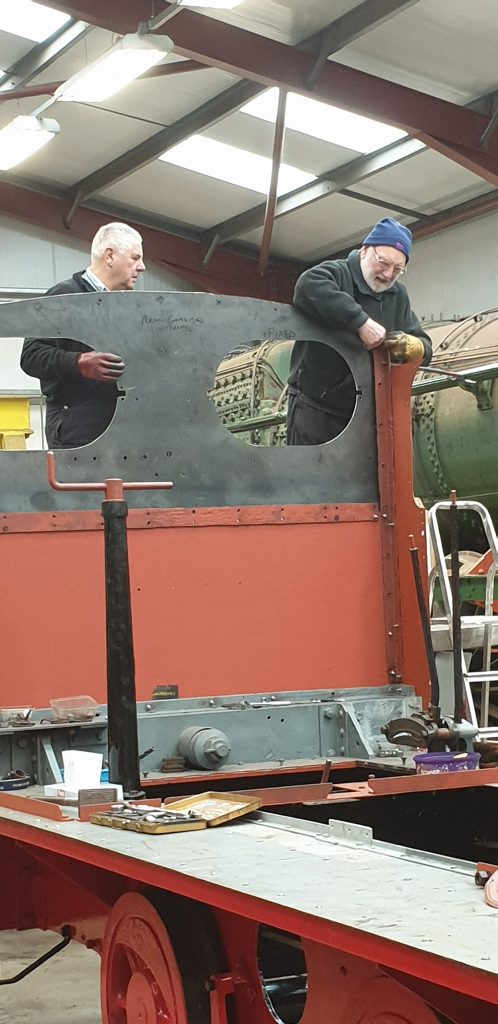 There has been some further work by Phil and John Davis on Fluff's superstructure as pictured here.
Looking forward it is essential that working members put their own safety first and follow the Government's advice. It is far better that we are all in one piece at the end of this emergency than to risk health through feeling the need to make short term progress. Any working parties should be kept to the minimum number of people required and self distancing must be observed at all times. For those who do attend, a new signing in point has been created in the FRT shed in order to eliminate the need for members to visit any other buildings on the site.