Working parties at Preston last week were rather more thinly attended, but still the work went on.
John has now nearly finished fitting trimmings around the doors of the RMB.
Mike has been busy cleaning the shelves behind the counter.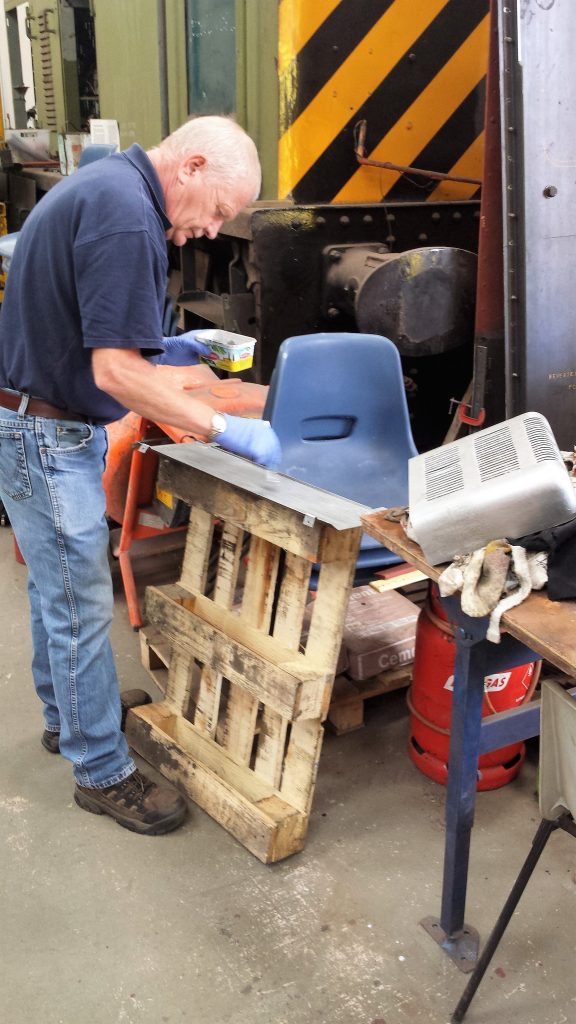 Paul painted the remaining radiator guards (one of them new) which were then fitted along with the remaining tables. Mike then turned his attentions to vacuuming the seats.
Work continued on Caliban and Fred did more cleaning up of the former Foxfield water column.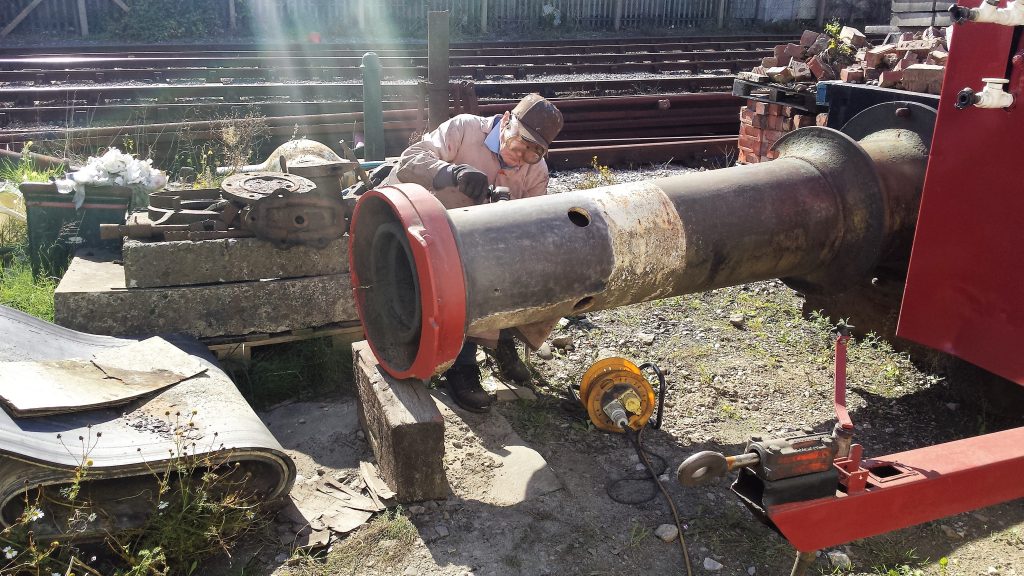 Keith has been cutting spare metal to make new support stands for Wootton Hall's tender frames.
Alan, Tim and Alison went over to Shildon last Friday for Locomotion's Autumn Steam Gala which was well attended by the public. BR Class 2
2-6-0 No. 78018, the star of British Transport Films' classic "Snowdrift at Bleath Gill", was back on former home ground and on show in light steam along with Flying Scotsman, which arrived on Friday evening having hauled an excursion form London Victoria to York. It was a bit of a surprise to find long standing FRT member Jon Wilkinson in the cab, having volunteered to join the locomotive's support crew during its operation at the West Somerset Railway earlier in the week.
Saturday saw FR 20 work the demonstration line service until 2.15 pm after which there was time to top up with water and for Flying Scotsman to back on to the other end of the two brake van train. The giant 4-6-2 and rather smaller 0-4-0 then hauled the demonstration train up and down from 3 pm until 5.45.
It was then time to head off to the local hostelry for food, accompanied by the four strong Flying Scotsman support crew before retiring for an early night. Alan, Alison and Tim were, not surprisingly, pretty tired after the day's activities.
Peter and Dickon joined the fray on Sunday morning, helping to clean FR 20 after the night's rain and the loco once again operated the demonstration line service until 1 pm and then topping and tailing with Flying Scotsman from 2 pm until close of play. Heavy rain showers brought the unusual sight of the FR 20 crew soldiering on in the rain under the conveniently borrowed NRM umbrellas – it looked like something from a Roland Emmett sketch. The relationship formed with the FS crew the previous evening enabled Alan and Tim to enjoy some cab swapping later on Sunday, ending a most enjoyable weekend during which hundreds of passengers were carried.
Alan and Alison are heading off to Shildon again next weekend for Locomotion's now very popular annual Steampunk event.
We leave you this week with a photo unashamedly shared from the Locomotion Facebook page showing a little old Furness Engine in the distance, formerly of a school playground in Barrow, hauling the mighty Flying Scotsman and train under a dramatic rainbow. Yes, dreams really can come true!