The principal task last week was the completion of the work required to put 5643 into an operable condition after its firebox work and subsequent cold examination by the boiler surveyor.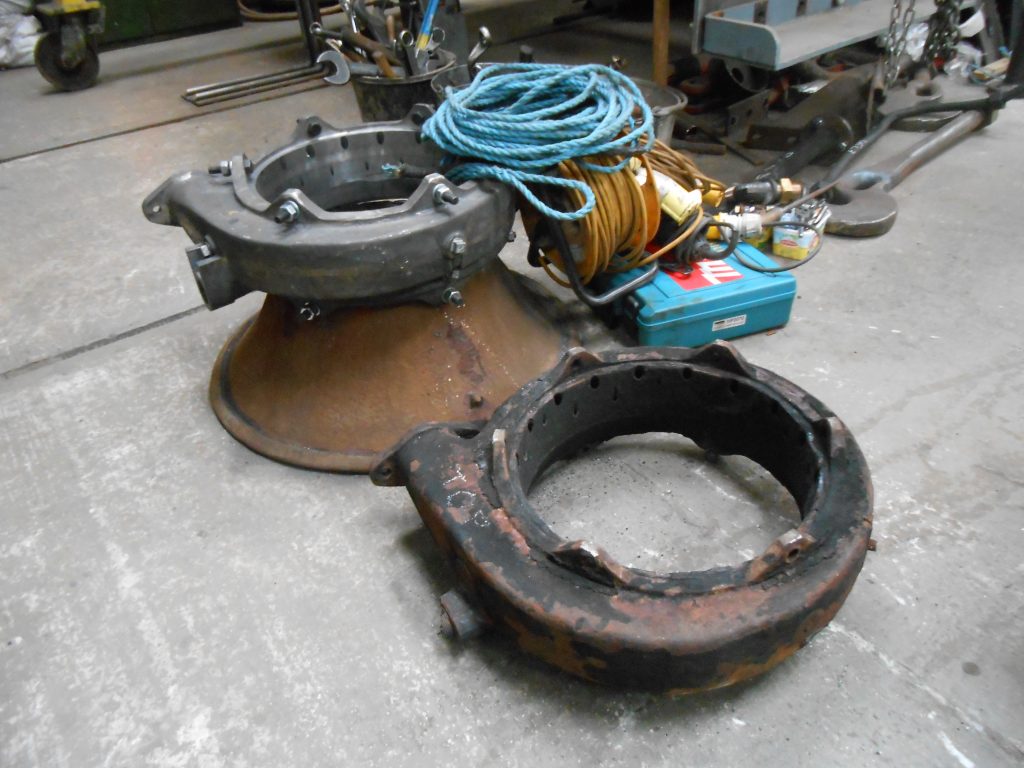 A working party took place at Embsay on Wednesday with Keith, John Dixon and John Davis travelling across with the newly machined blower ring, refractory concrete and formers for the brick arch together with a variety of tools. The new and old blower rings are pictured above. Alan had also travelled down and the gang were successful in installing the new blower ring before 5643 was drawn out of the shed to allow Alan to put in a warming fire. Alan and John Dixon returned to Embsay on Thursday to fire up the loco for its scheduled steam test at 14.30 which it duly passed.
There was another gathering at Embsay when the new brick arch was cast and Fred and Keith cleaned up the exterior of 5643, a task which Keith continued on Sunday. 5643 is due to be transported to Bo'ness today (Monday) and Alan is planning to drive up to Scotland on Thursday with a test steaming at Bo'ness planned for Friday. The loco is then planned to be in normal service on Saturday and Sunday, then the following Friday (Photo Charter and evening Fish & Chip Special), and Saturday and Sunday for the Gala.
The process of getting 5643 through its annual boiler survey and steam test, together with the associated works, in time for its trip to Scotland, devoured much time and effort from the Trust's volunteers and also that of Steve Shearing who machined the new blower ring. Hearty thanks go to all those involved and also to our boiler surveyor for arranging his diary to fit into our schedule.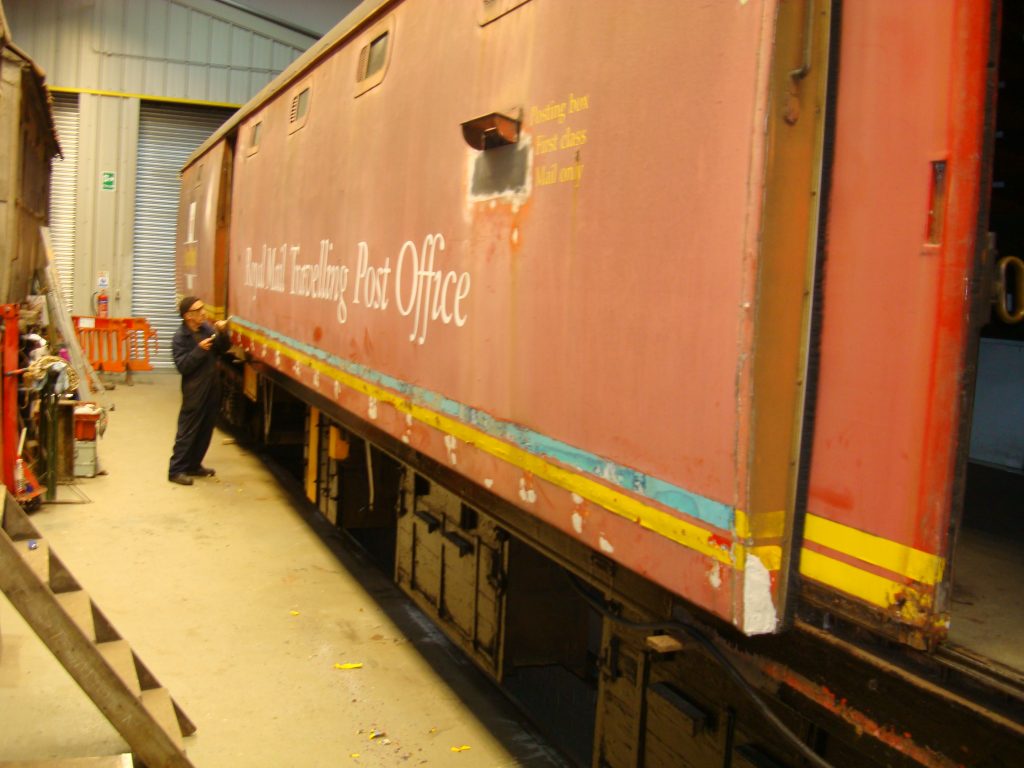 As promised in last week's blog, the RMB has moved out of the heated part of the shed with its place being taken by the RSR's Post Office Sorting Vehicle No. 80377. Tim and David took plenty of measurements and photographs before the graphics are removed to allow painting to take place. Tim then started to remove loose paintwork on the roof whilst, on Saturday, David and Howard commenced the task of removing the two 2″ wide yellow lines which had been taped on to the bodywork. It had been thought that a heat gun would assist in the removal of the tape, but the fact that there are two layers of tape defeated these efforts and so it was necessary to resort to scrapers to make progress.
With Mike away it was left to Paul and John Davis to continue the remaining jobs on the RMB on Friday including a clean up of the old water boiler and more shining of the brass work.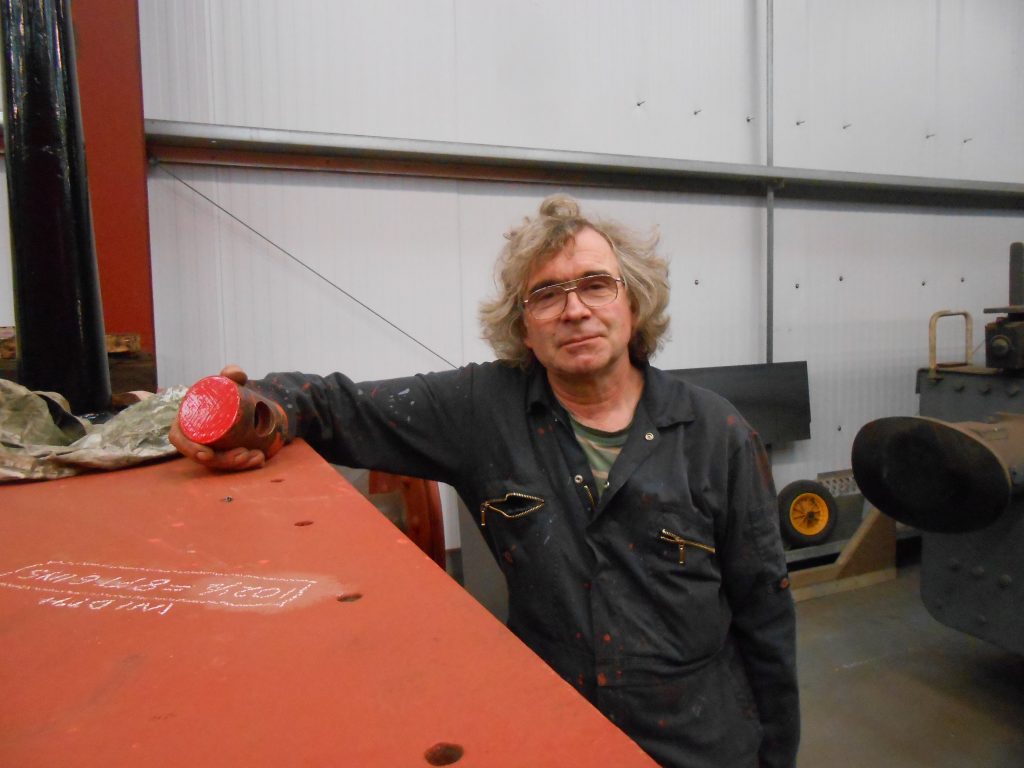 Adrian made further progress with painting up Caliban's components, seen here with one of the pins. There is also a view of a sparkling brake beam.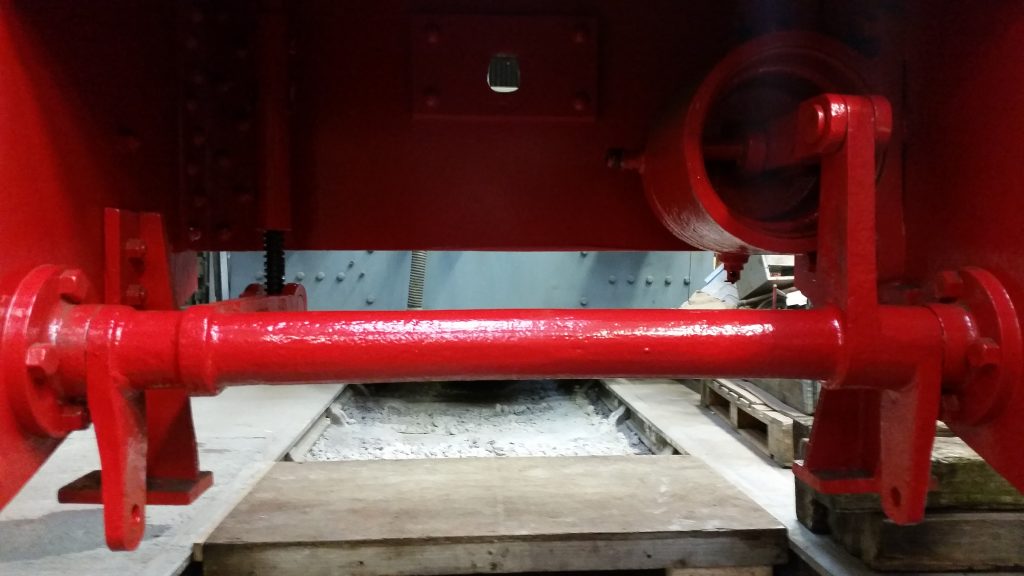 Alan and Alison were at Locomotion, Shildon over the weekend for two more steamings of FR 20. Unfortunately, Alison's knee, which she injured in a fall at Preston last weekend whilst preparing for the Folk Evening, flared up on the Saturday resulting in an unexpected trip to both Bishop Auckland and Darlington hospitals before doctors were able to declare that the problem was severe bruising, which would require Alison to rest. And there lies the problem, for it is a well known fact that Alison doesn't do 'resting'! We all wish her well for a speedy recovery.
FR 20's boiler certificate will expire before its next planned steamings on the 11th and 12th November, so it will be necessary to prepare the locomotive for a cold examination by the boiler surveyor. It is provisionally planned that a working party will visit Shildon on Tuesday, 31st October, depending on the availability of our usual loyal volunteers.
Finally, it is that time of year again when we start the winter season of Preston branch meetings. The first will take place tomorrow, Tuesday 10th October, at 8 pm at The Ale Emporium, Fylde Road, Preston when, no doubt, more steamy videos will be shown.
With the RMB almost ready to be passed over for operation on the Ribble Steam Railway, we leave you with a 'blast from the past' photo of Carriage and Wagon stalwarts David Rimmer and John Dixon behind the counter on a visit to Cowlairs, Glasgow, to inspect the new acquisition on Saturday, 15th January 1982. Can it really be 35 years since it was purchased?!