We're sad to start this week's blog with the news that Ron Flanagan, long term friend and business partner of Alan Middleton for over 35 years, died in hospital last Tuesday. Ron was well known to many of our members and was certainly a larger-than-life character who worked at Courtaulds at Preston with Alan. They set up the Victoria Engineering partnership together in 1981, which produced many items for the FRT at very favourable rates over the years.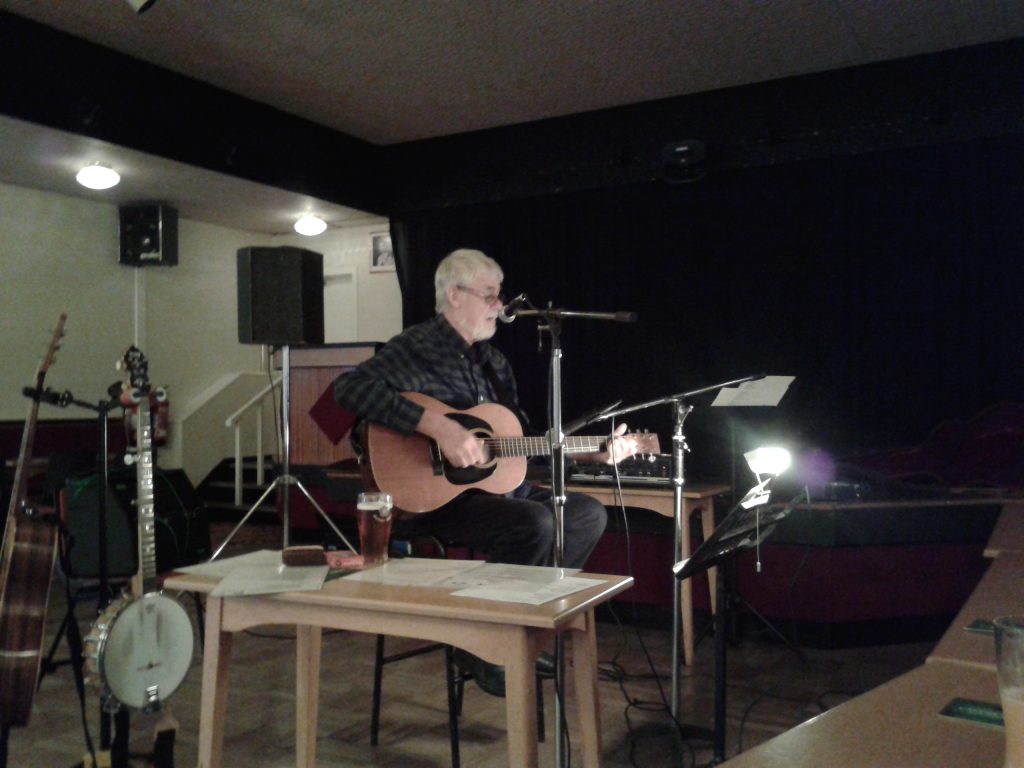 Ron was also a local folk legend, having spent his earlier years playing with the late Brian Dewhurst (who coincidentally died the Wednesday before) in the band 'Horden Raikes' and, in more recent years, running Longridge Folk Club – he is seen playing there in June 2015 when our own Live Steam were the invited guests. There will be a service at St Paul's Church, Berry Lane, Longridge, at 12.00 on Tuesday, 14th November followed by committal at Preston Crematorium. Our thoughts and condolences go to Ron's wife, Barbara, daughter Jennifer and their family.
Stop press: we have just received the further sad news in the passing of Graham Twidale today (Monday) at 4 pm. Graham was a former LRS driver on the L&HR and then went on to become a senior tram driver at Blackpool and to write a number of books on trams. Again, our condolences go to Graham's family.
Last Tuesday saw the usual suspects of John Dixon, Fred, Tim and Alan meet at Junction 36 before heading off to Shildon for a dirty day out with FR 20. They were met there by local member, Brian Goodfellow, and soon set about preparing FR 20 for its appointment with the boiler surveyor last Friday.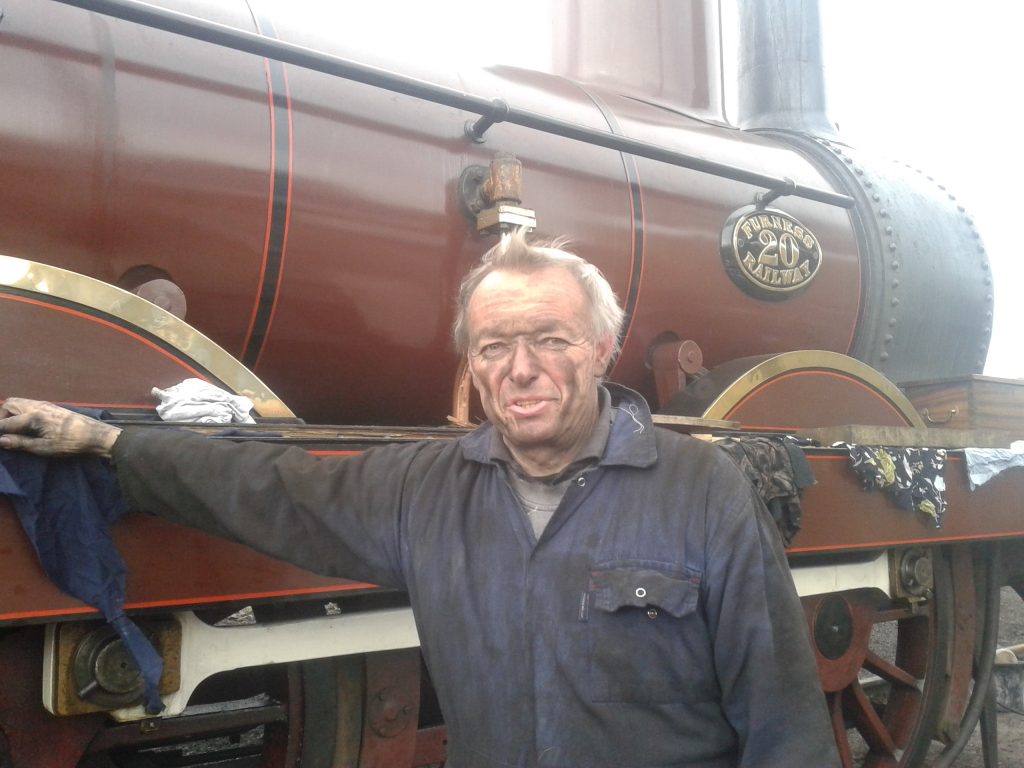 Tim once again found himself to be the only one professing to be able to crawl through the firehole door and remove the grate.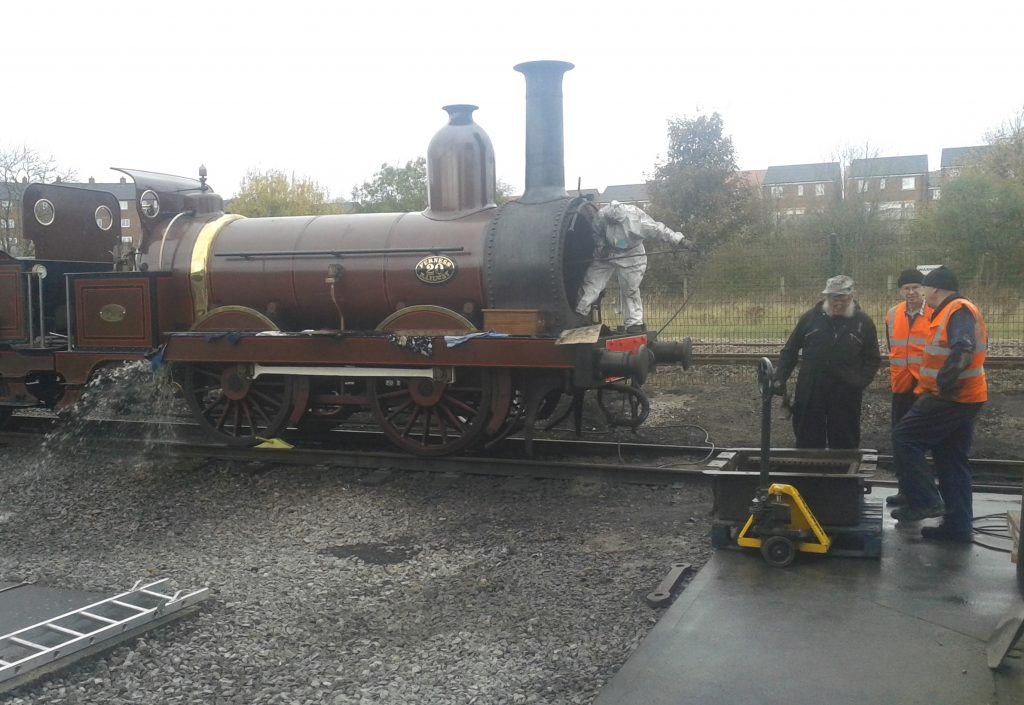 Fred blew out the tubes and he and Tim then vied for the 'dirtiest looking member of the day' competition by cleaning out the smokebox and firebox respectively.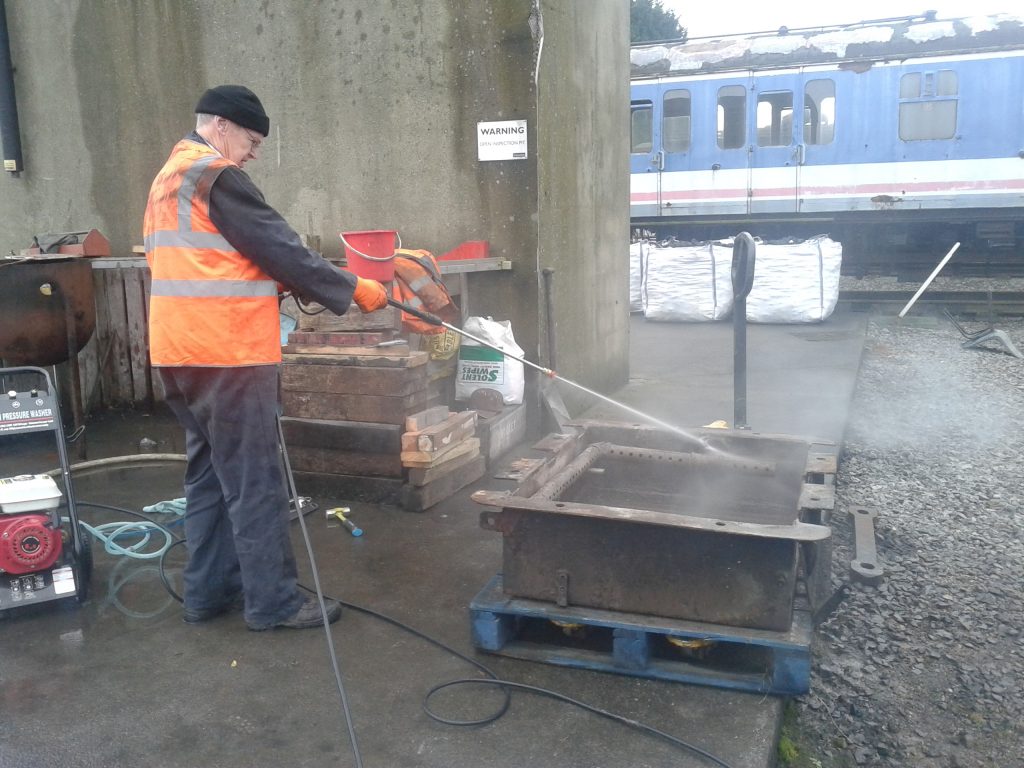 The new power washer was tried out by cleaning the ashpan before being used to wash out the boiler. Unfortunately, once it had run out of petrol and been topped up again, it developed a petrol leak and refused to start up again – so back to Preston for further technical examination! However, the day was successful and our boiler surveyor was able to give the thumbs up when he undertook the cold examination on Friday. There will be a further meeting at Junction 36 on Thursday morning in order to reassemble FR 20 at Shildon in readiness for its steam test on Friday. All being well FR 20 will be in operation at Locomotion on Saturday and Sunday in connection with a Lego event. Alan, Alison and Tim are planning to accompany these last planned steamings for the loco in 2017.
Back at Preston, the RMB is due to be ferried around to the RSR's running shed any time now ready for commissioning back into service. John Dixon, John Davis, Mike and Paul all continued with minor finishing jobs on the vehicle, including painting some of the heater covers and varnishing wood work.
Tim cleaned the roof of the RSR's TPO vehicle on Wednesday before applying primer paint to any bare metal. Fred and Roger then cleaned the corridor ends on Friday in readiness for filling and sanding. David has made a start on removing the graphics from one of the sides. so that sanding and filling can commence there as well.
Adrian made some more progress on Caliban, painting the rods and Keith has been working on the new metal for Wootton Hall's tender frames, cutting and then drilling holes where required.
Finally, Keith has also wired up the electrics for the new mess room and John Dixon hopes to make a start with the plumbing once he has finished his varnishing work in the RMB.