We start this week's blog with the news that one of our senior members, John Houghton, is in Preston Hospital after suffering a suspected mild heart attack earlier last week. John is expected to stay in care for a little while until he recovers fully and we send our best wishes to him.
Work in the shed continues on the RSR TPO vehicle where the double door featured last week continues to present stubborn resistance to attempts to improve its shape. It was decided that the profile could be improved by the insertion of a coach bolt through the outer metal skin and by tightening the nut against the interior wooden frame. Unfortunately, Mike didn't reckon on the strength of the steel which appears to be of the hardened variety…!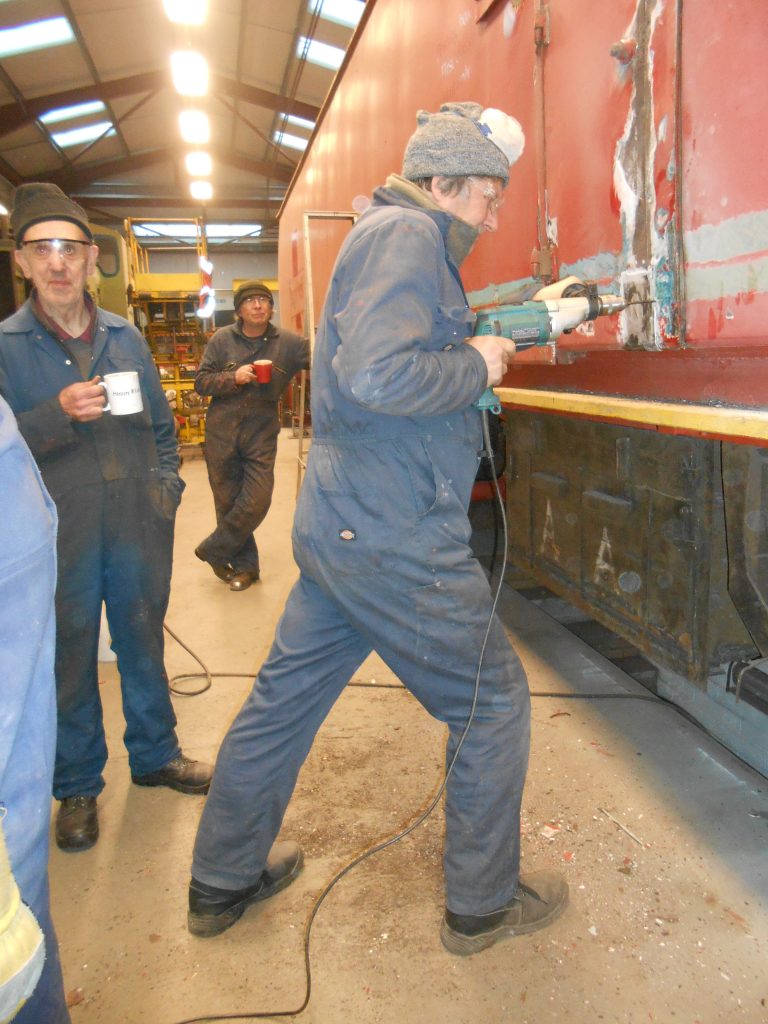 Mike is seen here last Wednesday with the statutory assemble of onlookers drinking tea whilst he attempts, in vain, to drill a hole.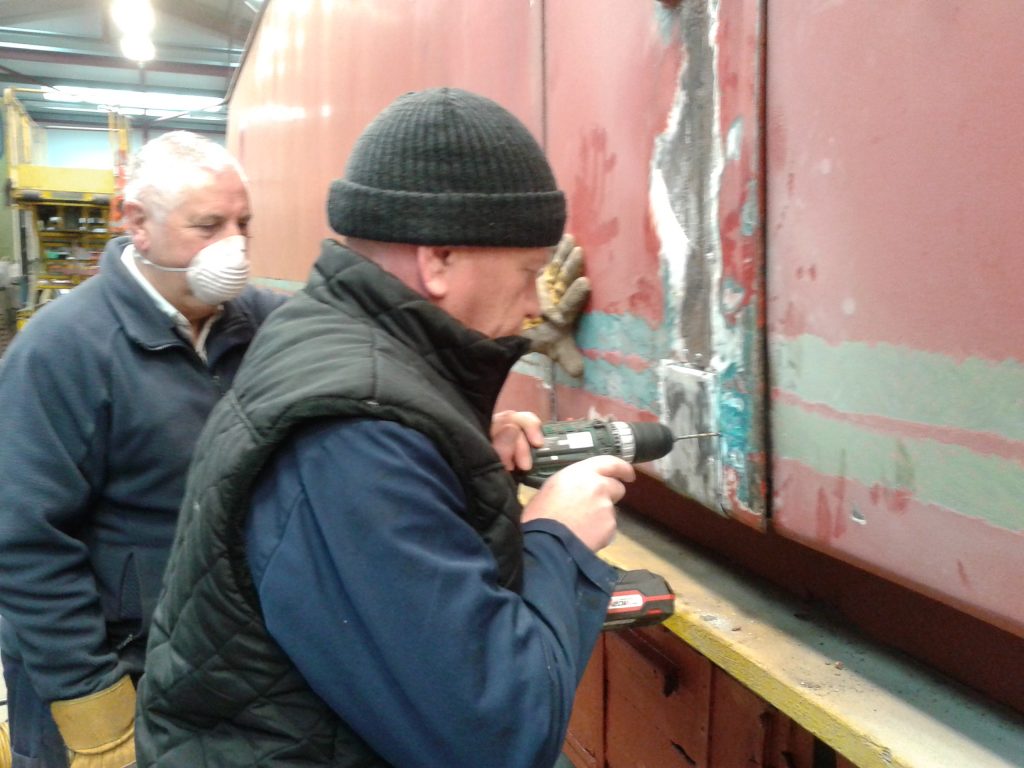 Paul took up the cause on Friday and was more successful, only breaking one drill bit in the process!
The sanding and filling of the exterior of the TPO continues apace, although new holes in the bodywork seem to appear on a regular basis as rust is tackled.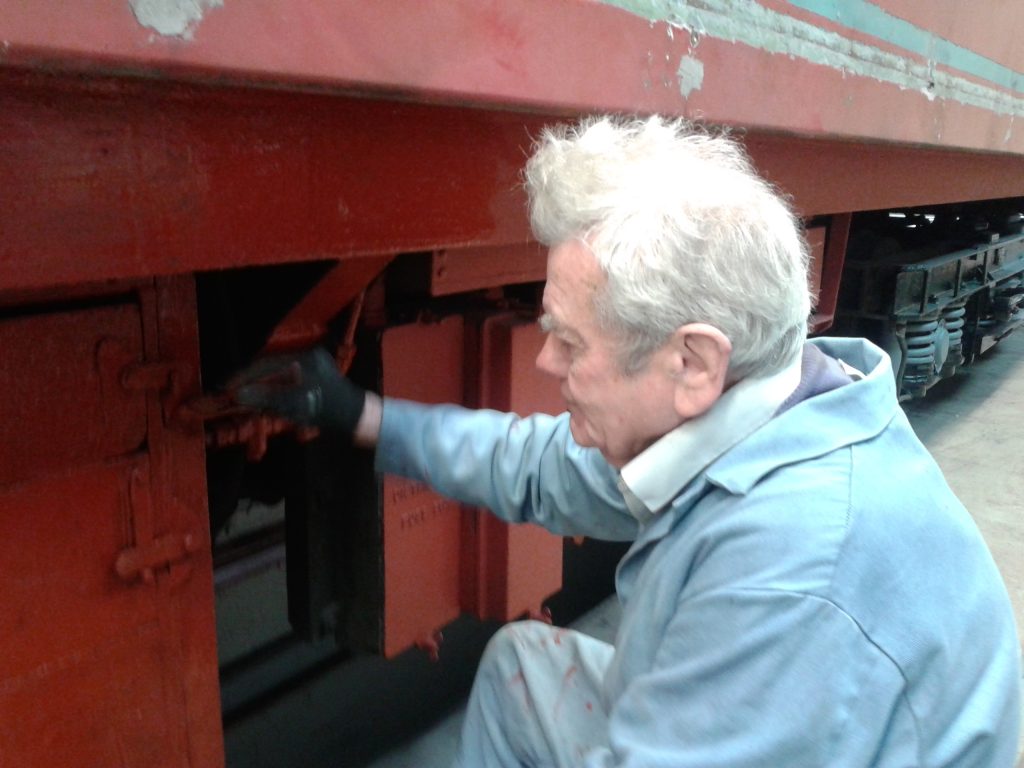 Good progress is being made on the bogies and underframes and Fred is seen here in action with his paint brush.
Adrian and Howard, when not drinking tea (see above) have been making further progress on Caliban with a view to lifting it clear of the wheels in the not-too-distant future. Keith has received yet more new steel for Wootton Hall and it is planned to have the new tender frame sides welded on the 2nd and 3rd of February.
Meanwhile, and in the warmth of the new mess hut, John Dixon has continued his ongoing task of fitting out the kitchen area.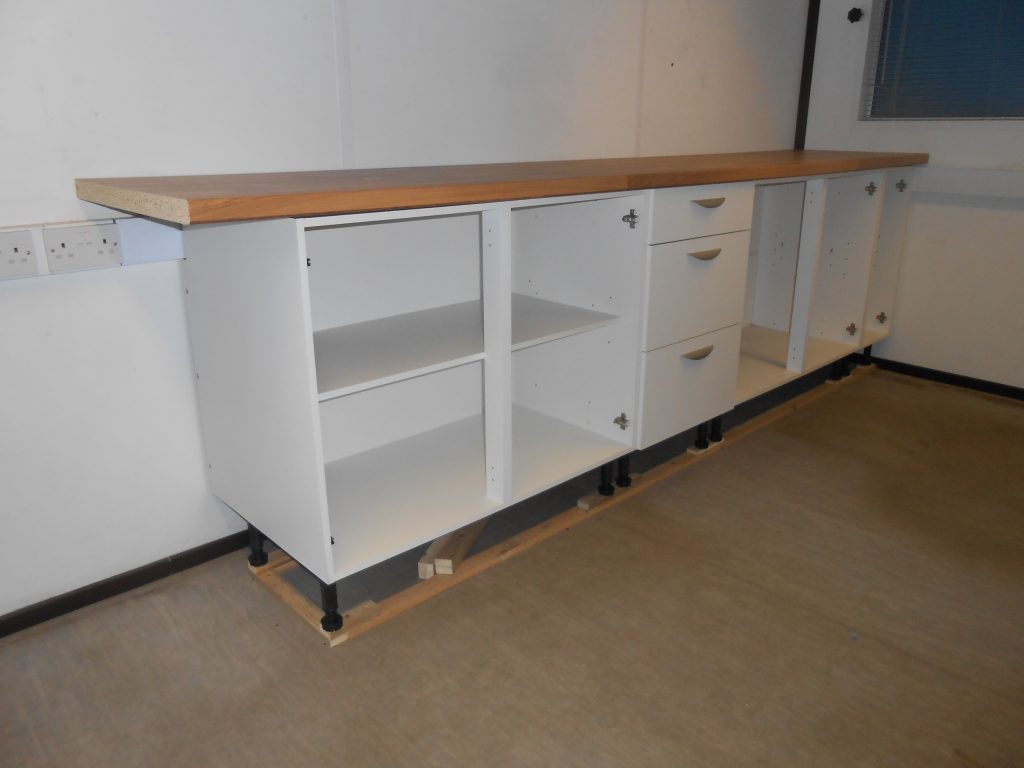 The new worktop is seen loosely in position awaiting adaptation to accommodate the double sink. It is planned on Wednesday to dig a trench outside for the drain, although the weather conditions look a little wintery this week!
Looking forward, the Ribble Steam Railway is receiving a visit from a Pathfinder Rail Tour on Saturday, 10th February. The Tour commences at Eastleigh in Hampshire and is planned to arrive at the RSR top and tailed with Class 66 and Class 57 locomotives. It will stay at Preston Riverside for an hour or so to allow passengers to stretch their legs and to visit the Preston site. The FRT has been requested to open up the shed to visitors and Alison is planning to have the sales stand there. Help to show visitors around the shed would be appreciated.
And finally, after what must clearly have been a successful New Year gig, our folk group, Live Steam, has been requested to appear back at the Engine Inn at Cark on Saturday, 17th March as part of some planned St. Patrick's Day celebrations.