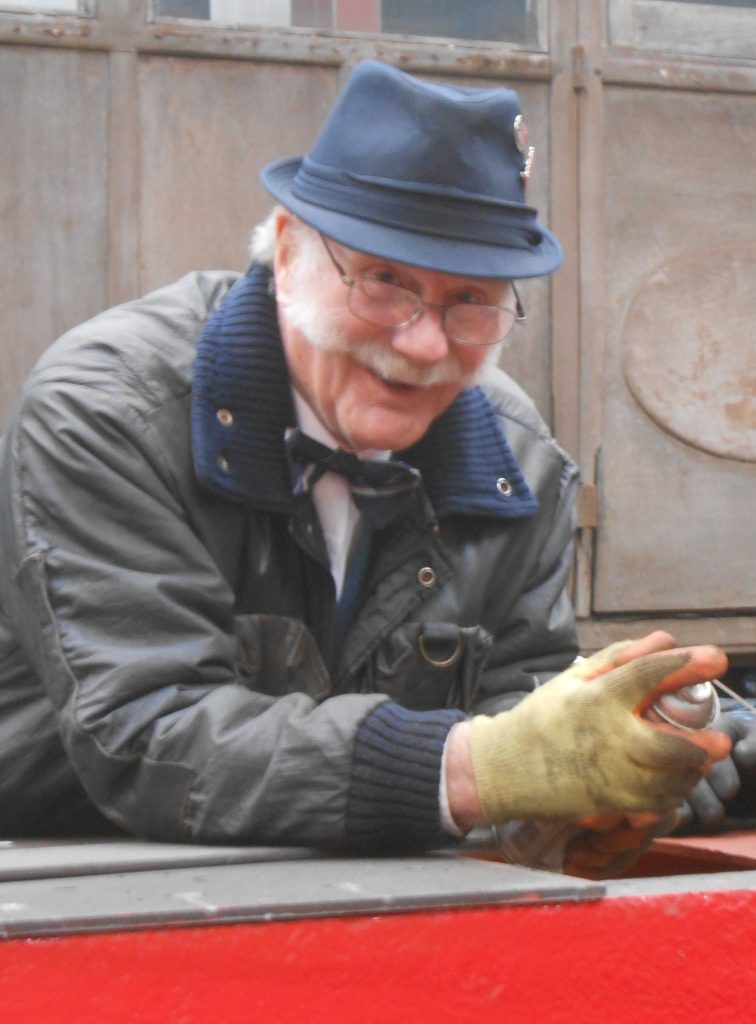 It is with the greatest sadness that we start this week's blog with news of the death of John Houghton, who passed away in the early hours of Friday morning at the age of 82. John was a most colourful character who was founding chairman of the Lakeside Railway Society when, in 1968, it was formed out of the Lancashire Railway Circle, now 50 years ago. John led the Society through the formative years at Carnforth and then on to Haverthwaite where the volunteers played such a major role in preparing the Lakeside & Haverthwaite Railway for re-opening in 1973. He was also the joint owner, with Alan Middleton, of former Courtalds Peckett 0-4-0ST Caliban which was the Society's first steam locomotive. These were the groundbreaking and fun days of railway preservation when there was less intrusive legislation to dampen volunteer activities! This undoubtedly fitted in with John's philosophy of life and, at the end of Sunday working parties, he was often to be found in the White Hart at Bouth, entertaining all with his strong views and stories. These activities obviously played a major part of John's life at that time, although he was also heavily involved in local politics, being an elected member of Cattterall Parish Council until last year, worked for the British Aircraft Corporation at Salmesbury and was of course supported at home by his late wife Jean.
After 15 years as Chairman, John relinquished this role to Tim Owen and, surprising many, took a back seat whilst he looked after his mother. He was appointed a Vice President of the LRS and subsequently re-acquainted himself with Carnforth where, with Caliban's arrival for overhaul, he arranged the purchase of a PMV and spent many Sundays there working on the loco and, of course, drinking tea! Being a keen railway modeller, and having finished at BAC, John then opened a model shop in Park Hill Road, Garstang, and specialised in building bespoke model railways for customers. The late Geoffrey Thompson, MD of Blackpool Pleasure Beach, was one such customer and John became heavily involved along with Alan in the garden railway at Myerscough as well as the miniature railway at the Pleasure Beach.
Following the formation of the Furness Railway Trust in 1991, John became a trustee, a position that he held for many years. Once the FRT had moved to Preston in 2009, John started to take a more active role again, becoming a regular member of the Wednesday working parties, usually arriving at lunchtime with Alan and bearing some biscuits for communal consumption. With the construction of the new shed and lunchtimes now becoming a 'family' gathering amongst the FRT's rolling stock, John would once again enjoy holding forth with members with his increasingly colourful tales of times gone by! John was both delighted and proud that the FRT had broadened its horizons and become self sufficient – the fact that it had all evolved from a group of train spotters was a point that he made in his article in the Spring 2017 edition of The Iron Horse. When the new mess room was purchased recently, John immediately went out and bought a sink, fridge freezer and other items for us to enjoy; he wanted us to have the best.
John suffered a minor heart attack in recent weeks, a worry to us since he had already had a previous more major attack, and he spent some time in hospital. Although he was seemingly on the road to recovery, he was clearly quite frail when Alan visited him last Wednesday. He was taken into hospital that evening suffering with breathing difficulties and died in the early hours of Friday, with cousin Richard at his bedside. Our condolences go to Richard and his family.
John made his mark with everyone at Preston (RSR as well as FRT) with his trademark hat, bow-tie and suit at working parties, always having time to talk with whomever he met. We will very much miss John's company and his stories. Aye, and the biscuits…..  We've just heard, in time to slip it into this blog, that John's funeral will take place at Preston Crematorium on Friday 23rd at 12.15pm.
We are also sorry to have to record this week the death of former member Norman Moss at the age of 94. Norman served with the RAF in Ceylon early in his life, servicing Mosquitoes, before becoming a toolmaker at the Dick, Kerr engineering works in Preston. He became a regular member of the Wednesday Gang at Haverthwaite for many years, forming a duo with Ron Cooke to undertake the wide variety of engineering tasks that they were given. John and Jean Dixon attended Norman's funeral on Friday. Our condolences go to Norman's family.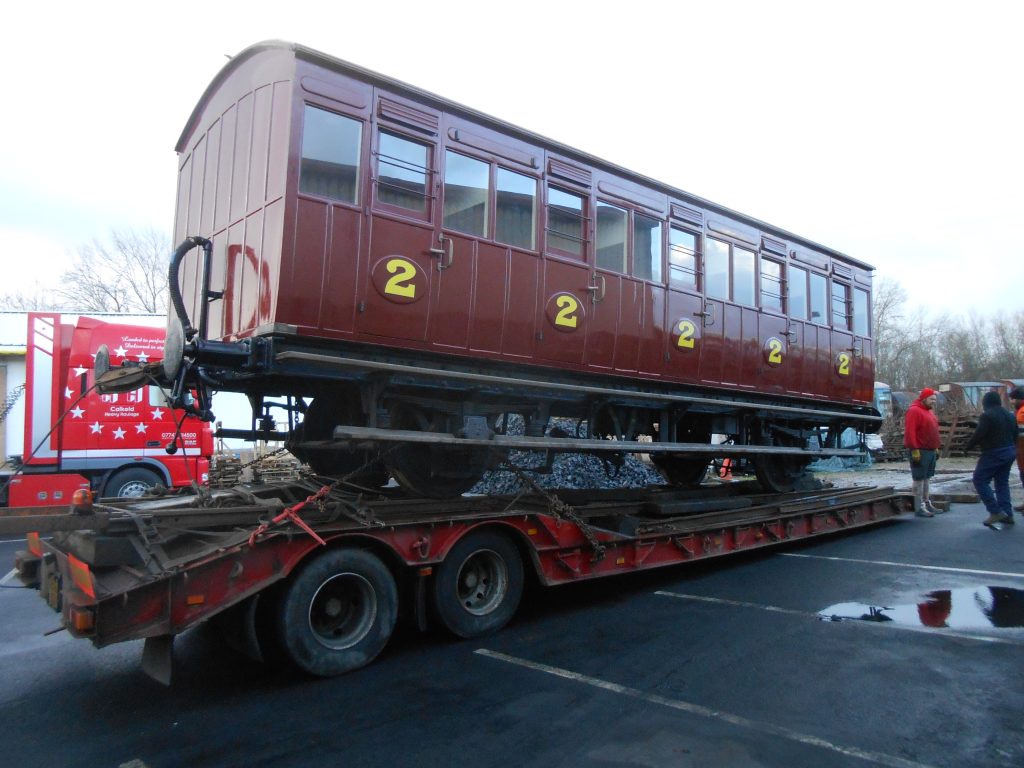 Last Wednesday morning saw two low loaders with a carriage each in the car park at Preston. Tom Milner had arrived the previous evening in readiness to load up the second class North London Railway coach first thing on Wednesday morning for despatch to the Beamish Open Air Museum.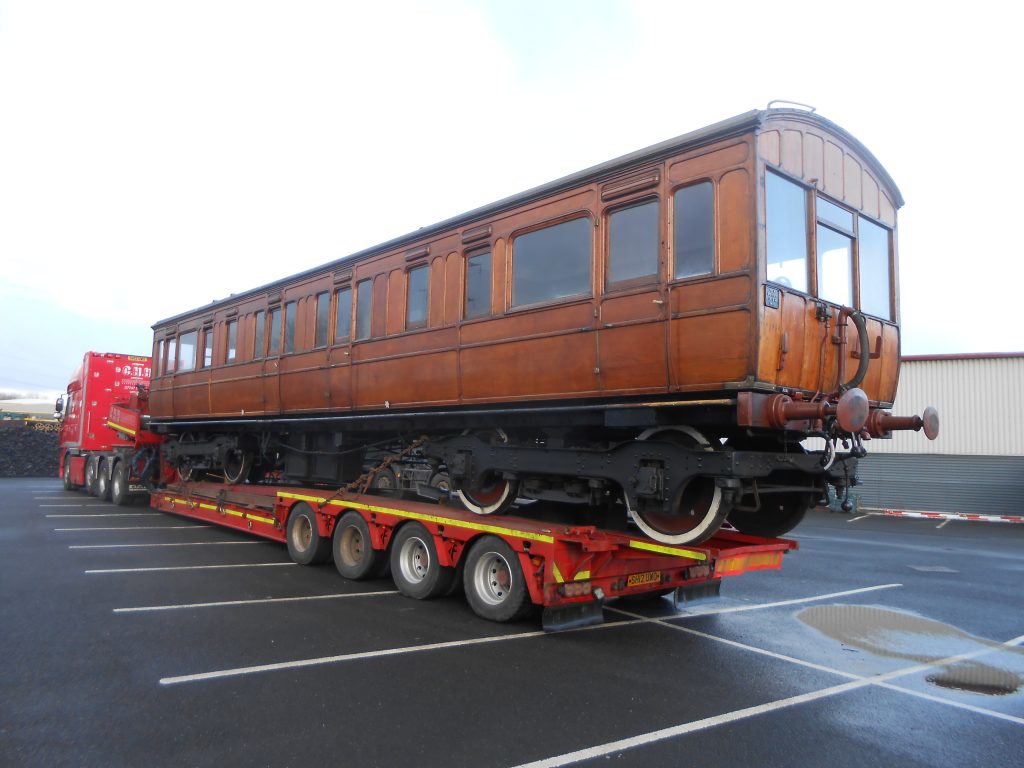 Dale Calkeld then arrived with Great Eastern Railway Royal Saloon No. 5 which has been on hire to Beamish since April 2010. It had been restored to operable condition by members over the previous nine months in the polytunnel at Appleby. The Ribble Rail lads undertook the necessary shunting moves at Preston and the GER saloon was duly under cover in its new home in the unheated part of the FRT shed by lunchtime.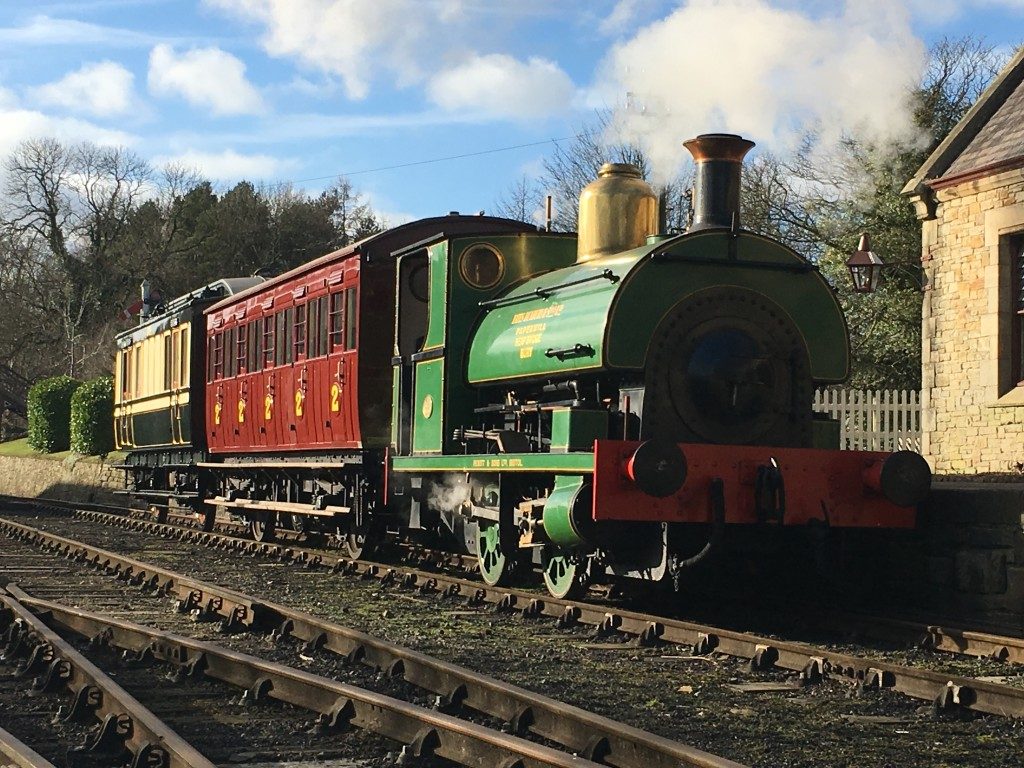 The North London Railway coach was duly commissioned into service at Beamish on Friday morning, sandwiched between Peckett 0-4-0ST No. 1370 and the Duke of Sutherland's saloon No. 58A. (Photo courtesy Beamish Open Air Museum.)
Back in our workshop, there was more work carried out on the RSR's TPO coach on Wednesday, Friday and Saturday. Andy Morton came again and started to sand the south side of the coach and Alan Whaley also assisted, offering to appear again this week to help with applying filler.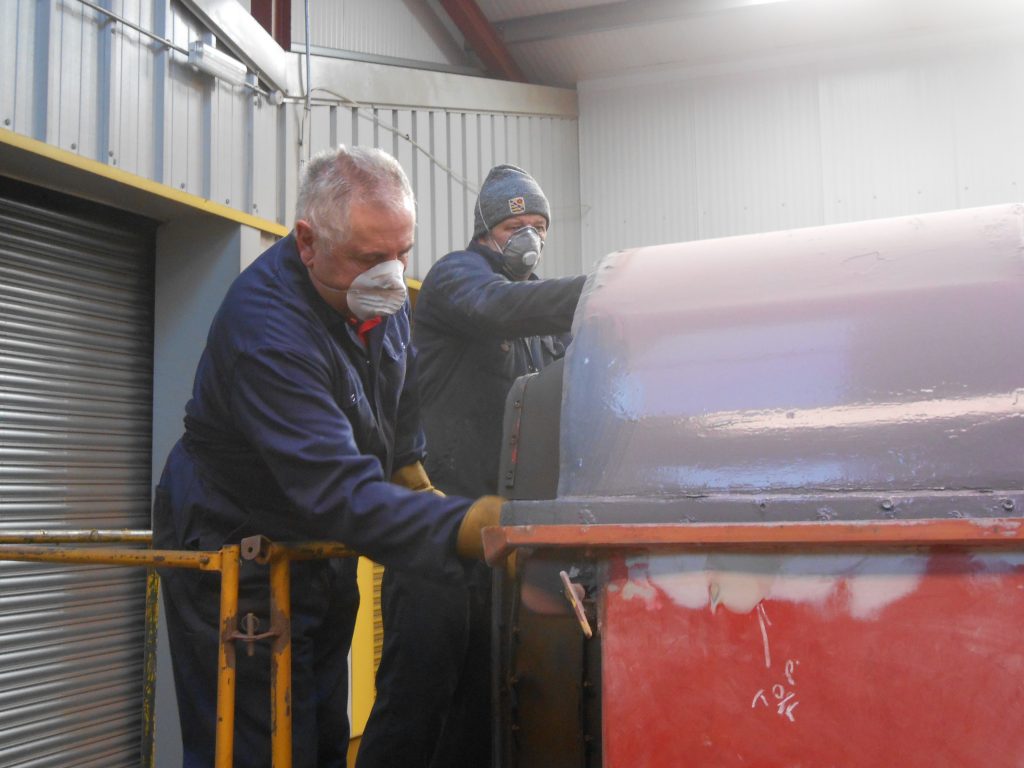 Mike, John Davis and Paul went aboard the 'magic carpet' to sand down the east corridor end whilst Roger Benbow undercoated the west end headstock.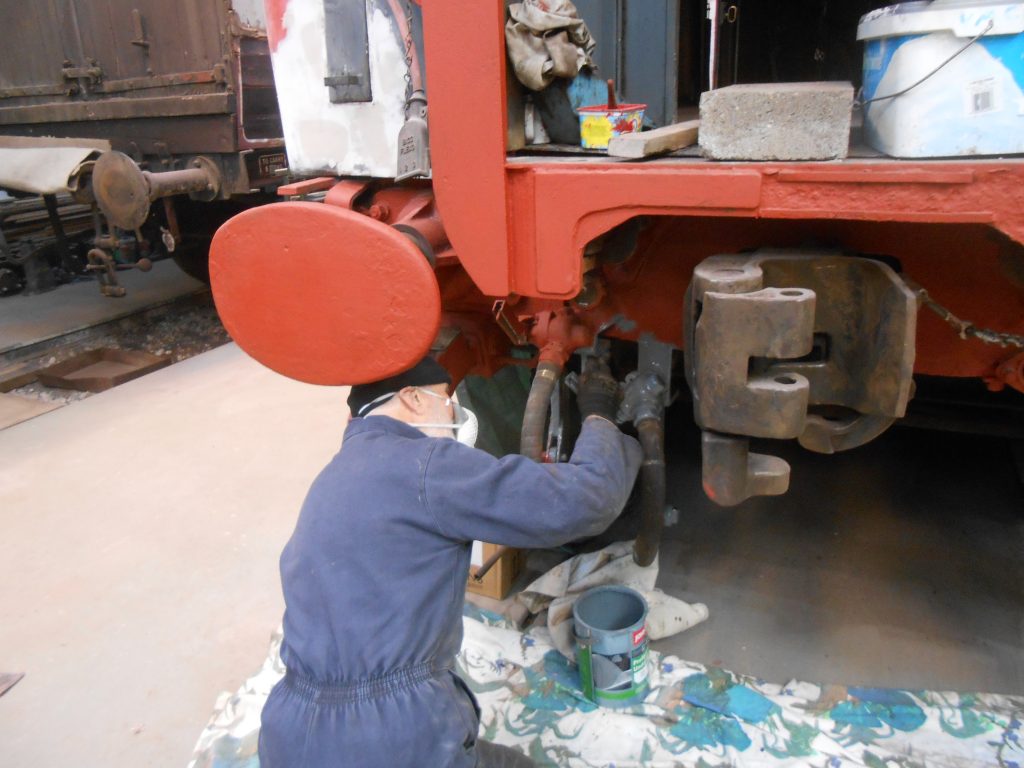 Tim carried on with filling and sanding the north side of the coach, with filling assistance from David on Saturday.
John Dixon has again been busy fitting out the kitchen in the new mess room and hopes to finish connecting up the water supply next Wednesday, once he has purchased even more pipe and fittings!
Adrian and Alan were seen assessing the packing required to lift Caliban's frames last Wednesday and Keith was planning to be at Embsay yesterday to carry out a wash out on 5643's boiler which has now been entirely de-tubed by Andy Booth.
This next Saturday sees the visit of a Pathfinders rail tour to the RSR on Saturday afternoon.