There were six continuous days of working last week as members tackled the wide variety of work on hand at the moment.
Keith was back at Embsay last Tuesday with Embsay's Roger re-assembling 5643 after the successful hydraulic test the previous week. He was then back there on Saturday and again on Sunday with Fred. The result of all this work is that 5643 is now ready for a formal steam test which is planned to take place this next Friday. Well done to all concerned for their efforts!
Alan and Tim went over to Embsay on Wednesday to examine Cumbria's regulator valve which was still passing large amounts of steam when supposedly shut. After much deliberation and wrestling with the valve it was concluded that there was still work to do to improve the seal between the valve faces.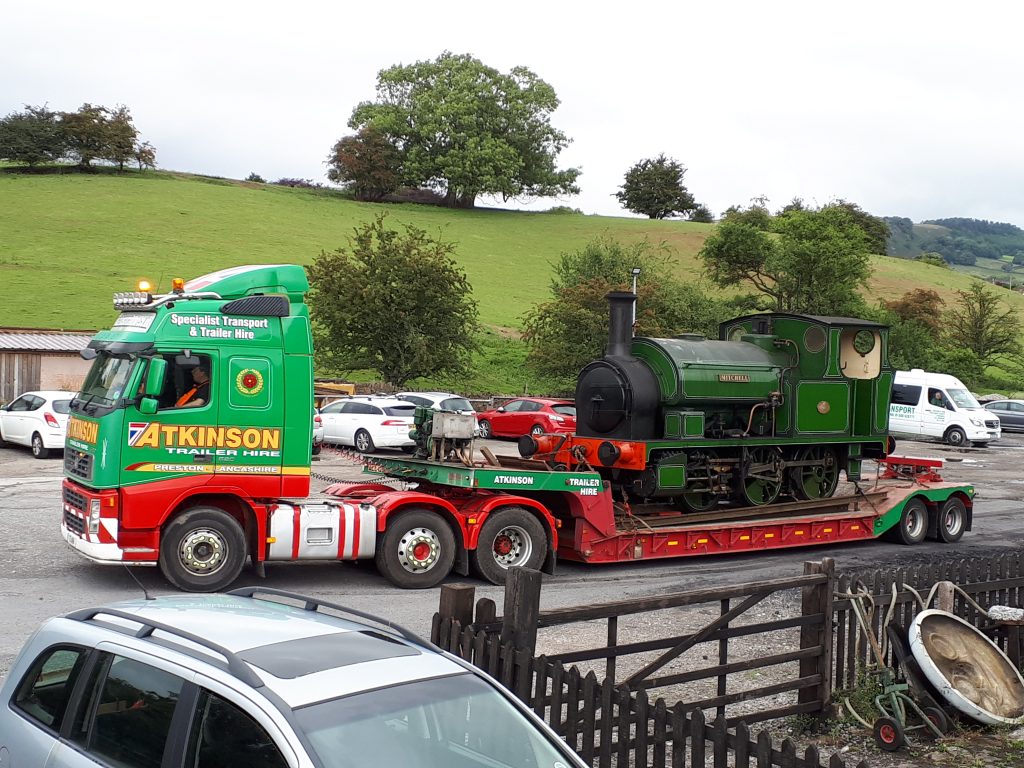 Also at Embsay was Russell Walker, who appeared with daughter Chloe and an Atkinson's low loader to take Stephen Middleton's 1916-built Hudswell Clarke 0-6-0ST Illingworth to Preston for attention to a hot right hand driving axle box, and then a booked appearance at the RSR's Steam Gala at the end of September.
Russell also kindly brought over the regulator valves from both Respite and Shropshire for comparison with Cumbria's regulator. After further work by staff at Embsay, and with the help of Shropshire's regulator valve, Cumbria was passed fit on Sunday and should be back in traffic at Embsay this next weekend.
Back at Preston, FR 20 was shunted into the workshop on Wednesday and John Dixon made progress on removing the bolts from the chimney. With Mike Rigg and Paul Newton also in attendance there was also further progress on cleaning up FR 20's tender.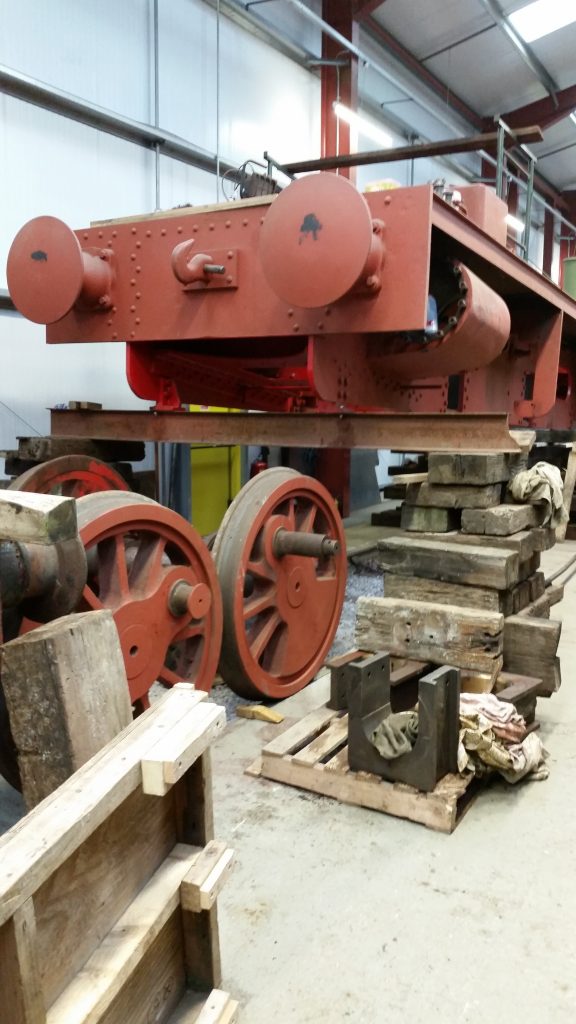 Ade had a very  productive day on Wednesday, jacking Caliban further up in the air to allow both wheelsets to be rolled out from under the frames in readiness for machining of its journals. A key milestone in the project has been achieved so congratulations, Ade!
Keith, John and Matt Gervis were back in again at Preston on Thursday to continue the riveting of Wootton Hall's tender frames, but we'll spare you another photo of rivets this week. They plan to be back again this next Thursday. Mike, Bob (welcome back from the high seas!), Fred and Roger appeared on Friday and there was further progress on cleaning up components and the painting of the exterior of the mess room.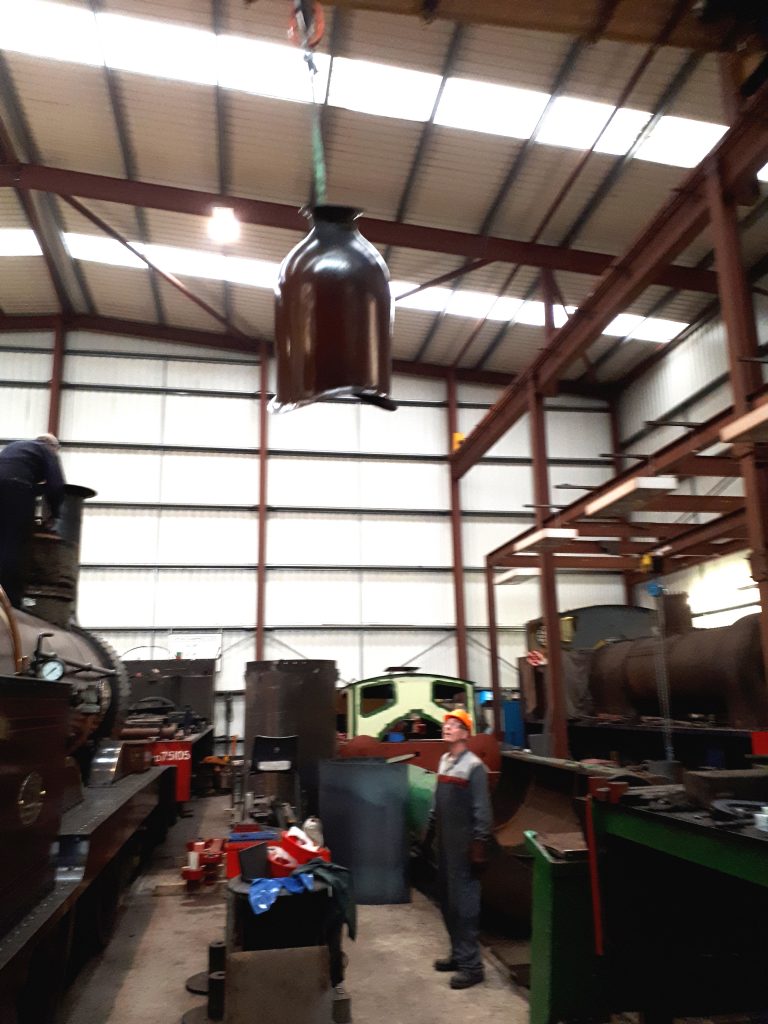 And so to Saturday when there was an early start to enable Russell Walker to operate the crane to lift off FR 20's chimney and dome cover before he set off for the control tower for the day. Alan, John, Tim and Sam spent the rest of the day dismantling and labelling pipework and cab fittings from FR 20 ready for cleaning and storage.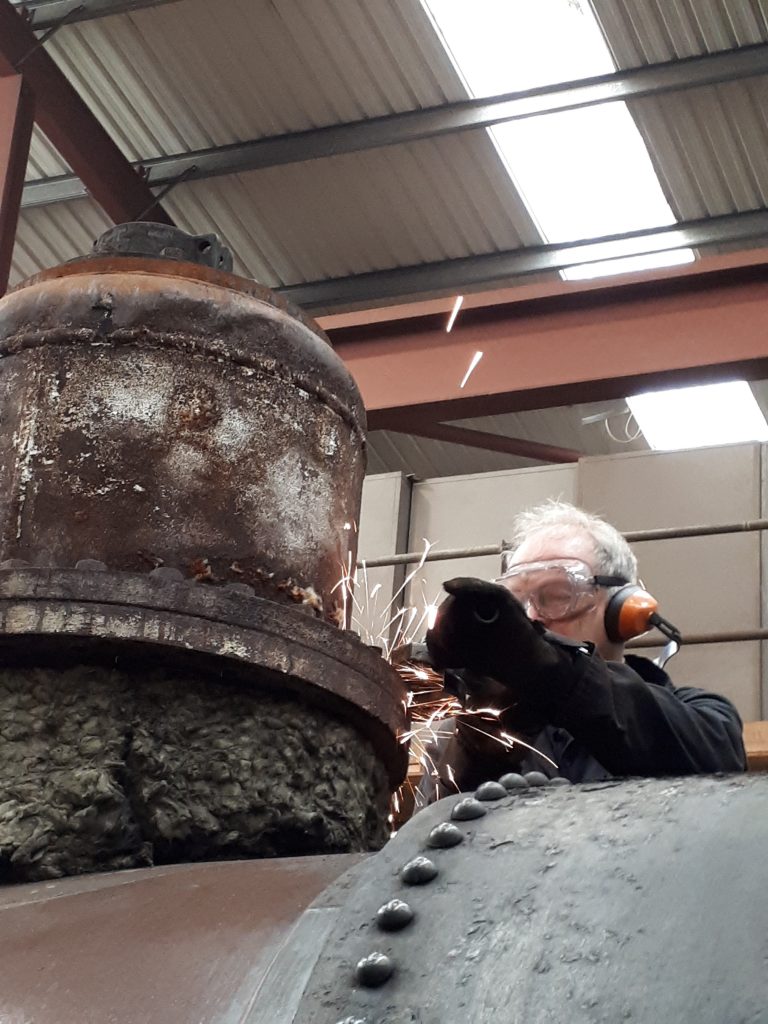 John  is seen here removing excess thread from the dome studs in readiness for it to be lifted off also with the return of Russell at the end of the day.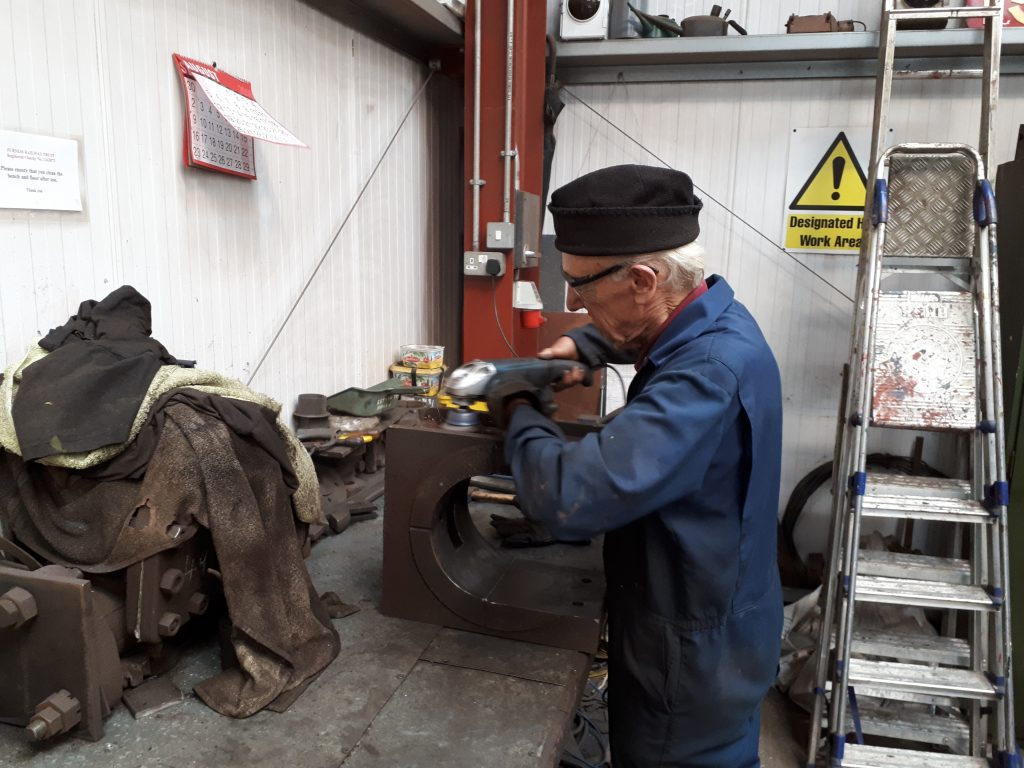 With Howard (seen here cleaning one of Caliban's axleboxes), David, Alison, Matthew, Derek and Neil (crewing Linda) also on site it was a good turnout of members.
Finally, Alan (driving Linda) and Alison were back on Sunday to round off another busy week. Yes, Sunday marked the first public run of Alison's Cream Tea Specials, when 19 customers booked to travel on the RSR in the former FRT buffet car and sample Alison's fare. It was a great success apparently and there are plans afoot for a further event in September.