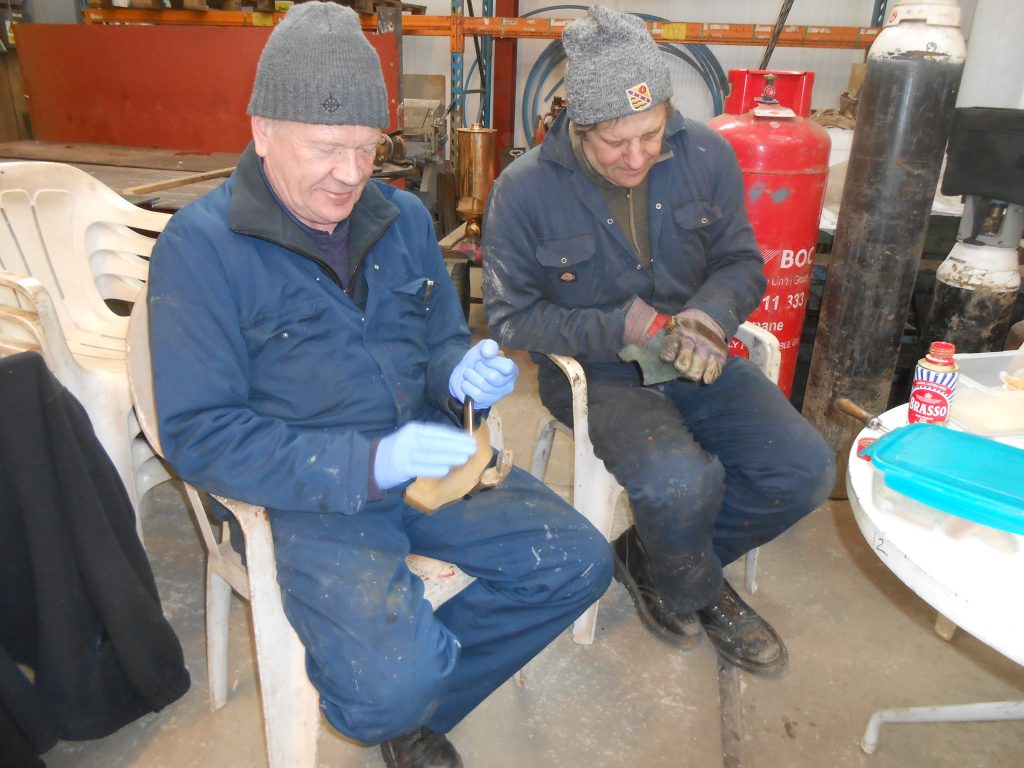 Mike and Tim finished cleaning the windows on the RMB last Wednesday and Mike and Paul are seen here making a start on cleaning up the brass handles ready for fitting.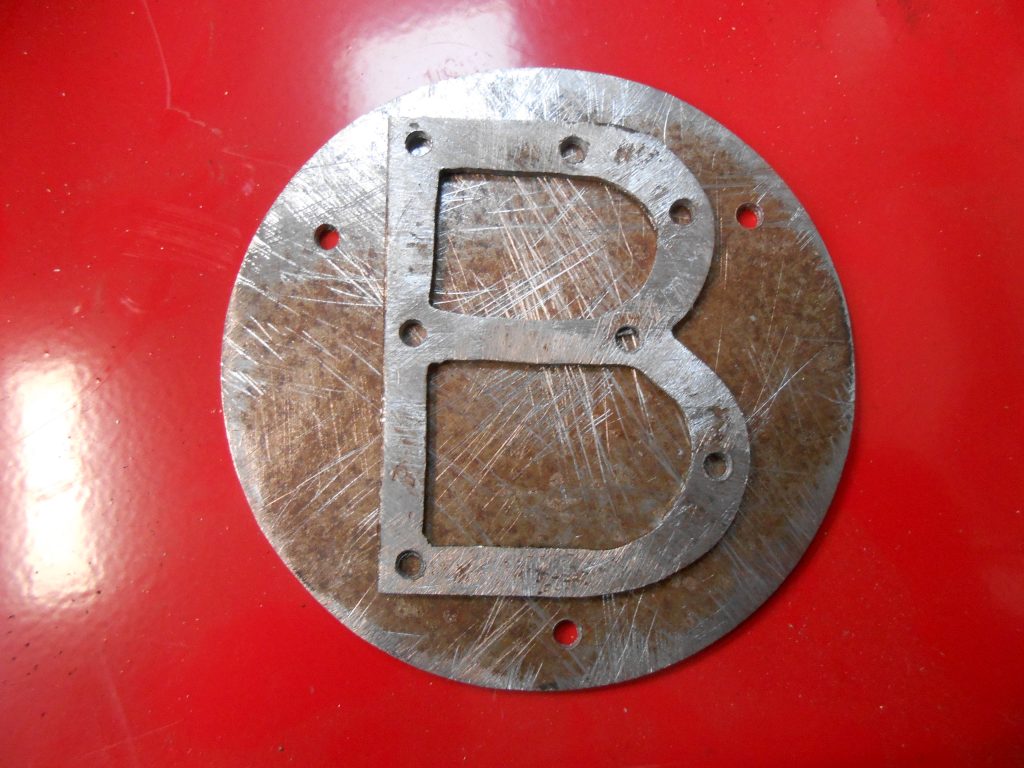 Paul has also been filing the new letter B for the gas compartment cover.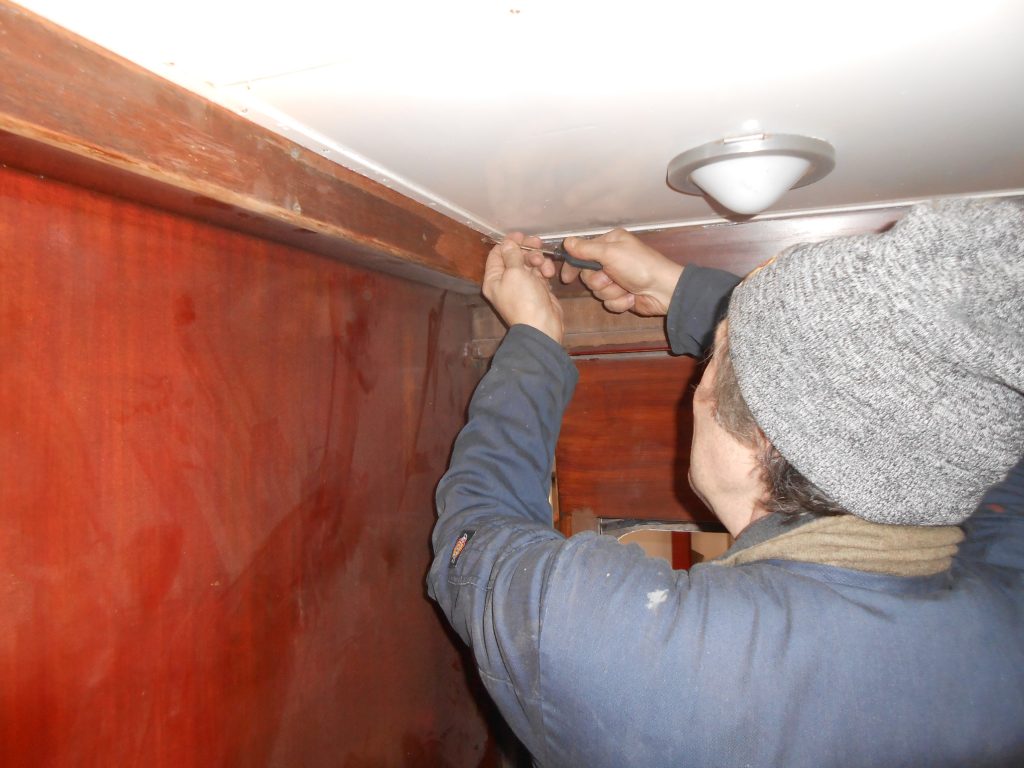 The temporary absence of Tom and Trevor has been felt in that it is now time to re-assemble the internal panelling and Mike started the work by cleaning down the various components in the south side toilet – not a job to be relished. He is seen here re-installing a pelmet for one of the saloon compartment doors.
The dust curfew is definitely over, with Adrian creating both noise and dust with the needle gun and cup wire brush on Wednesday as he worked on Caliban's frames. Adrian has also recently celebrated a birthday and duly arranged for Alison to bake some cakes to share on Wednesday – this run of birthday cakes isn't doing productivity in the afternoon any good!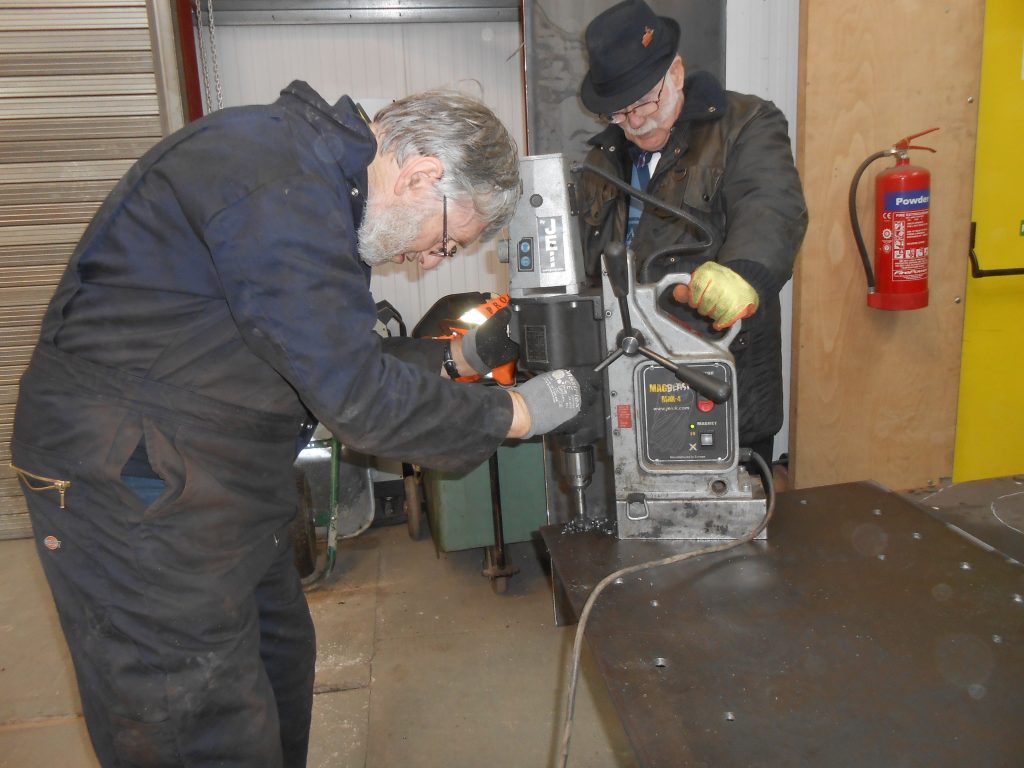 Alan continued to drill holes in the new piece of running board. We refrained from including yet more photos of Fred and Roger at work on Caliban's wheels although it can be reported that they have recently changed sides!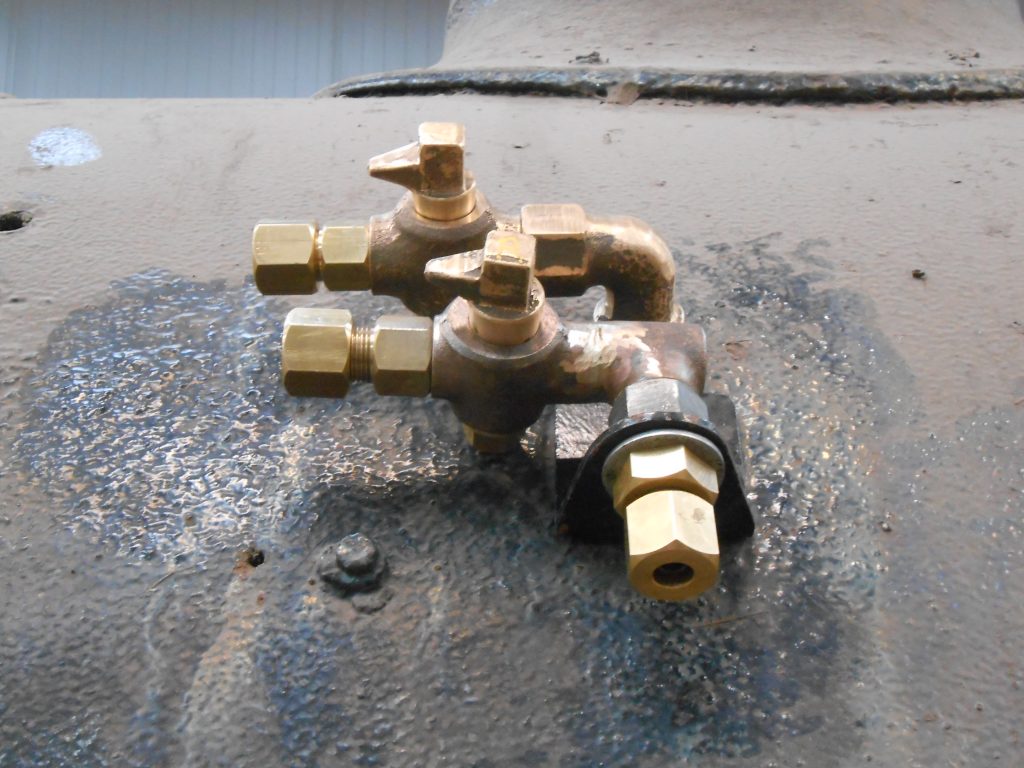 The newly acquired lubrication valves for Wootton Hall have now been fitted in position on the smokebox. This view of the right hand side shows the sole regulator lubrication valve above one of the two cylinder lubrication valves -the other being fitted to the left hand side of the smokebox.
Keith reports to us that the track on road four of the unheated part of the shed has now been levelled and awaits some more ballast and crush and run filling in readiness for concreting. There may still be a need to level some of the track on road three, so there is a potential stay of execution before we all have to start wheeling heavy wheelbarrows of concrete around the shed.
News from The Battlefield Line is that Cumbria is expected to undergo its annual cold exam for the boiler surveyor next week. One of the clacks is being refurbished and the big ends are being taken down for white metalling before it goes back into service at Easter.
Latest local transport news – for those wanting to travel to the FRT's home at the Ribble Steam Railway from Preston station and wishing to forego the ten minutes walk from McDonalds, there is good news in that there is now almost an hourly 75/75A service from the station, commencing at 07.10, then 09.25 and 25 minutes past the hour until it starts to vary at 16.31, Mondays to Fridays. On Saturdays it is 07.25, 09.25 and then 25 minutes past the hour until 17.40.