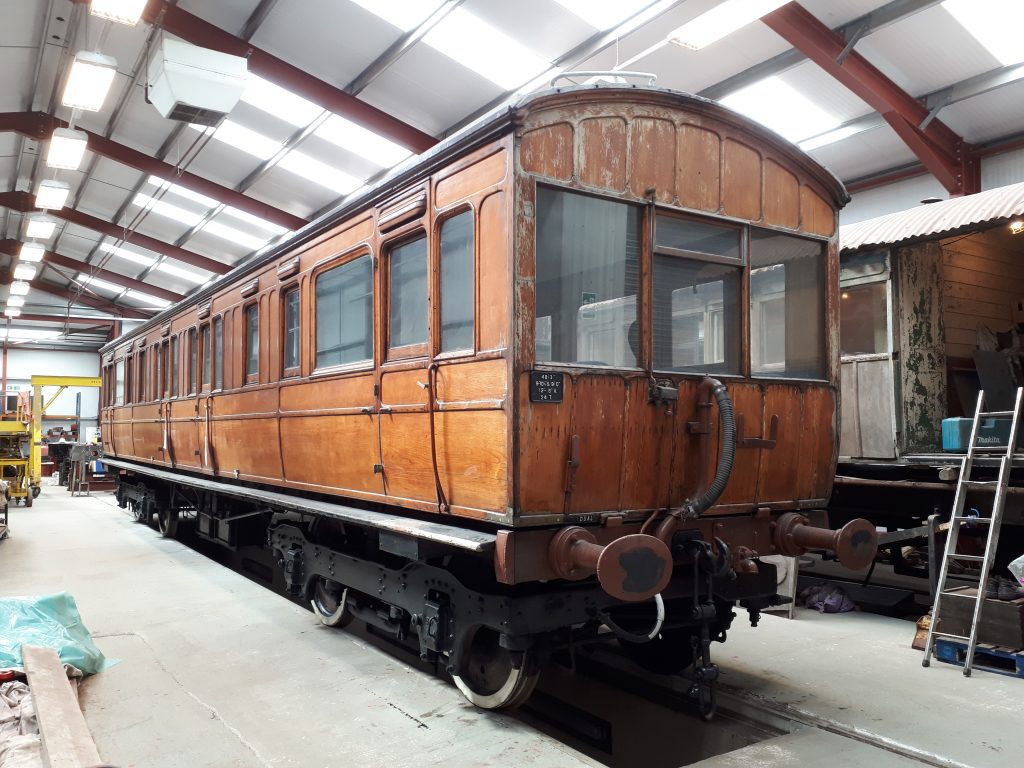 Work started on Wednesday on the refresh of the FRT's Great Eastern Railway Royal Saloon No. 5. The coach had, as planned, been shunted into the heated part of the shed after the RSR's TPO coach had been moved round into the museum.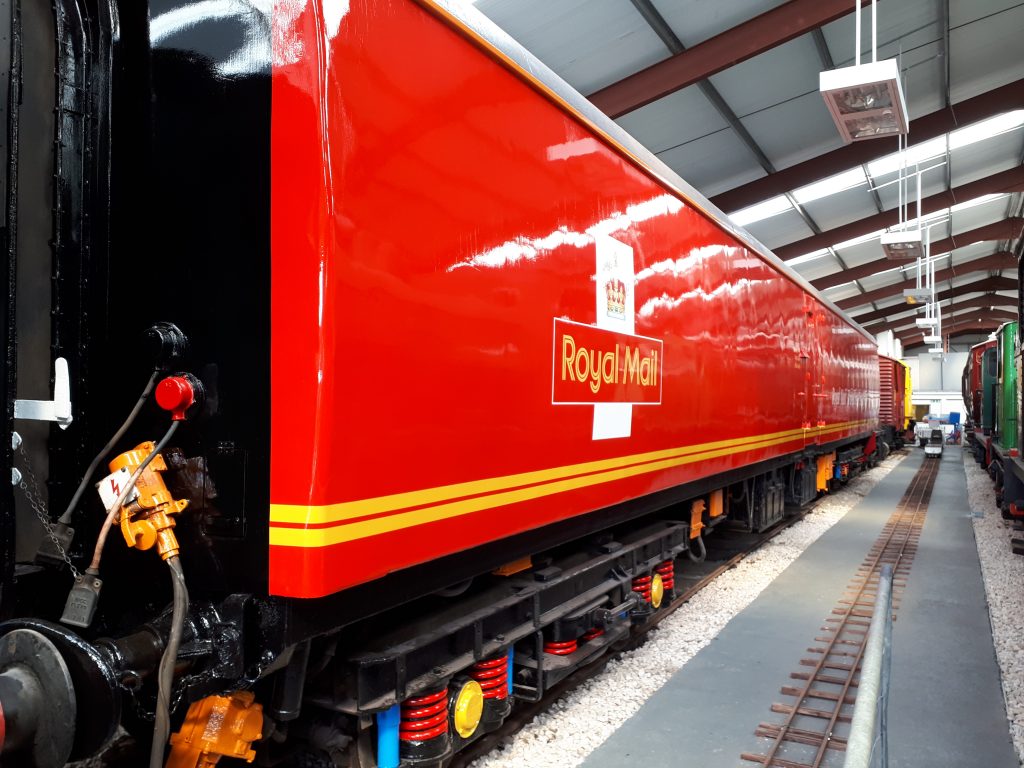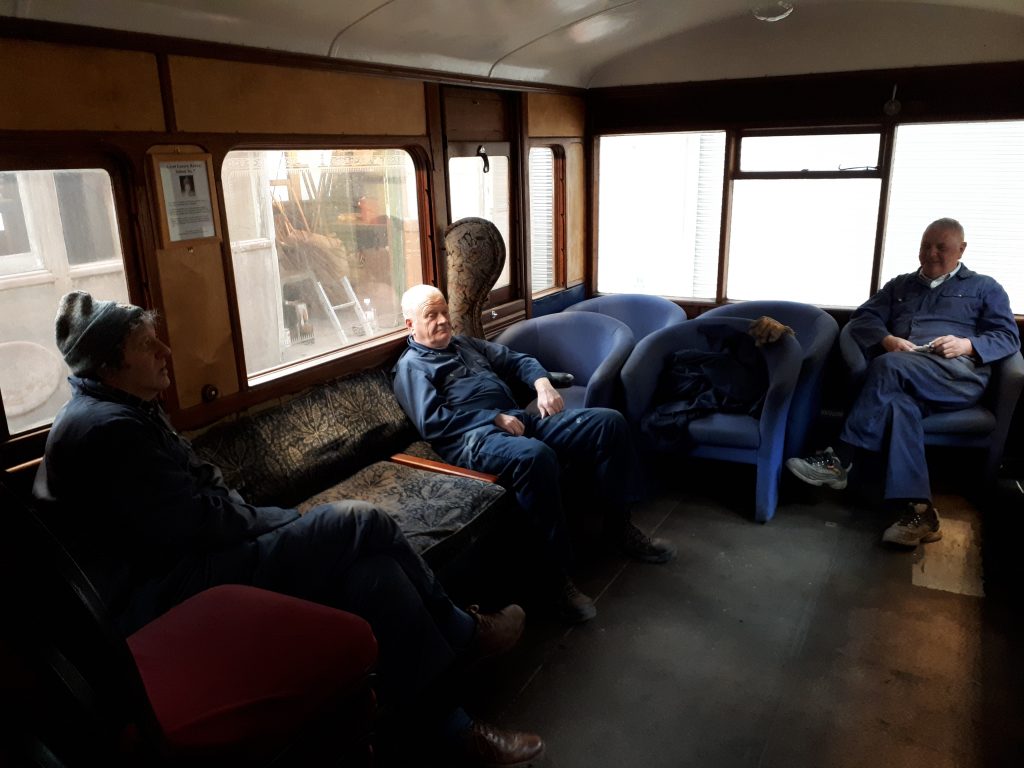 Time was taken to re-familiarise with the saloon and to identify work to be done. Whilst Tim cleaned up the shed floor to remove dust and the like from the TPO overhaul, others started to move around the chairs in coach in order to hoover and tidy up one of the carpets. It would be a nice idea to replace all the carpets with something more suited to a Royal saloon, but we will have to weigh up the costs! The upholstery also needs some considerable attention and again it will be necessary to get some quotes for upgrading it.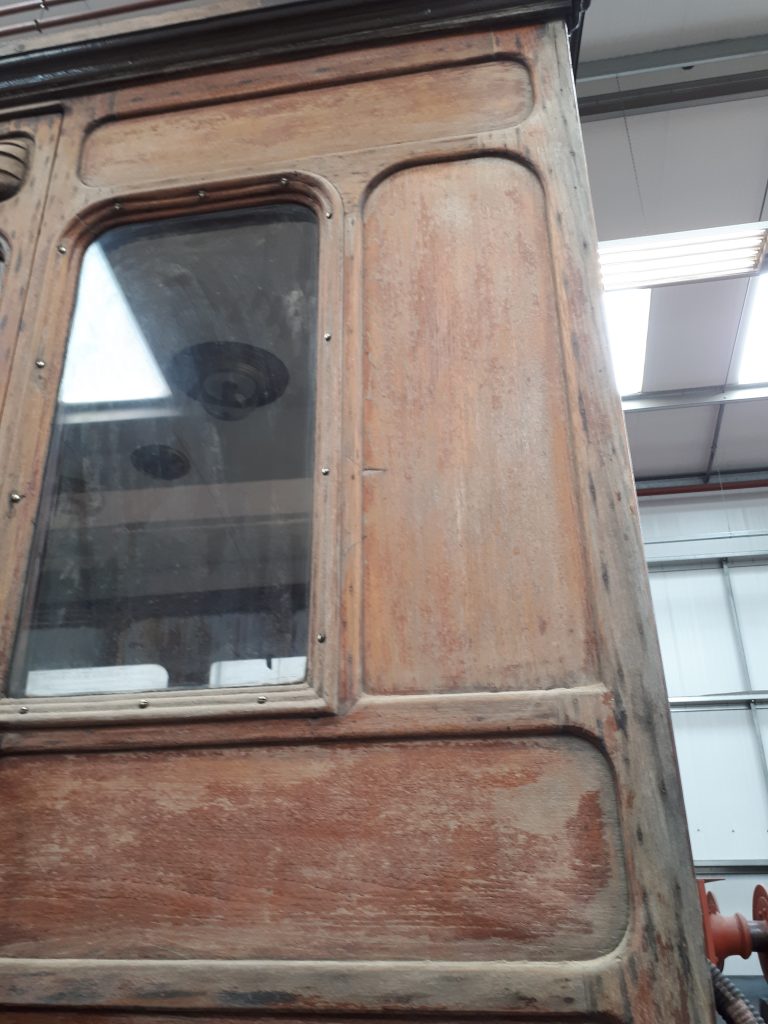 In the meantime, it was decided to attend to the exterior of the saloon. Some of the varnish had begun to peel, particularly on the north side of the vehicle as it stands now – the adjacent photo illustrates the problem.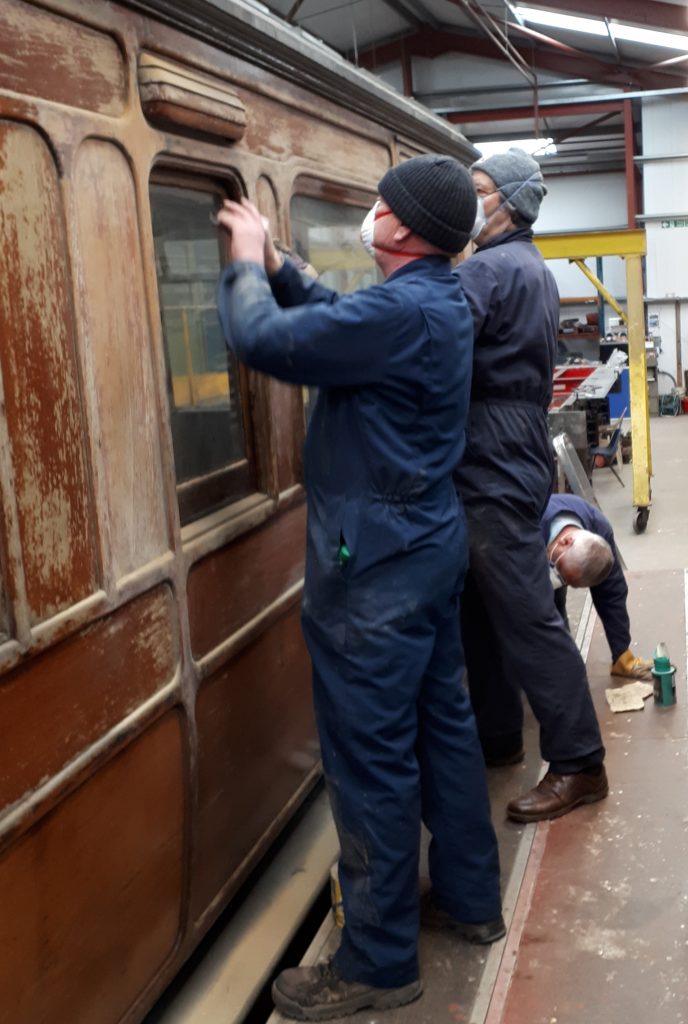 A test area was sanded down by Mike, both Pauls and John Davis before Tim applied some gold size, which brought the colour back to the teak. Roger Benbow, John, Paul Newton and Mike continued the task on Friday. The south side of the vehicle isn't too bad, but will benefit from some more coats of varnish in due time.
John Dixon continued his work in the mess room where he swapped round the hinges on the fridge freezer so they are more convenient for those using the work top to make a cup of tea or coffee. He also assisted Fred on Friday with fitting the cable for the new aerial. Fred then continued on to clean up a fresh buffer for Wootton Hall's tender with a wire brush.
Keith was due to go across to Embsay on Sunday to take back the superheater header for 5643 and some replacement firebars for Cumbria. Howard is now working out how to fix up a drill to remove those stubborn spring hanger pins on Caliban.
This next weekend sees the Festival of Steam Gala at Locomotion, Shildon, which will also mark FR 20's final turns of duty before it returns to Preston on Thursday. Alan, Tim and Alison will be travelling across the Pennines to be with the old engine and a dinner is being planned on Saturday evening by volunteers to mark the occasion of FR 20's imminent departure. Joining FR 20 for the Gala will be Robert Stephenson and Hawthorne o-40ST No. 7063 Eustace Forth, built in 1942. The locomotive worked as No. 15 at Dunston Power Station.
Finally, following the extended meeting of the Trustees last week, members will be receiving an envelope through the post containing official notification of the AGM date (Tuesday, 26th June at 7.30 pm) together with a letter regarding the steps taken to comply with the General Data Processing Regulation plus the FRT's Privacy Policy. This  is a subject that is having to be tackled by many other organisations. A form and SAE are enclosed to enable members to give their consent to the Trust maintaining full contact with them after the implementation of the GDPR on the 25th May.