Apologies for the lack of a blog last week. Tim was under the weather and of course there was the distraction of the Queen's funeral.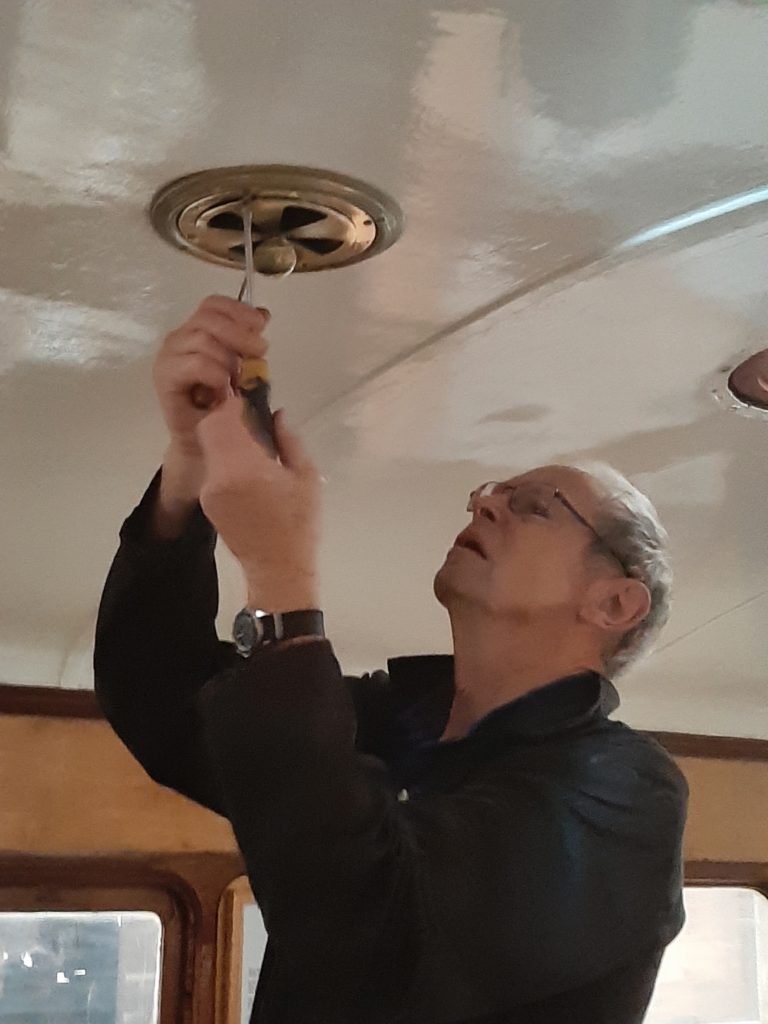 However, there has been plenty going on at Preston where the team working on Great Eastern Railway Royal Saloon No. 5 is finally beginning to see the light at the end of the proverbial tunnel. John Dixon is seen here replacing one of the ceiling vents that he has been fettling and polishing.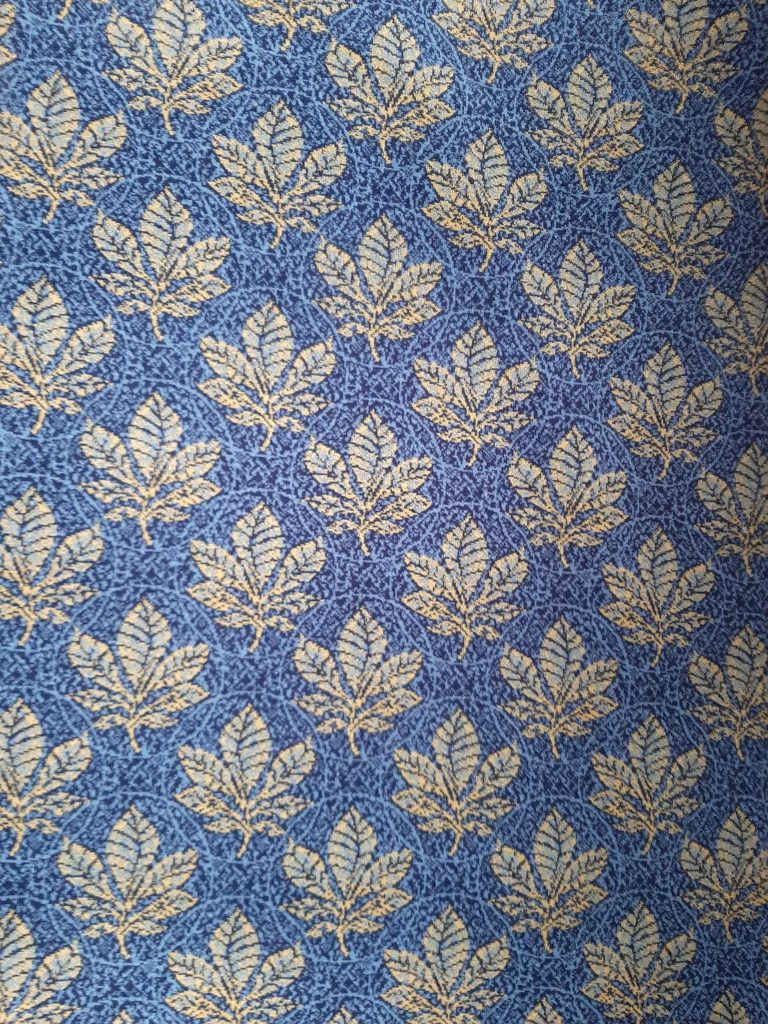 The new moquette for the chaise longue has arrived after a delay and now will enable us to search for a suitable shade of matching material for the lower side panels in the saloon.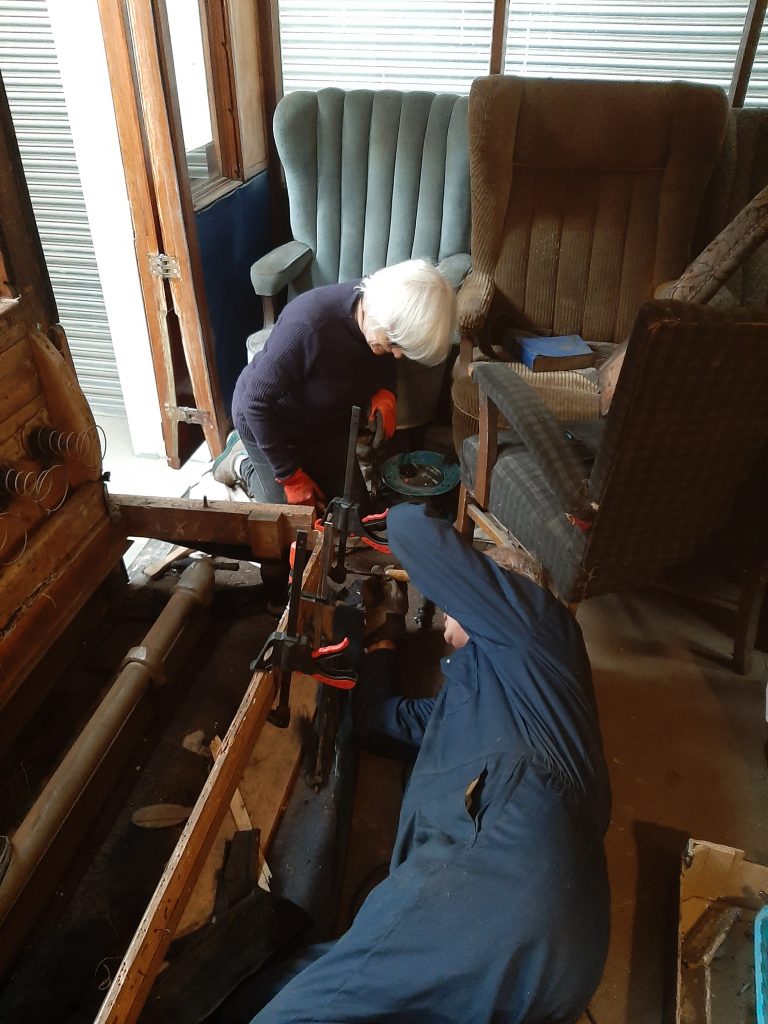 Anne and Phil have been stripping down the chaise longue ready for new materials to be fitted.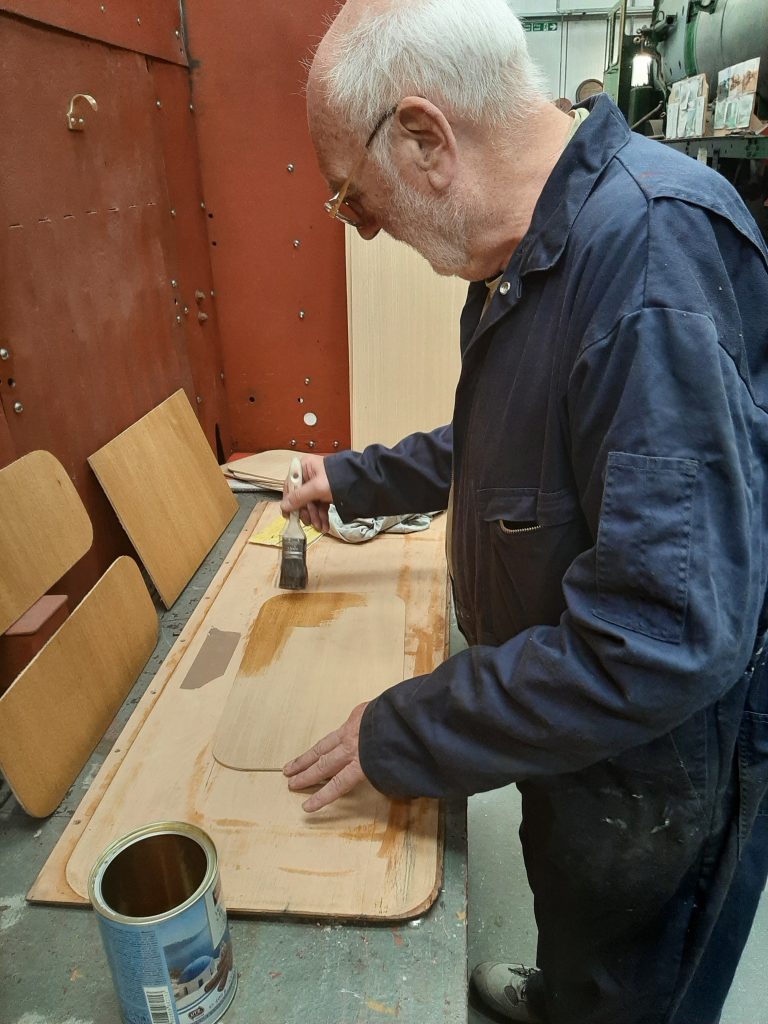 Phil has been applying a first coat of varnish to the new veneer panels.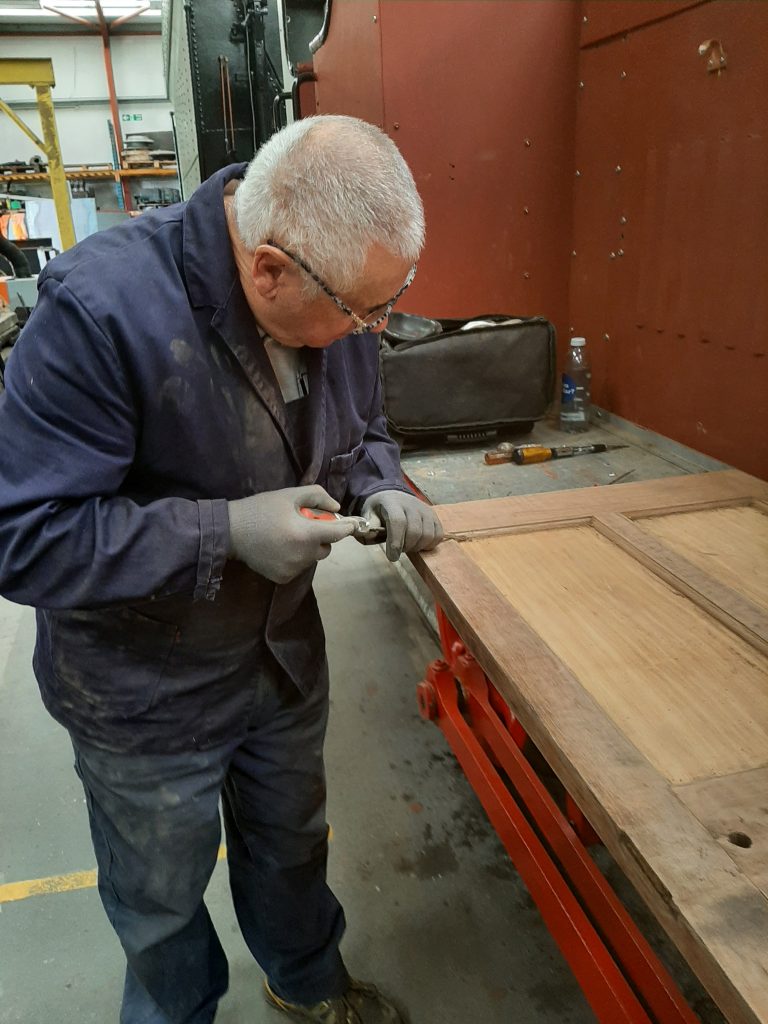 John Davis and Ed continue to clean up the remaining woodwork; it's John's turn for a photo this week.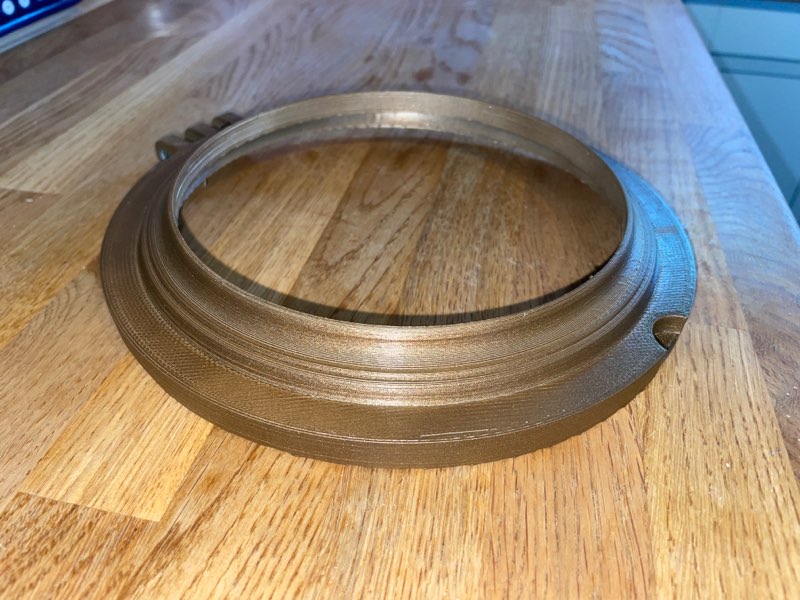 Inevitably during this restoration we have discovered missing components that will be difficult to replace. However, we were visited on Wednesday, 14th, by 3D printing expert Andy Allthorn from Cark-in-Cartmel who kindly came down to demonstrate how this modern technology can used in re-creating such items and has already produced a new part for the light fittings.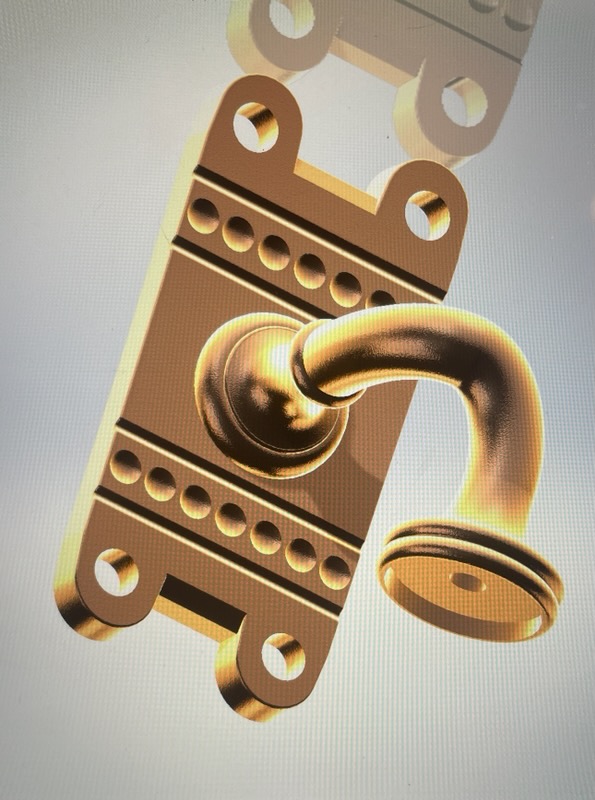 Andy has also now set about re-creating handles for two of the internal sliding doors.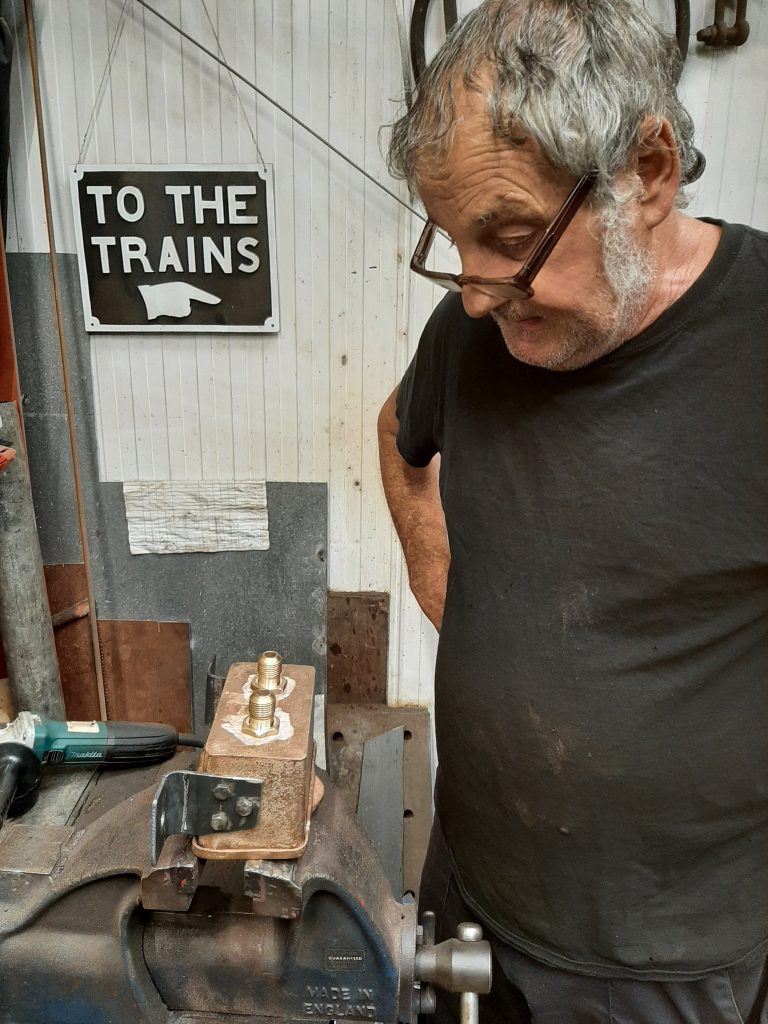 Dave Watkins has been able to supply a replacement cast brass oil box (no 3D printing here) for Wootton Hall's tender which Keith has been working on.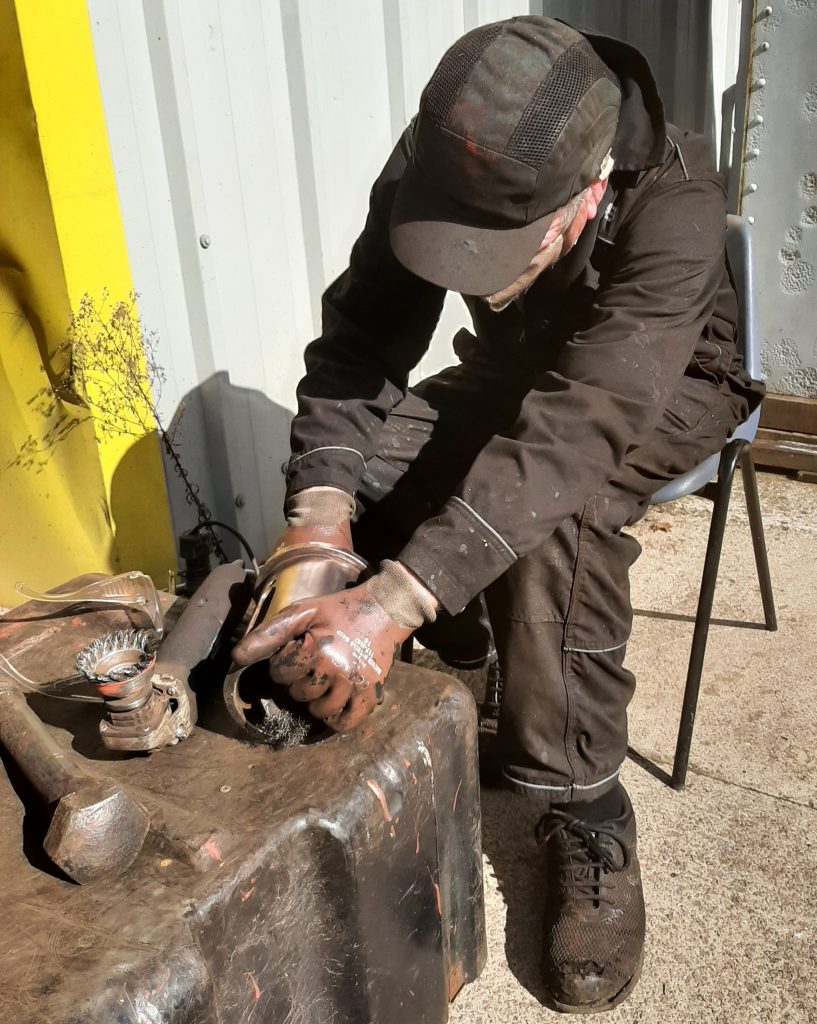 Fred has been polishing one of the trunnions for a brake shaft for Wootton Hall.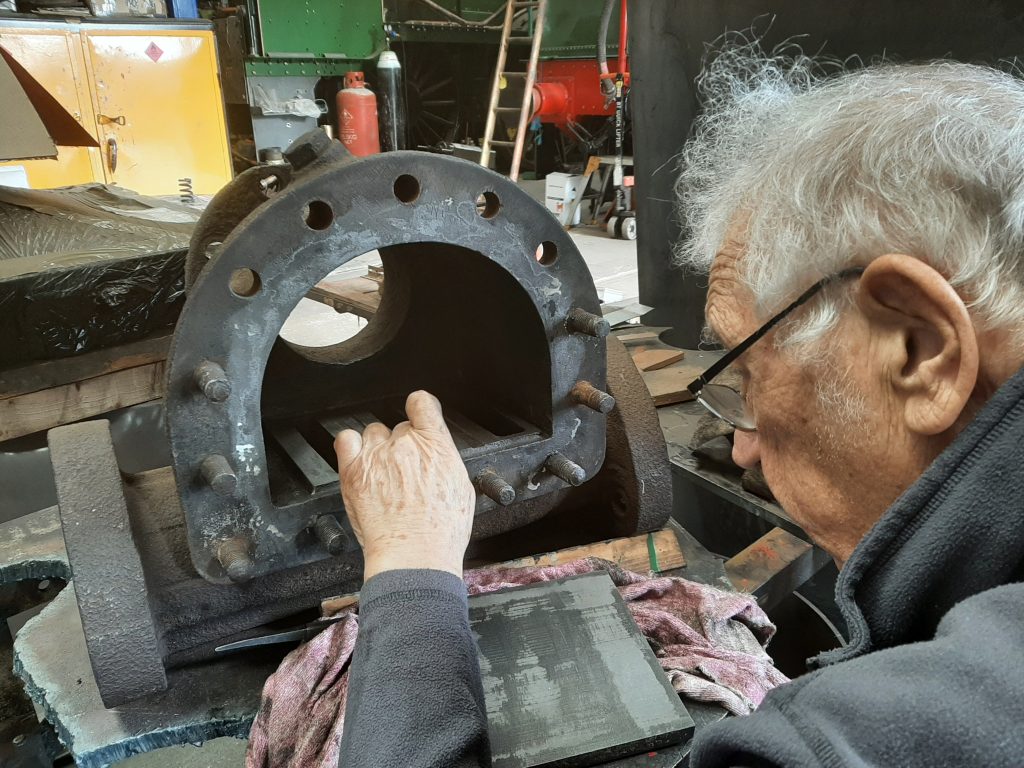 Bob has been visiting regularly to work on Wootton Hall's regulator valve.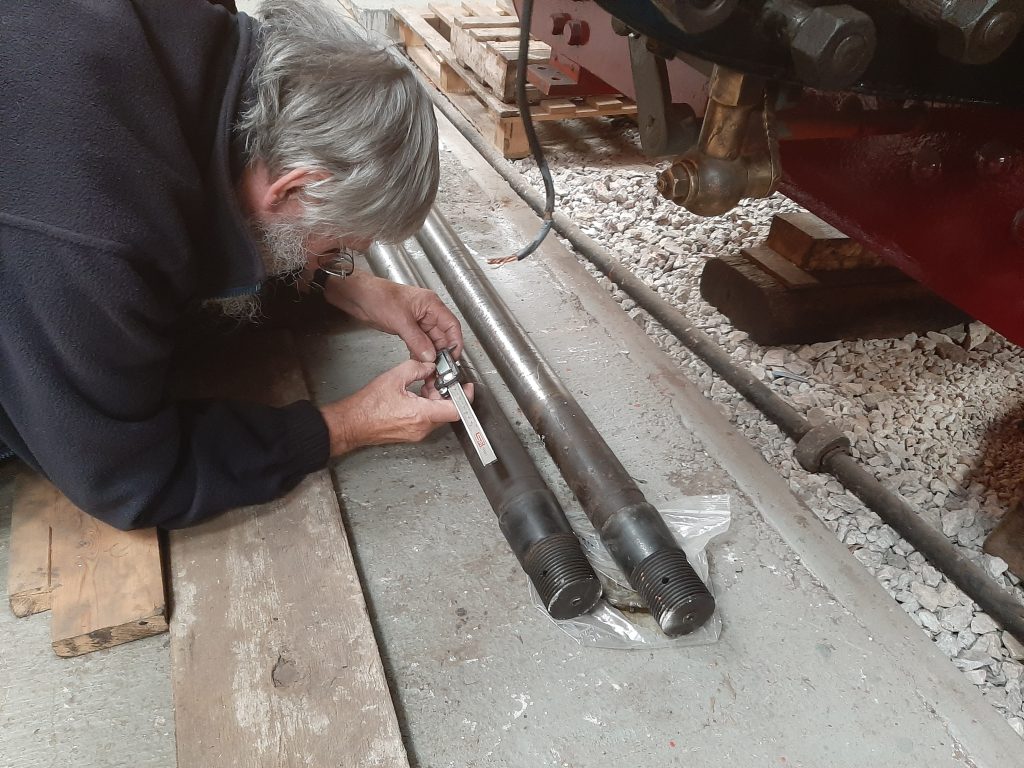 Alan and Sam have taken Caliban's piston rods to Burscough for them to be metal spayed and ground in order to repair corrosion.
We are pleased to be able to report that the Annual General Meeting passed off successfully on the 13th September and we were able to welcome Paul Balshaw and Sam Middleton on board as Trustees – congratulations both! Thanks as ever go to Alison for preparing a super spread of sandwiches and cakes for the occasion.
Over at Embsay Andy Booth has completed the fitting of Cumbria's new tubes and the boiler has been successfully hydraulically tested by Matt Anderson in the presence of our boiler surveyor, Andy Wright. Indian Red paint has been sent across to enable John Furness to smarten up the appearance of the saddle tank and the refractory concrete has arrived there in order for a new brick arch to be constructed. Hopefully it won't be too long now before Cumbria is back in traffic.
Finally, this last weekend marked the 50th anniversary of the historic return to steam specials on the Furness Line which were operated by Carnforth 10A Black 5s 44871 and 44932 on Saturday, 23rd September 1972. British Rail had previously banned all steam trains after August 1968 (apart from those hauled by 4472 Flying Scotsman which had a contract) but the ban was finally lifted in 1972, a major win for the world of railway preservation. Those at West Coast hadn't forgotten the significance of the date and so quietly turned out newly overhauled 44932 this last Saturday to haul the Cumbrian Coast Express railtour – very well done to them! Watch it at Grange and Arnside here.