This last week brought the sad death of David Shepherd CBE. David was a man of passion, who made his name by bringing to life on canvas wild animals (particularly elephants) aeroplanes and steam locomotives. He befriended us many years ago through member Derek Milby and, as a result of this, famously gave a lecture at the Coronation Hall in Ulverston. His double-decker sales bus appeared in the Lakes on more than one occasion and he delighted in joining us for a musical evening on Roger Mallinson's steam launch Shamrock on Windermere. We also made several exchange visits down to the East Somerset railway at Cranmore where some renowned and very liquid folk evenings were held in the village hall. An avowed conservationist of both wildlife and steam locomotives, the world will be very much the poorer for David's passing.
Last Tuesday evening saw a gathering at the Ashton Bowling Club for the Ribble Steam Railway AGM at which Tim, Alison and fellow FRT member David Starkie were elected as directors of the RSR. Tim then presented a photo presentation entitled "The Activities of the Furness Railway Trust", which was followed by some slides of Steamport at Southport. An evening of some nostalgia for all!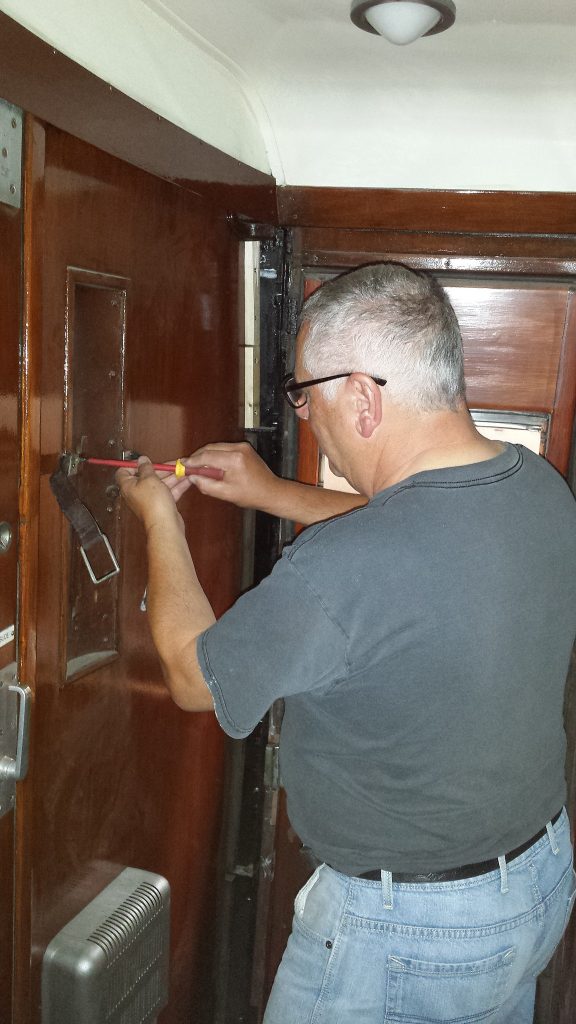 We were delighted to welcome new member John Davis at Preston on Wednesday – he must have enjoyed it as he turned up again with a new set of overalls on Friday.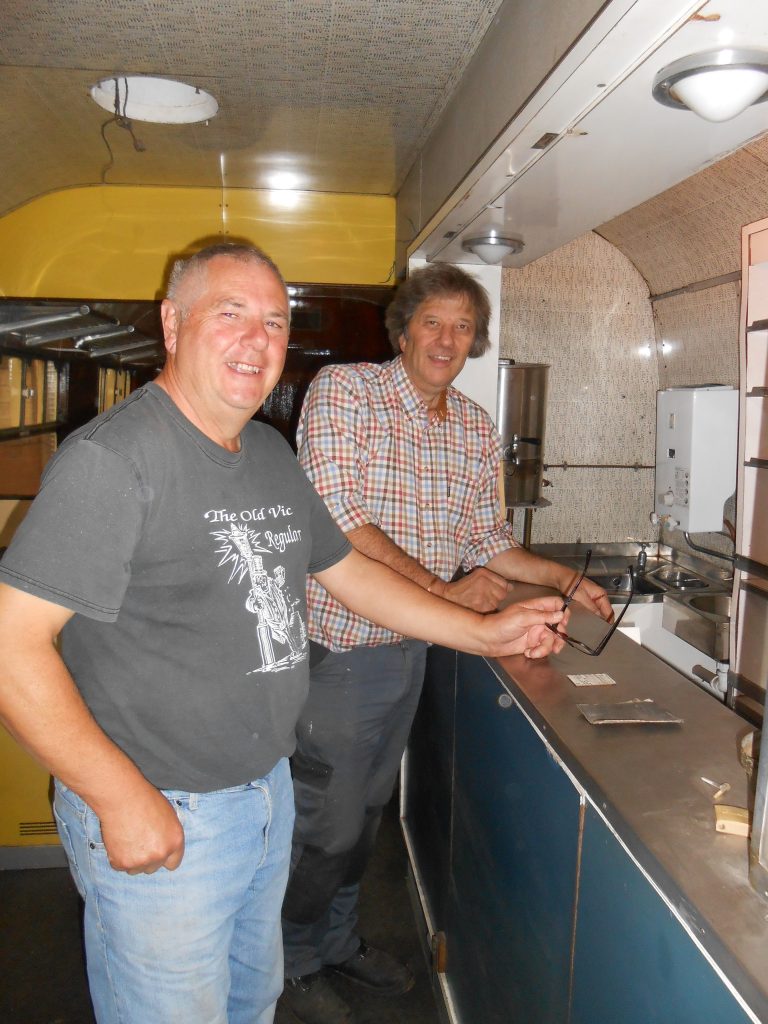 John is seen here by the RMB bar with Mike Rigg, who did the induction.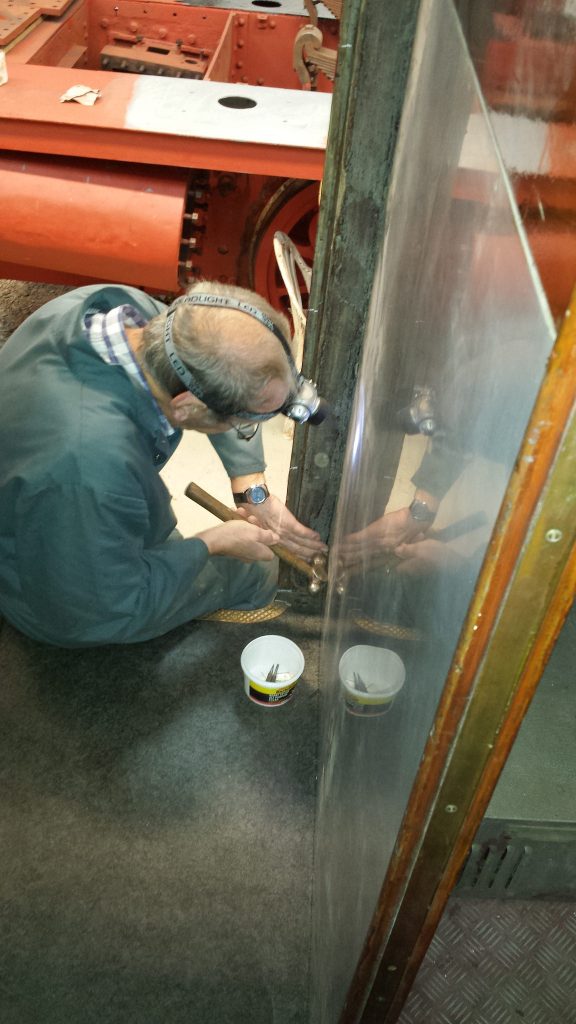 It was again a time of finishing all the remaining snagging jobs in the RMB with John Dixon still working on restoring some of the wooden panelling by the doors, Paul replacing the servery area cupboard shelves, Mike starting to replace the ceiling fans and John Davis assisting with some of the other fittings.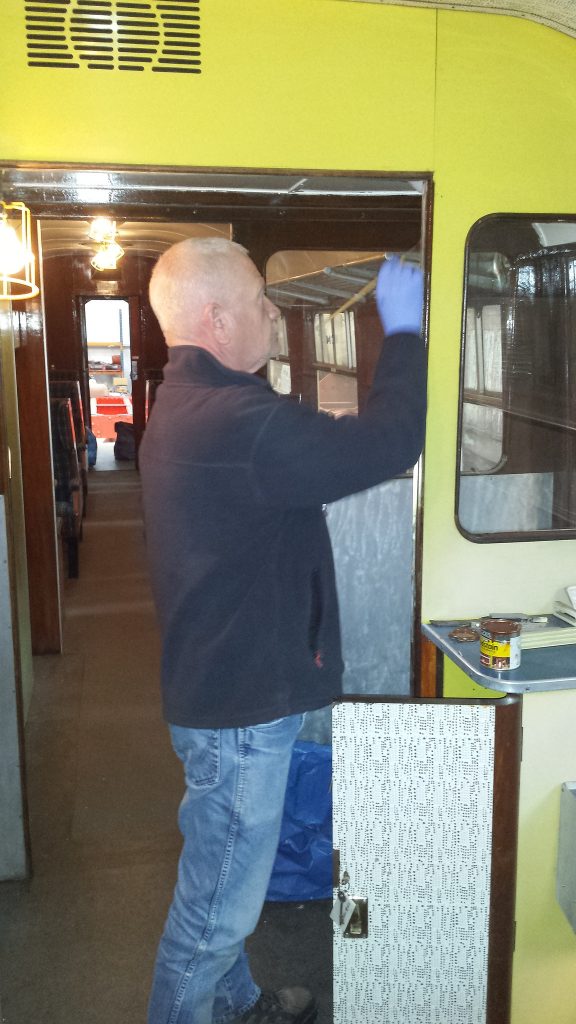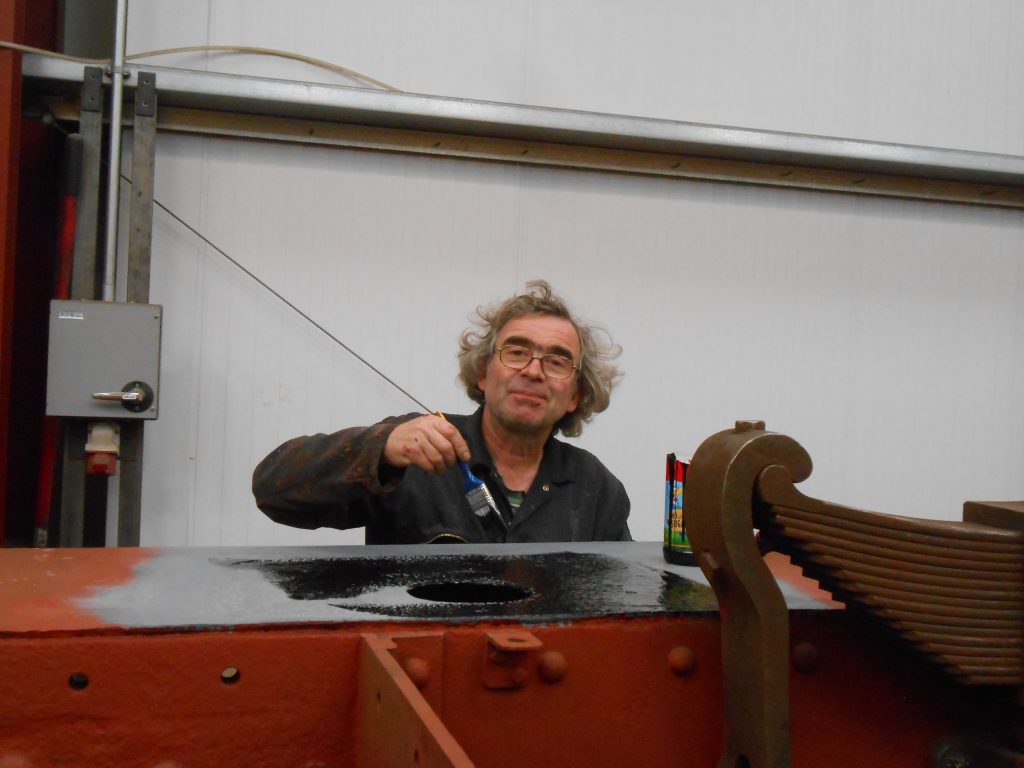 There was further work on Caliban, with Alan turning his attentions to the cab and Ade wielding a paintbrush on the running board.
Bob appeared on Friday and spent some time taking a rubbing of the numbers stamped on Wootton Hall's tender frames which had been found after the shot blasting had taken place. The exact number of the tender has always been a mystery and Bob will be making contact with a gentleman in Swindon who has been keeping tabs on this particular vehicle with a view to identifying it. Keith was also present to make further progress on the loco.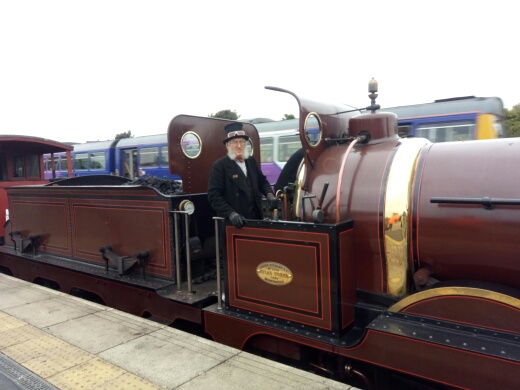 Alan and Alison went across to Locomotion at Shildon yet again, it being the annual Steam Punk weekend at which people delight in dressing up in all sorts of incredible garb. Steam Punk is defined as being retro-futuristic and FR 20 probably fits quite neatly into the scene, although we are not sure how you should view the two coach Pacer passing in the background!
As many of you will be aware, the Trust's GWR 0-6-2T No. 5643 is currently out of service for its 14 month boiler examination. In preparation for this, the brick arch has been removed and Andy Booth has put in twenty new patch screws. Keith and George were going over to Embsay yesterday, Sunday, to remove the remaining plugs and mudhole doors ready for a cold examination by the boiler surveyor, which we hope will take place this week. It is planned to fit the new blower ring, which is currently being machined by Steve Shearing at Preston, next weekend and then hold a formal steam test the following week. So, fingers crossed!
Finally, it is reported by the latest Cumbrian Railways Association newsletter that the former Vickers Gun Range signal box, which was gifted to the Wensleydale Railway Association by the FRT a few years ago, will be moved from Scruton to Leyburn where it will be used to control the movement of trains following the planned installation of a passing loop there. As many of you will be aware, the signal box was originally preserved by FRT member Jon Wilkinson, who himself gifted the signal box to the FRT.