Sadly, we have recently lost another of the Trust's stalwarts, Tom Bradshaw. Tom passed away peacefully at home from natural causes on the 22nd January, surrounded by his family. A private funeral was held last Wednesday. Tom had been a member since 1976 but unfortunately  had to retire from working parties at Preston in recent times due to his increasing fragility. He was admitted into hospital just before Christmas, but returned home at his request in the New Year.
Tom left school at the age of 14, but was unable to achieve his dream of becoming a train driver, in the footsteps of his father, based at Blackpool Central, and his uncle at Fleetwood, owing to his need to wear spectacles. His application to train as an electrician was refused because it was known that he would be called up to the army at the age of 18 and so Tom became a points boy with the Blackpool tramway, progressing to being a 'jumper', who moved from tram to tram collecting fares. Tom used to recall the day that he was fired, by no lesser person than manager Walter Lough, for having had a run in with his wife over fares!
Tom was called up and joined the army in 1944 where he was almost immediately involved with providing covering fire from the opposite side of the river during the withdrawal from Arnhem where losses to British forces totalled nearly 2,000 during that fateful battle. Tom ended up in Germany after the surrender and started driving vehicles. On the afternoon of the day that he was passed out to drive, Tom notably drove a three ton truck all the way to Italy. He then spent quite some time driving around a wagon picking up tanks from battlefields.
On returning home Tom married wife Barbara and bought a car. Tom was pleased with the fact that the car turned out to be very economical, although Barbara contended that this was due to the fact that she seemed to spend much of her time pushing it! Tom then spent 20 years in the postal service and, from tales told over mess room lunches, it appears that he managed to spend some of those times at railway stations. Tom then went into club management where his natural outgoing personality must have made him particularly suited, so much so that he was recruited to manage the Marton Mere Caravan Club for many years until retirement.
On joining the Lakeside Railway Society, Tom became a staunch member of the Blackpool Branch and was able to volunteer at Haverthwaite during the closed winter season at Marton Mere. As well as being an enthusiastic member of the sales team, Tom became a stalwart of the carriage and wagon team at Haverthwaite and enjoyed taking on board those tricky tasks that demanded both skill and determination. One of his favourite tasks was the overhaul of carriage door locks. He was absent for some years whilst he tended to wife Barbara until her untimely death from cancer, but then returned and was joined by son Trevor. Team Bradshaw played a vital part in the restoration of GER No. 5 at Appleby and also a refresh of the North London Railway coach at the FRT shed at Preston.
It was always a joy to be with Tom during working parties and he thoroughly enjoyed the playful banter that went on between us as well as recounting tales of times past. We will very much miss his company and will remember Tom as such a cheerful character who unfailingly brightened up our lives with his presence. He will be very much missed and our sincere condolences go to Trevor and family.
Our photo shows Tom on the celebration of his 90th birthday in the FRT shed on the 22nd July 2015.
There is not much more to report this week apart from some more progress on painting FR 20's components and the fitting of a couple of boiler bands.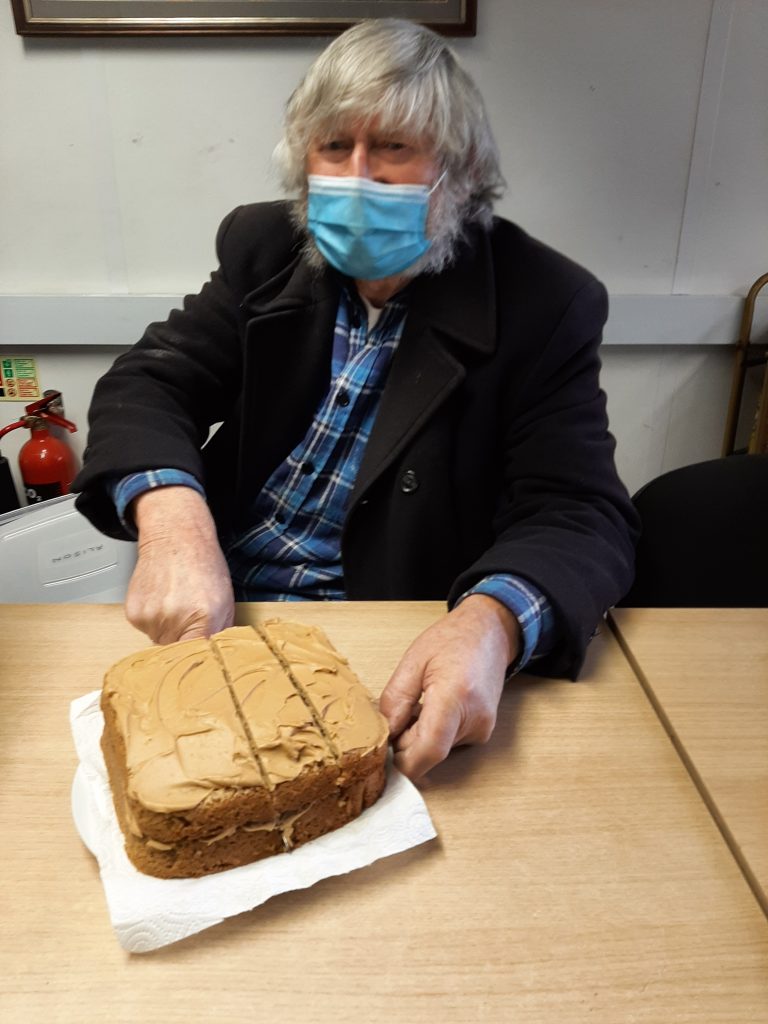 Alan celebrated his birthday on Wednesday and brought along his cake!
We conclude with a look at some time lapse of FR No. 3 Coppernob being cleaned at the National Railway Museum. This was originally posted on Twitter, and there is a short thread there too about the history of the famous locomotive.
It's #TimelapseTuesday again and this week we have a lovely 2 minute locomotive cleaning for you, as well as a little thread on the object's story. 1/8 pic.twitter.com/wZaz1iLGjS

— SMG Conservation (@SMGConservation) February 9, 2021